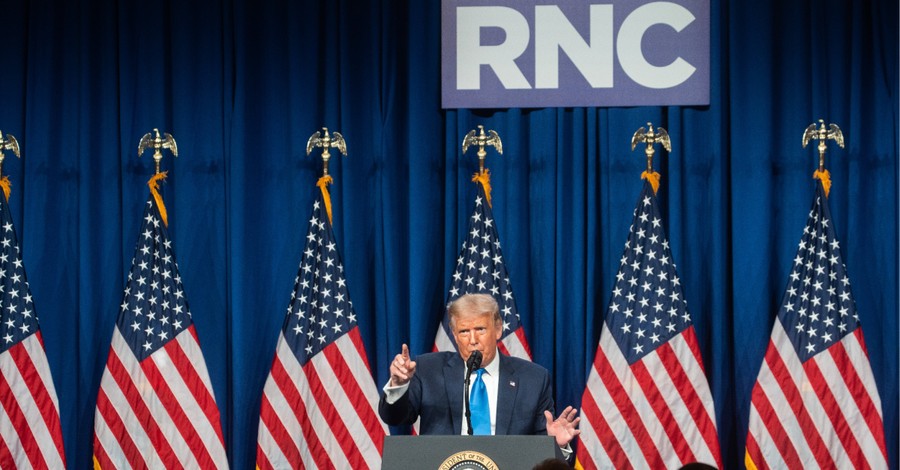 (RNS) — The son of the late evangelist Billy Graham, the head of an anti-abortion ministry, and the co-founder of Liberty University's Falkirk Center are among the conservative Christian leaders scheduled to speak this week at the Republican National Convention.
Several of the political figures scheduled to speak are also known for their faith, including Secretary of Housing and Urban Development Ben Carson, who has spoken often about his Seventh-day Adventist faith. In a break with precedent, the sitting secretary of state, Mike Pompeo, also will speak at the convention. Pompeo, an outspoken Christian, has spoken before on "Being a Christian Leader."
Neither the convention nor President Donald Trump's reelection campaign, which released the list of speakers over the weekend, has announced the faith leaders who will open and close each day of the convention in prayer.
But the Trump campaign included Cardinal Timothy Dolan, the Catholic archbishop of New York, in an email with Monday's lineup, and Dolan confirmed in a statement last week that he had been invited to pray.
The cardinal said that his prayer is not an endorsement of any candidate, political party or platform and that he would have accepted an invitation to pray at the Democratic National Convention, as well. He previously prayed at the Democratic gathering in 2012 and Trump's inauguration in 2017.
"Prayer is speaking to God, offering Him praise, thanking Him for His many blessings, and asking for His intercession; it is not political or partisan," he wrote.
Dolan suggested he hoped his prayer would be unifying.
"It is my hope that, during this tumultuous time in our nation's history, people of all religious faiths or none at all might join together in seeking peace and reconciliation in our hearts, in our cities, and in our country," he wrote.
Here are several conservative Christians expected to speak during the convention:
Photo courtesy: ©Getty Images/Pool/Pool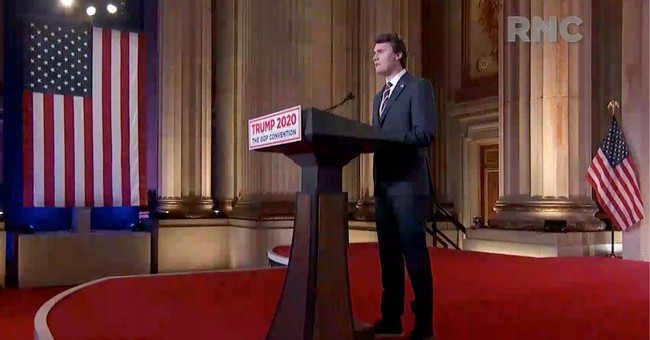 Charlie Kirk
Charlie Kirk was scheduled to speak Monday evening (Aug. 24) at the Republican National Convention.
The campaign identified Kirk as the founder and president of Turning Point USA, a conservative student organization, and chairman of Students for Trump.
He is also co-founder of Liberty University's Falkirk Center, which shares both his name and the name of the evangelical Christian university's most recent president, Jerry Falwell Jr.
Falwell, an early and vocal Trump supporter, resigned Monday from his roles as president and chancellor of the university amid controversial activity on social media and new allegations that he and his wife engaged in a sexual relationship with a business partner. (Falwell has said his wife had an affair with the business partner, but he was not involved.)
Liberty describes the Falkirk Center as "a modern think tank set to renew and defend God-given freedoms and Christian principles throughout American politics and culture."
Photo courtesy: ©Getty Images/Handout/Handout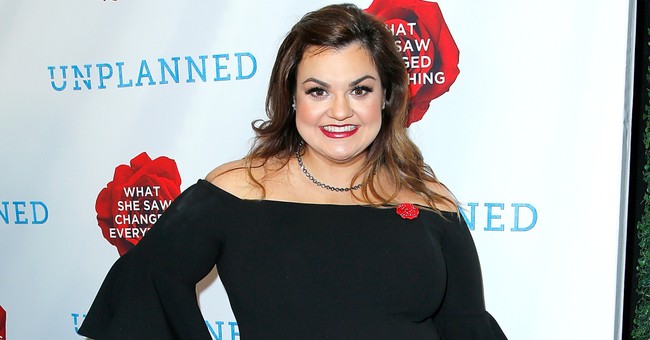 Abby Johnson
Abby Johnson is scheduled to speak Tuesday (Aug. 25).
Johnson is a former Planned Parenthood employee who, after a change of heart on abortion rights, started a nonprofit organization named And Then There Were None to help employees of abortion providers transition out of the industry.
She describes And Then There Were None as a "ministry" on her personal website. The organization's website says it connects employees who are leaving or considering leaving jobs with abortion providers with "healthy, vibrant churches in their areas and Christian pastors who can help them continue to grow spiritually."
"Their Client Manager is also available to pray and provide spiritual support at any time, as much as needed," it reads.
Photo courtesy: ©Getty Images/Maury Phillips/Stringer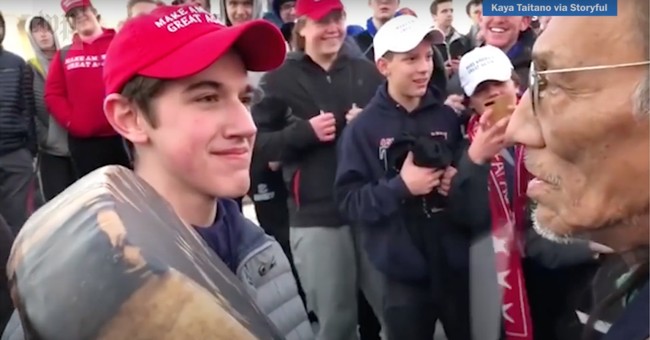 Nicholas Sandmann
Nicholas Sandmann also is scheduled to speak Tuesday.
The Covington Catholic High School student gained attention last year when video of an encounter between students from his Kentucky Catholic high school, who were attending the March for Life in Washington D.C., and a Native American group, who were attending the nearby Indigenous Peoples March, went viral.
Sandmann, smiling wordlessly in a red "Make America Great Again" hat, is featured prominently in the video standing face-to-face with Nathan Phillips as the Omaha elder sang and played a hand drum. Both have since said they were trying to de-escalate the situation, and additional videos showed the students previously had been taunted by several people who identified as Black Hebrew Israelites.
A third-party investigation into the encounter later concluded there was "no evidence" the students made racist or offensive statements, though it conceded some students had performed the "tomahawk chop" used by some sports teams — an action many Native Americans find offensive.
The student and his family later sued several news outlets that had covered the encounter, settling this summer with The Washington Post.
Photo courtesy: ©CNN Screenshot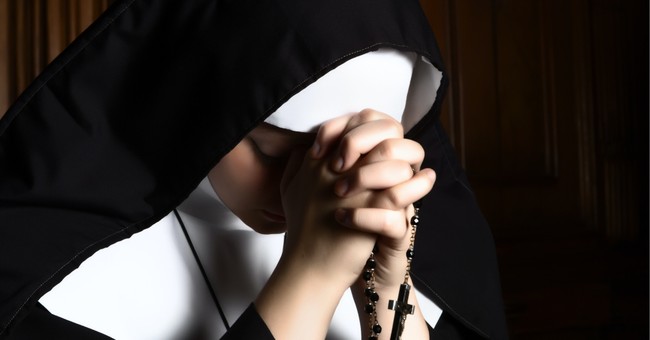 Sister Dede Byrne
Sister Dede Byrne will speak Wednesday (Aug. 26).
Byrne is a member of the Little Workers of the Sacred Hearts in Washington, D.C., where she is medical director of the Physical Therapy and Eye Clinic at their convent and a volunteer surgeon at the Catholic Charities Medical Clinic, according to a profile of her by Georgetown University.
She joined the Army while a medical student at Georgetown, completing her residency at the U.S. Army hospital at Fort Belvoir, Virginia, and serving as liaison between the Army and the monks of St. Catherine's Monastery in the Sinai Peninsula, Egypt.
The Army brought Byrne back as a reservist after she made first vows and deployed her three times over six years. After a tour in Afghanistan, she retired from the military in 2009 and made her final vows with the Little Workers two years later.
Photo courtesy: ©Getty Images/Studio Annika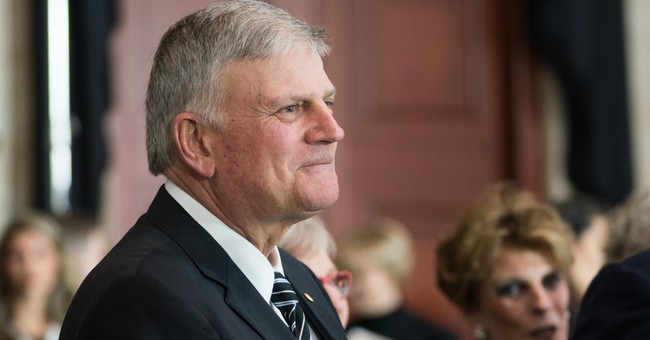 Franklin Graham
Franklin Graham will speak Thursday, when Trump is expected to accept the Republican nomination for president.
Graham, who heads both evangelical disaster relief organization Samaritan's Purse and the Billy Graham Evangelistic Association, criticized last week's Democratic National Convention in a viral Facebook post, saying, "In watching some of the Democratic National Convention on television this week, it has been interesting to see the absence of God."
"I don't believe America's finest hours will be in front of us if we take God out of government and public life. It is God who set the standards we are to live by," he said.
Many have pointed out in return that numerous speakers mentioned faith during the Democratic gathering.
Graham, the son of late evangelist Billy Graham, has been a vocal supporter of Trump, praying at his inauguration and saying, "I think maybe God has allowed Donald Trump to win this election to protect this nation for the next few years by giving maybe an opportunity to have some good judges."
Editor's note: This story will be updated.
READ THIS STORY AT RELIGIONNEWS.COM
Article originally published by Religion News Service. Used with permission.
Photo courtesy: ©Getty Images/Pool/Pool
---
---