Michael Foust
| ChristianHeadlines.com Contributor
| Monday, April 8, 2019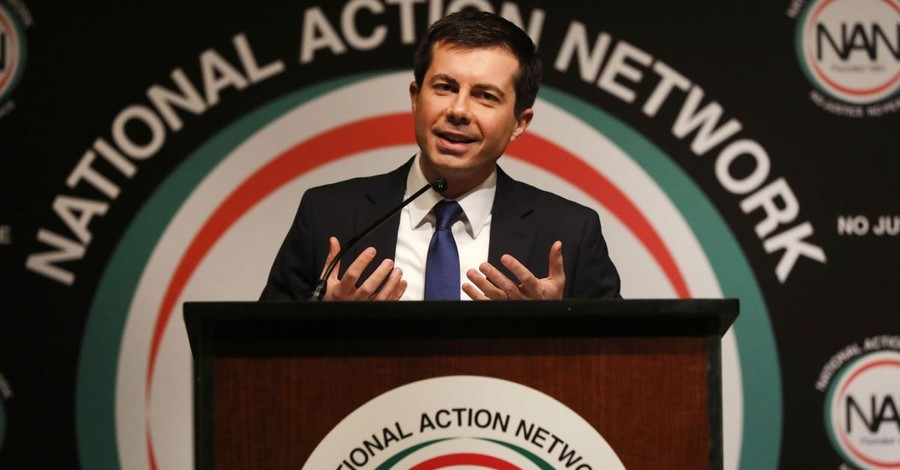 Democratic presidential candidate Pete Buttigieg last week questioned President Trump's belief in God. On Sunday, he bemoaned what he views as the "hypocrisy" of Trump's evangelical supporters. 
The mayor of South Bend, Ind., appeared on NBC's Meet the Press and was asked by host Chuck Todd how he "squared" his assessment of Trump with the fact that the evangelical community "is so devoted" to the president.
"It's something that really frustrates me because the hypocrisy is unbelievable," Buttigieg said. "Here you have somebody who not only acts in a way that is not consistent with anything that I hear in Scripture or in church – where it's about lifting up the least among us and taking care of strangers, which is another word for immigrants. And making sure that you're focusing your effort on the poor. 
"But also personally, how you're supposed to conduct yourself. Not chest thumping look-at-me-ism, but humbling yourself before others," he added. "Foot washing is one of the central images in the New Testament. And we see the diametric opposite of that in this presidency." 
Buttigieg also expressed frustration that evangelicals promote "sexual ethics" but still back Trump.
"I can't believe that somebody who was caught writing hush money checks to adult film actresses is somebody they should be lifting up as the kind of person you want to be leading this nation," he said. 
Buttigieg surmised he could be viewed as the opposite of Trump: "a laid-back, intellectual, young gay mayor from the Midwest." 
Last week, Buttigieg questioned whether Trump believes in God.
"I'm reluctant to comment on another person's faith, but I would say it is hard to look at this president's actions and believe that they're the actions of somebody who believes in God," he told USA Today. "I just don't understand how you can be as worshipful of your own self as he is and be prepared to humble yourself before God. I've never seen him humble himself before anyone."
Related: 
4 Evangelicals, 4 Different Ways to Consider Donald Trump
69 Percent of Evangelicals Back Trump; Other Religious Groups Support Him Far Less
Gay Presidential Candidate Asks If Mike Pence 'Stopped Believing in Scripture When He Started Believing in Donald Trump'
Michael Foust is a freelance writer. Visit his blog, MichaelFoust.com.
Photo courtesy: Getty Images/Spencer Platt/Staff
---
---