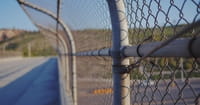 Texas Senator Ted Cruz says he will introduce emergency legislation that would immediately end the separation of families at the border.
"All Americans are rightly horrified by the images we are seeing on the news, children in tears pulled away from their mothers and fathers. This must stop," Cruz said in a statement.
The announcement comes after Attorney General Jeff Sessions issued a directive to separate the children from their parents if they are caught illegally trying to enter the United States. Reports have said thousands of children have been taken from their parents because of the directive.