Milton Quintanilla
| Contributor for ChristianHeadlines.com
| Thursday, September 29, 2022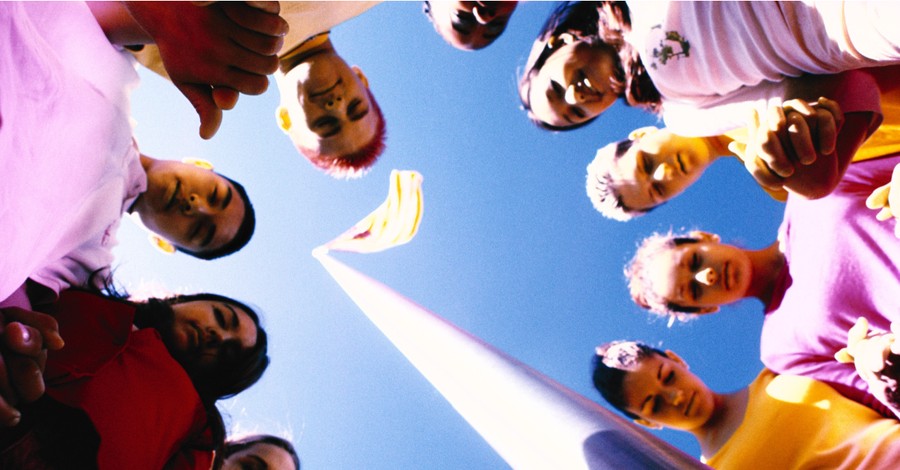 ---
Students across the globe gathered around their schools' flag poles to pray on Wednesday for the 33rd annual See You at the Pole event.
The theme of this year's student-organized movement was "Aflame," which is in reference to Romans 12:11-12: "Never let the fire in your heart go out. Keep it alive … PRAY!"
According to The Christian Post, student activists from the group Claim Your Campus hosted a livestream for the event. During the stream, they shared three prompts for participants to consider while they prayed.
The first prompt encouraged students to "pray for what God is doing in us," "receive God's joy in our own hearts so that we may experience revival in our own lives" and "ask Jesus for a fire and passion so that we may surrender to what God has called each of us to do this year."
The second asked students to "pray around us for our schools" and reminded students that "God is using you to be a light on your campus and a light to everyone that you meet."
"Be patient as you pray for change [at] your school. God is working even when we can't see it," a student who presented the prompt encouraged. "Pray for all the things you want to see differently on your campus, entrust to God that it will happen in His time, not in your time."
The final prompt urged participants to "think of those who are sick, neglected, forgotten and unreached" and "continue to pray for what is going on in our world, our nation and our communities."
See You at the Pole began in 1990 when a small group of teenagers in Burleson, Texas, felt led to go to different schools and lift up their friends, schools and leaders in prayer. Shortly after, youth leaders across Texas envisioned students coming together at their school flagpoles for a time of prayer.
On September 12, 1990, the first ever See You at the Pole event was held. Over 45,000 teenagers met at school flagpoles in four different states and prayed before the school day began.
A year later, approximately 1 million students nationwide participated in the growing prayer movement.
The prayer meeting is typically held on the fourth Tuesday of September, in which students from elementary, junior high schools, high schools and universities worldwide are encouraged to participate.
Next month, students will participate in another faith-based event, Bring Your Bible to School Day. The event, which is scheduled to take place on October 6, "empowers Christian students of all ages to speak God's grace and truth into the culture around them, starting with two simple steps – bringing their Bibles to school and sharing what God's word means to them."
Photo courtesy: ©Getty Images/Brand X Pictures
---
Milton Quintanilla is a freelance writer and content creator. He is a contributing writer for Christian Headlines and the host of the For Your Soul Podcast, a podcast devoted to sound doctrine and biblical truth. He holds a Masters of Divinity from Alliance Theological Seminary.