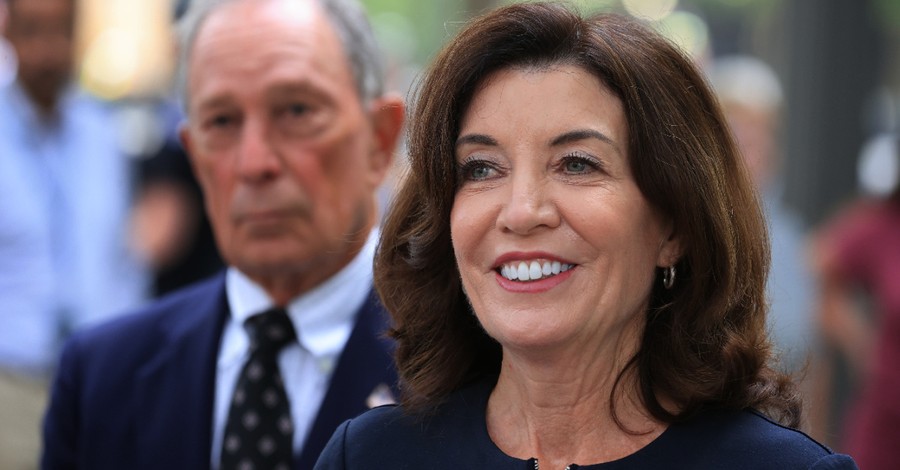 ---
Earlier this week, New York Gov. Kathy Hochul (D) spoke out against religious exemptions for COVID-19 vaccinations in the Empire State and called on Facebook to combat abortion-related "misinformation."
According to CBN News, Hochul's administration is slated to require all health care workers to get vaccinated by September 27, which has been met with protests and legal action.
On Tuesday, a federal court granted a temporary restraining order to 27 health professionals to forgo the mandate on the basis of their religious beliefs. At present, New York state attorneys are scheduled to argue the case in court on September 28.
Hochul, however, told reporters in a press briefing that the mandate excludes religious exemptions and that one's faith is not a valid reason not to get vaccinated.
"I'm not aware of a sanctioned religious exemption from any organized religion," she explained. "In fact, they are encouraging the opposite. Everybody from the Pope on down is encouraging people to get vaccinated."
The governor asserted that her administration will "defend the right of New York to ensure that anyone in a health care facility can meet a patient and that patient does not have to worry when they go in there for health care, that they're gonna contract a virus from one of the people that are supposed to protect their health."
During the briefing, Hochul also said she will enforce mask mandates for people as young as two years old, even if they have already been fully vaccinated.
"If you're watching the national news, the scariest announcements coming out every morning are the number of children contracting COVID," she said.
Vaccines aside, Hochul recently sent a letter urging Facebook founder and CEO Mark Zuckerberg to combat pro-life posts, which she deemed "misinformation," on the social media platform.
"An analysis of Facebook engagement between January 1 and March 20, 2019, found that four of the top 10 stories receiving the most engagement on the platform were articles about the New York State Reproductive Health Act from anti-choice news sources that misrepresented the bill," Hochul stated in the letter.
"These articles, memes, and other shared posts often describe horrific procedures that have no basis in reality, cite entirely made-up studies, and purposefully inflate or misrepresent public health data," she argued. "The goal behind these posts is clear: to sow fear, confusion, and shame, and to advance an agenda to control women's bodies."
Hochul cited the recent heartbeat law in Texas, which she warned would lead to more posts against abortion on Facebook. In conclusion, the governor encouraged Zuckerberg to share "information on any and all existing efforts to combat misinformation regarding abortion laws, procedures, and their availability."
She also urged him to curb the spread of abortion-related misinformation on Facebook as the platform has on COVID-19, vaccines, and voting rights.
Hochul, 61, took office last month after former Gov. Andrew Cuomo resigned after an investigation revealed he had sexually harassed multiple women, which Cuomo himself denied doing. Before assuming the governorship, she was serving as lieutenant governor, a role she had been in since 2015. Hochul is New York's first female governor.
Photo courtesy: ©Getty Images/Chip Somodevilla/Staff
---
Milton Quintanilla is a freelance writer. He is also the co-hosts of the For Your Soul podcast, which seeks to equip the church with biblical truth and sound doctrine. Visit his blog Blessed Are The Forgiven.