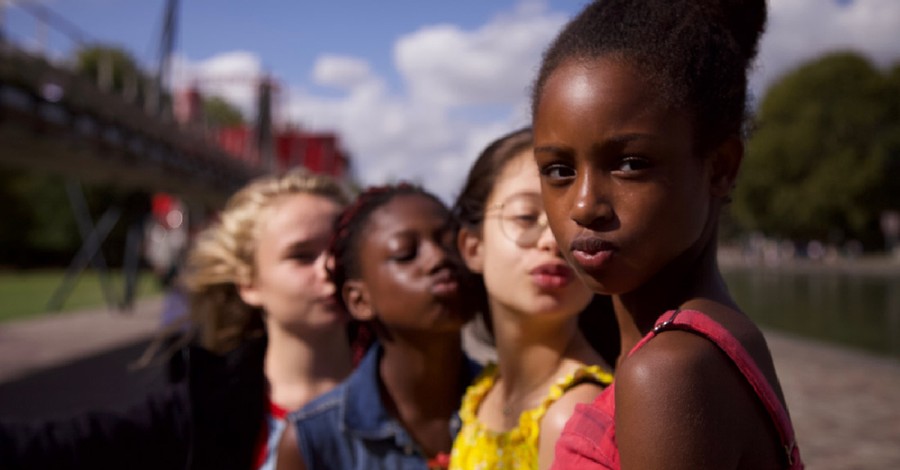 A "coming-of age" film called Cuties has sparked outrage for its sexualizing of 11-year-old girls who are shown twerking in revealing outfits.
The trailer, which Netflix released on Tuesday, stars 14-year-old Fathia Youssouf who plays the lead character Amy, an 11-year-old Senegalese girl who shows interest in joining a twerking dance crew, despite living in a strict Muslim household in Paris.
While the film was originally made in French, it will be translated into 40 languages, Variety reports.
The film also included a controversial promotional poster of Amy and her dance partners in black shorts, knee pads, and blue crop tops that reveal their midriffs.
Amy is shown kneeling down while spreading her legs. On the left side of the poster, a co-star is seen in the twerking position. Both the trailer and the poster received widespread backlash for overly sexualizing young girls.
At the time of this writing, the trailer has over 503,000 dislikes and counting.
On Thursday, the popular streaming giant acknowledged the backlash and issued an apology.
"We're deeply sorry for the inappropriate artwork that we used for Mignonnes/Cuties. It was not OK, nor was it representative of this French film which won an award at Sundance. We've now updated the pictures and description," Netflix wrote on Thursday.
We're deeply sorry for the inappropriate artwork that we used for Mignonnes/Cuties. It was not OK, nor was it representative of this French film which won an award at Sundance. We've now updated the pictures and description.

— Netflix (@netflix) August 20, 2020
According to The Blaze, changes were made to the film's promotional plug on its landing page on Netflix.
"Amy, 11, becomes fascinated with a twerking dance crew. Hoping to join them, she starts to explore her femininity, defying her family's traditions," the initial plug read.
The updated plug, however, reads, "Eleven-year-old Amy starts to rebel against her conservative family's traditions when she becomes fascinated with a free-spirited dance crew."
Changes in Cuties synopsis has also been edited on Hollywood News, The Blaze reports.
The initial synopsis said, "Eleven-year-old Amy lives with her mom, Mariam, and younger brother, awaiting her father to rejoin the family from Senegal. Amy is fascinated by disobedient neighbor Angelica's free-spirited dance clique, a group that stands in sharp contrast to stoic Mariam's deeply held traditional values.
"Undeterred by the girls' initial brutal dismissal and eager to escape her family's simmering dysfunction, Amy, through an ignited awareness of her burgeoning femininity, propels the group to enthusiastically embrace an increasingly sensual dance routine, sparking the girls' hope to twerk their way to stardom at a local dance contest."
The newer synopsis was narrowed down to read, "Amy, 11 years old, tries to escape family dysfunction by joining a free-spirited dance clique named "Cuties," as they build their self-confidence through dance."
Several calls were made for the cancellation of Cuties, including from the Christian advocacy group, Parents Television Council (PTC). A petition was also started on Change.org and has garnered nearly 170,000 signatures at the time of this writing.
Cuties premiered at the 2020 Sundance Film Festival in January before being acquired by Netflix. It is set to be released on the streaming platform in September. French screenwriter Maïmouna Doucouré, who directed the film, won the World Cinema Dramatic Directing Award at the festival.
Doucouré told Cineuropa that she wanted to make Cuties after seeing young girls dancing in a "sensual way" in revealing clothing while "traditional mothers" were watching in the audience.
"I was stunned and I thought back to my own childhood because I've often asked myself questions about my own femininity, about evolving between two cultures, about my Senegalese culture which comes from my parents and my western culture," she said. "But I needed the 2020 version of that youth."
Doucouré then spent a year-and-a-half gathering the real-life accounts of young girls in seeing where they "situated themselves as children, as girls, as future women; how they placed themselves in society with their girlfriends, their families, at school, with social networks."
The film director went on to note the dangers of social media in which young ladies portray themselves in a sensual manner in order to acquire more followers.
"Today, the sexier and the more objectified a woman is, the more value she has in the eyes of social media," Doucouré said. "And when you're 11, you don't really understand all these mechanisms, but you tend to mimic, to do the same thing as others in order to get a similar result. I think it is urgent that we talk about it, that a debate be had on the subject."
Despite calls for cancellation, Netflix is still slated to premiere "Cuties" on Sept. 9.
Photo courtesy: ©Netflix/IMDb
---
Milton Quintanilla is a freelance writer and content creator. He is a contributing writer for Christian Headlines and the host of the For Your Soul Podcast, a podcast devoted to sound doctrine and biblical truth. He holds a Masters of Divinity from Alliance Theological Seminary.
---
---