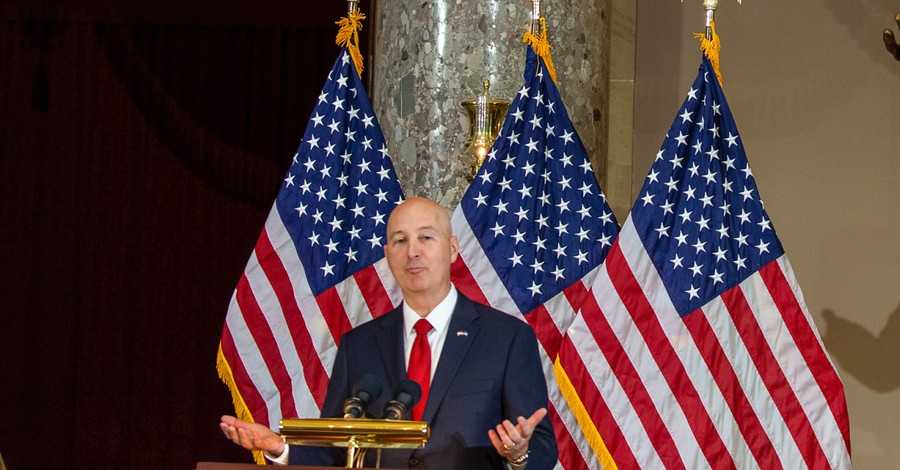 ---
On Sunday, Nebraska Governor Pete Ricketts said he will call a special session of his state's legislature to pass a ban on all abortions if the Supreme Court ultimately overturns Roe v. Wade.
"Nebraska is a pro-life state. I believe life begins at conception, and those are babies too. If Roe v. Wade, which is a horrible constitutional decision, gets overturned by the Supreme Court, which we're hopeful of, here in Nebraska, we're going to take further steps to protect those preborn babies," Ricketts, a Republican, told Dana Bash on CNN's "State of the Union" this Sunday.
When asked if the ban would apply to cases of rape or incest, Rickett replied, "They're still babies, too. Yes."
If Roe is overturned, Ricketts said he would "work with [Nebraska's] speaker of the legislature to work on a special session and do more to protect preborn babies."
"We'll have to wait and see what that decision is before we can take further steps, but that would certainly be my intention," he added.
According to The Blaze, over a dozen states reportedly have "trigger laws" in place that would outlaw abortion if the Supreme Court overturns Roe.
Recently, Nebraska's legislature failed to pass a bill that would ban all abortions, even in the case of rape or incest. The measure would have also imposed criminal penalties on doctors performing abortions in the state.
During CNN's "State of the Union," Ricketts told Bash that each state has a right and responsibility to implement laws in accordance with the interests of its residents.
"At the end of the day, I think voters in individual states, and it's certainly true here in Nebraska, they make their own decisions. You know, people outside the state can have an influence, but at the end of the day, Nebraskans look to their own, and Nebraskans made a decision they wanted for their state."
According to The Blaze, over 400 pro-abortion "Bans Off Our Bodies" protests were held across the nation on Saturday by Planned Parenthood, Women's March, and other pro-abortion groups.
Organizers of the protests stressed that the demonstrations marked a potential "summer of rage" if the Supreme Court overturns Roe v. Wade.
Related:
Pro-Life Senators Block 'Radical' Abortion Bill that Would Overturn 500 Pro-Life Laws
White Evangelicals Are 2 Times More Likely to Support Overturning Roe v. Wade Than Other Religious Groups

Photo courtesy: ©Getty Images/Tasos Katopodis/Stringer
---
Milton Quintanilla is a freelance writer. He is also the co-hosts of the For Your Soul podcast, which seeks to equip the church with biblical truth and sound doctrine. Visit his blog Blessed Are The Forgiven.