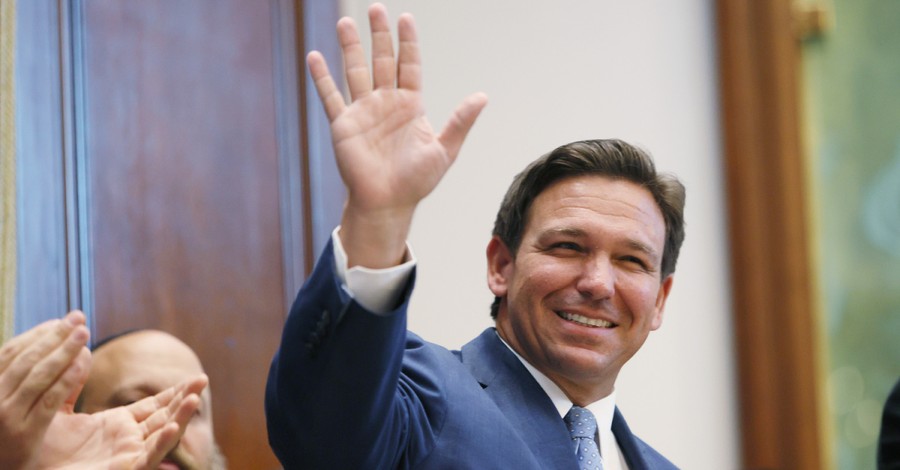 ---
Republican Governor Ron DeSantis of Florida signed a new law last Thursday that will ban abortions after 15 weeks of pregnancy.
The legislation, titled the Reducing Fetal and Infant Mortality Act, will restrict all abortions after 15 weeks of gestation except in cases where the mother's life is at risk or the unborn baby is found to have a "fatal fetal abnormality."
"House Bill 5 protects babies in the womb who have beating hearts, who can move, who can taste, who can see, and who can feel pain," Governor Ron DeSantis said in a statement. "Life is a sacred gift worthy of our protection, and I am proud to sign this great piece of legislation which represents the most significant protections for life in the state's modern history."
During a signing ceremony in Kissimmee, DeSantis explained that the bill's purpose is to "protect life" and "defend those who can't defend themselves."
As reported by The Christian Post, the bill is slated to go into effect on July 1.
Pro-life leaders commended DeSantis for signing the bill into law.
"We praise Governor Ron DeSantis, the pro-life members of the Florida state legislature and Florida Right to Life for all of the hard work that went into seeing this legislation become law," Carol Tobias, president of the National Right to Life, said in a statement. "No unborn child should suffer and die from an abortion. Florida's law will protect unborn children and their mothers from the horrors of abortion."
Marjorie Dannenfelser, who leads the national pro-life lobbying organization Susan B. Anthony List, also commended the signing of the bill, arguing that it "may save more than 3,300 lives a year by protecting unborn children, as well as their mothers, from cruel and dangerous late abortions."
"Science tells us unborn children are human beings with a vibrant life in the womb, and by 15 weeks, they can feel pain – yet under current Supreme Court precedents, the United States allows abortion on demand right up to birth," Dannenfelser said in a statement. "On abortion policy, we have more in common with China and North Korea than virtually the entire world."
The U.S. Supreme Court is expected to rule on the case of Dobbs v. Jackson's Women's Health involving Mississippi's 15-week abortion ban later this year. If upheld, the ruling would bear significant implications on abortion laws across the country since it would differ from previous decisions that defended Roe V Wade, the 1973 Supreme Court decision that legalized abortion nationwide.
"As we await a decision in the Dobbs case, momentum is growing across America to modernize our extreme abortion laws," Dannenfelser added.
Last year, Texas made headlines after passing a law banning most abortions after six weeks of pregnancy or once the infant can feel pain.
Meanwhile, Oklahoma enacted a near-total ban on abortion last week, while the Kentucky legislature overrode Democrat Gov. Andy Beshear's veto to pass a 15-week abortion ban.
Related:
Oklahoma Gov Signs Bill Banning Nearly All Abortions
Photo courtesy: ©Getty Images/Joe Raedle/Staff
---
Milton Quintanilla is a freelance writer. He is also the co-hosts of the For Your Soul podcast, which seeks to equip the church with biblical truth and sound doctrine. Visit his blog Blessed Are The Forgiven.