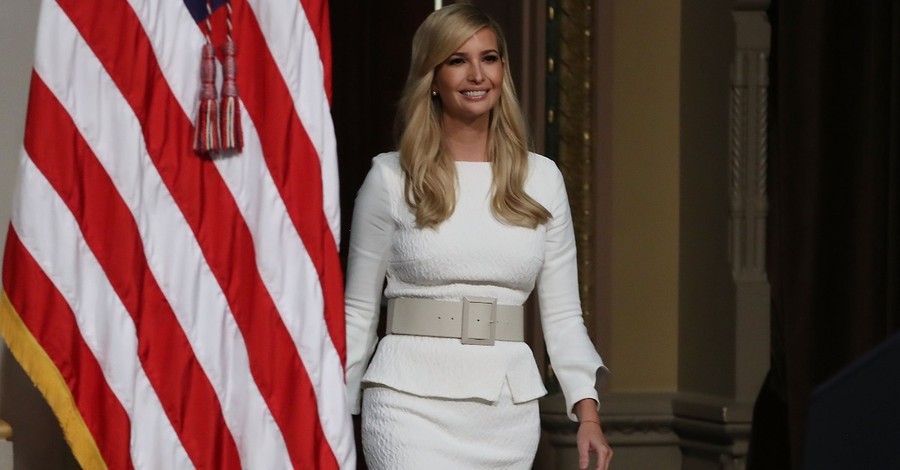 In an interview with Real Clear Politics, Ivanka Trump made her stance on the pro-life issue publicly known for the first time.
While President Trump's daughter respects "all sides of a very personal and sensitive discussion,' she explained that her experience as a mother to three children has affected her "in a profound way in terms of how I think about these things."
"I am pro-life, and unapologetically so," she declared.
A White House aide told the outlet that Trump's comments reflected her personal convictions and her views on the direction the Democratic party is headed.
"A huge driving part of that (stance) is where the Democratic Party has gone," the aide explained.
Throughout her father's first term, up until this point, Ivanka Trump has not taken an official position on abortion, The Christian Post reports.
In 2016, however, she did assert that "The most important job any woman can have is being a mother," Slate reports.
But, in 2017, she held a secret meeting with then Planned Parenthood president Cecile Richards shortly after her father's inauguration.
According to Politico, "In the weeks following her father's inauguration, Ivanka Trump quietly reached out to the President of Planned Parenthood seeking common ground on the contentious issue of abortion."
Trump suggested that Richards split Planned Parenthood into two groups: one larger group that would provide non-abortion services with federal funding, and another group that would still conduct abortions but without the use of federal funds.
Trump's proposal, however, would be rejected as Planned Parenthood maintained that abortion was at the heart of their mission.
An article in the New York Times noted that Planned Parenthood officials considered her suggestion to be "naive" saying that she failed to recognize "how central [abortion] was to the group's mission."
While Ivanka Trump sought to make common ground with the nation's largest abortion provider, pro-life activists were worried that her stance would mean that her father would fail to deliver on his promises to defund Planned Parenthood.
In March of that year, Planned Parenthood had also rejected President Trump's offer not to sign legislation to defund the organization if abortions would cease. Officials, including Planned Parenthood Federation of America Executive Vice President Dawn Laguens, reiterated that abortion was an essential component to their services.
According to a statement by American Life League President Judie Brown, she asserted that Richards "is convinced that abortion is so sacred that the organization is willing to give up government subsidies rather than stop its deadly 'service."
"Planned Parenthood is dehumanizing women and their babies by offering anything but selfless support for expectant mothers," Brown wrote. "Nobody can ever say again that Planned Parenthood's income is its priority. Killing is number one for this organization!"
The Christian Post reports that Planned Parenthood withdrew from the Title X Program last summer instead of complying with the Trump administration's "Protect Life" rule which prohibits recipients from utilizing federal funds to "perform, promote, refer for, or support abortion as a method of family planning."
Photo courtesy: ©Getty Images/Mark Wilson/Staff
---
Milton Quintanilla is a freelance writer and content creator. He is a contributing writer for Christian Headlines and the host of the For Your Soul Podcast, a podcast devoted to sound doctrine and biblical truth. He holds a Masters of Divinity from Alliance Theological Seminary.
---
---