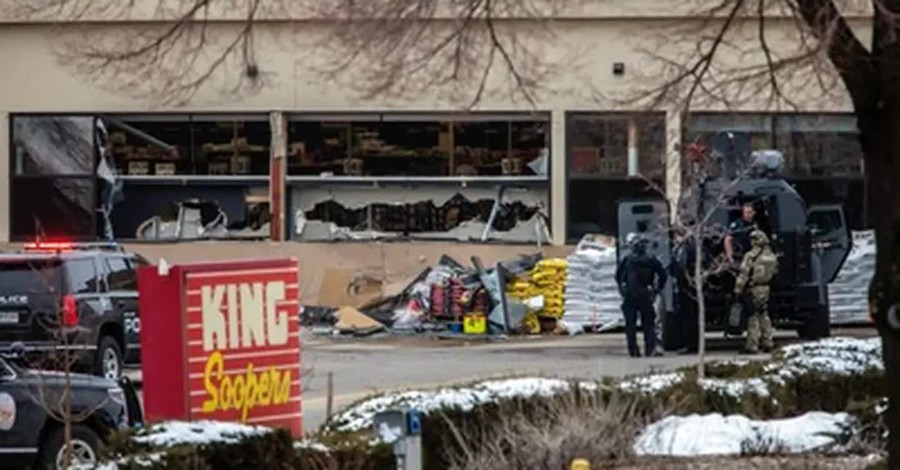 ---
On Monday afternoon, a gunman opened fire at a grocery store in Boulder, Colorado, killing 10 people, including one police officer.
Officers of the Boulder Police Department had responded to a report of someone being shot in the parking lot of a King Soopers grocery store, ABC News reports. Upon arrival, the gunman carrying a long gun opened fire on them.
Eric Talley, who was the first officer to arrive on the scene, was fatally shot. He was 51 and a father of seven.
Multiple eyewitnesses in the parking lot shared videos to social media on Monday afternoon of officers ordering the suspect to come out of the supermarket unarmed, with his hands up and surrender. Other eyewitnesses' videos from inside King Soopers showed employees and customers attempting to flee and hide.
One eyewitness shared how his roommate, who works at King Soopers, had texted updates to him while he and other customers hid in a storage room.
"I think one of the biggest scary text[s] that he sent he just said, I love you guys, like thank you for everything, in case, like, things go bad," the eyewitness said. "That was a really hard text ... that's something that I would never want to hear from any of my friends, because I knew the seriousness of what was going on and I was horrified. It was truly horrifying."
The gunman, whose name is yet to be released, was wounded during the confrontation with police and taken into custody. Video footage shows Boulder police walking in the parking lot with a man, believed to be the gunman, in handcuffs and immediately placed on a stretcher.
The individual in the video was a balding man with a beard who was shirtless with black shorts and no shoes. His right foot was covered in blood.
According to Boulder Police Department Commander Kerry Yamaguchi, the suspect was taken to a hospital to be treated for injuries. No motive behind the shooting was given and there were no additional suspects at the present time.
The Boulder Police Department paid tribute to the slain officer on Monday night as they tweeted a photo of him writing, "Rest In peace Officer Eric Talley. Your service will never be forgotten."
Talley's father, Homer Talley, shared a statement to ABC News explaining how his son, who joined the police force when he was 40 years old, "took his job as a police officer very seriously."
"He had seven children. The youngest is 7 years old. He loved his kids and his family more than anything," he added.
Homer Talley also noted that the fallen officer "believed in Jesus Christ" and had recently started training to be a drone operator in hopes of finding a new job outside the police force.
"He didn't want to put his family through something like this," Homer Talley said.
In a statement shared late Monday night, Colorado Gov. Jared Polis extended his condolences to the 10 victims including officer Talley.
"This year we have all been surrounded by loss of life, illness and isolation," Polis stated. "As spring sprung this weekend, and vaccines continue to get into arms, lightness creeped back in only for the darkness to descend on us again today. Today we saw the face of evil. I am grieving with my community and all Coloradans."
The incident comes a week after another deadly shooting at 3 spas in Atlanta, Georgia, where 8 people were killed.
Photo courtesy: ©Getty Images/Chet Strange/Stringer
---
Milton Quintanilla is a freelance writer and content creator. He is a contributing writer for Christian Headlines and the host of the For Your Soul Podcast, a podcast devoted to sound doctrine and biblical truth. He holds a Masters of Divinity from Alliance Theological Seminary.