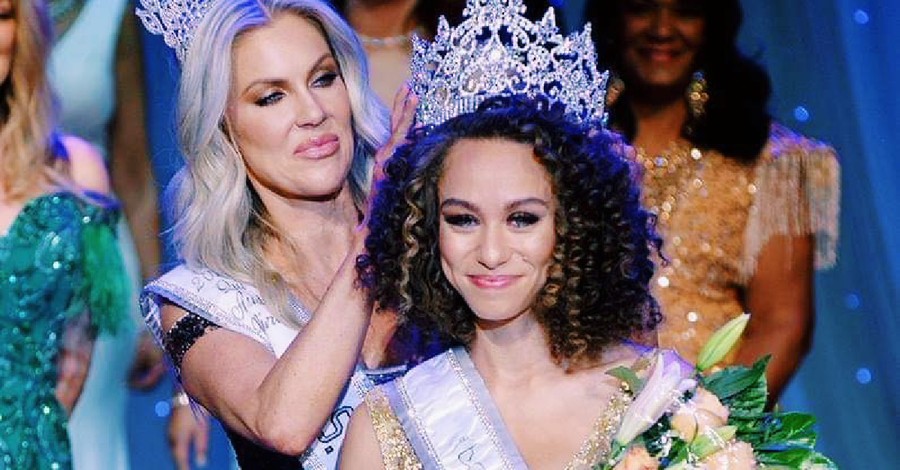 Victoria Petersen, a former foster child who is now a foster mom herself, was recently crowned Mrs. Universe.
In a post on Facebook late last month, Petersen shared photos of the event as she gave glory to God for winning the pageant.
"Glory be to God forever and ever. Amen. Mrs. Universe 2022," she wrote.
In a Students for Life video in 2020, Petersen revealed that she was conceived out of abuse and thanked her mother for choosing life instead of aborting her.
'My mom heroically and bravely chose not to eliminate the potential sufferer — me — and because of her choices, I am now a woman who spends her time passionately advocating to eliminate the suffering of those in the womb and in foster care," she said.
Petersen told The Crescent News that she was placed in foster care when she was 12-years-old and was adopted by Scott Wichman, who was also her high school running coach.
"When I met Scott, I was just running track because academics and running were the only things I was good at, and the two things I was allowed to do outside of my foster home," she explained.
"I respected Scott and took him seriously because he respected himself and took his work seriously," she continued. "And because he was a decent man. I didn't have a lot of decent men in my life, but I had no idea he'd impact my life like he did."
As reported by CBN News, Petersen attended Hillsdale College and graduated in 2018. She also married her husband, Jacob, and they became foster parents themselves.
Petersen is the founder of the nonprofit organization Bring Beloved, through which she seeks to bring awareness to foster children and affirm their value as children of God.
"My experience in foster care as a former foster youth, foster care advocate, & foster mom fuels my life's passion to raise up & nurture my own family, as well as advocate for the restoration of family," she states on her website. "My heart is burdened for the foster care community, foster youth, vulnerable youth, & suffering families," she added.
"I share my life vulnerably with hopes to let my Abba Father be known & loved through stories, to offer hope to the hurting, & to serve people from all kinds of backgrounds," Petersen concluded.
Petersen also works with America's Kids Belong, which helps foster children find homes before they turn 18.
In a Facebook post in May, Petersen, who, at the time, was named Mrs. Minnesota Universe, shared how the pageant had enabled her to further raise awareness for the foster care system.
"Being Mrs. Minnesota Universe has allowed me another opportunity to inform people of how they can help youth in foster care from the perspective of a former foster youth, foster mom, and advocate! Through this venture, I am NOT going to be a voice for the voiceless," she wrote. "I am going to give the voiceless opportunities to raise their voices! The voiceless have a voice. We just need to listen!"
Photo courtesy: ©Victoria Petersen Facebook
---
Milton Quintanilla is a freelance writer and content creator. He is a contributing writer for Christian Headlines and the host of the For Your Soul Podcast, a podcast devoted to sound doctrine and biblical truth. He holds a Masters of Divinity from Alliance Theological Seminary.
---
---