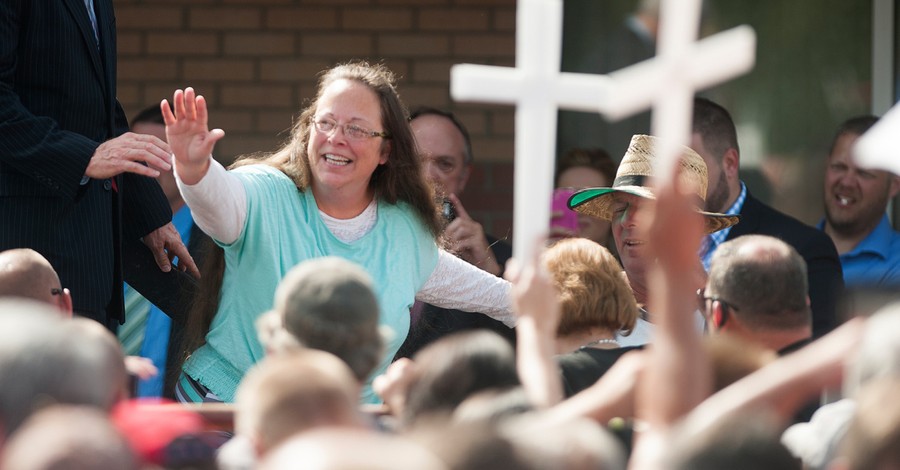 Former Kentucky county clerk Kim Davis seeks to issue an appeal to a jury ruling ordering her to pay $100,000 in damages for her refusal to sign a marriage license for a same-sex couple in 2015.
Last week, a federal jury awarded David Ermold and David Moore $50,000 each in their lawsuit against Davis because she refused to sign their marriage license in 2015. The U.S. Supreme Court ruled in favor of Obergefell v. Hodges that year, allowing same-sex marriage nationwide without restrictions.
In response to the verdict, Liberty Counsel, a nonprofit legal group representing Davis, announced they would appeal the 2015 decision, contending that the jury lacked evidence. According to The Christian Post, Liberty Counsel explained that the plaintiffs said under oath that they did not have an objective means to estimate the alleged damages in light of Davis' actions.
"Plaintiffs are required to provide evidence of damages, and it cannot be based on speculation or guesswork," the legal group stated.
"Because the plaintiffs provided the jury with no evidence whatsoever to give the jury any basis upon which to enter a damages verdict, the judge should never have given the case to the jury."
In another case, Yates v. Davis, no damages were awarded for Davis' refusal to sign a same-sex marriage license for another same-sex couple. Liberty Counsel noted that no damages were awarded in that case even though the plaintiffs asked for $300,000 "because that is what the evidence required."
Joe Buckles, who represented Moore and Ermold, told National Public Radio he was "thrilled" at last week's decision.
"The Supreme Court says that my clients have a constitutional right to marry under the 14th Amendment," Buckles said.
"But this case isn't really about [Davis'] religion," he continued. "The case isn't really about our clients' right to marry. The case is about a government official that just refused to do her job. It's a pretty simple case."
Liberty Counsel also contended that Davis should be given protection from liability because "she was entitled to a religious accommodation from issuing marriage licenses under her name and authority that conflicted with her religious beliefs."
"When the newly elected Republican Governor Matt Bevin took office in December 2015, he granted religious accommodation to all clerks by Executive Order," stated the group.
"Then in April 2016, the legislature unanimously granted religious and conscience accommodation to all clerks from issuing marriage licenses that conflict with their religious beliefs."
In 2019, A three-judge panel of the 6th U.S. Circuit Court of Appeals unanimously ruled that Davis could be sued for her actions.
"Davis knew or ought to have known, to a legal certainty, that she could not refuse to issue marriage licenses, as was her duty under state law, because of moral disapproval of homosexuality," Circuit Judge John K. Bush, a Trump appointee, wrote in a concurring opinion at the time.
"I, therefore, agree with the Majority that Plaintiffs have pleaded a violation of their constitutional right to marriage based on Davis's refusal to issue marriage licenses and that the district court correctly denied qualified immunity to Davis because she violated clearly established rights."
Photo courtesy: ©Getty Images/Ty Wright/Stringer
---
Milton Quintanilla is a freelance writer and content creator. He is a contributing writer for Christian Headlines and the host of the For Your Soul Podcast, a podcast devoted to sound doctrine and biblical truth. He holds a Masters of Divinity from Alliance Theological Seminary.
Related podcast:
The views and opinions expressed in this podcast are those of the speakers and do not necessarily reflect the views or positions of Salem Web Network and Salem Media Group.
---
---