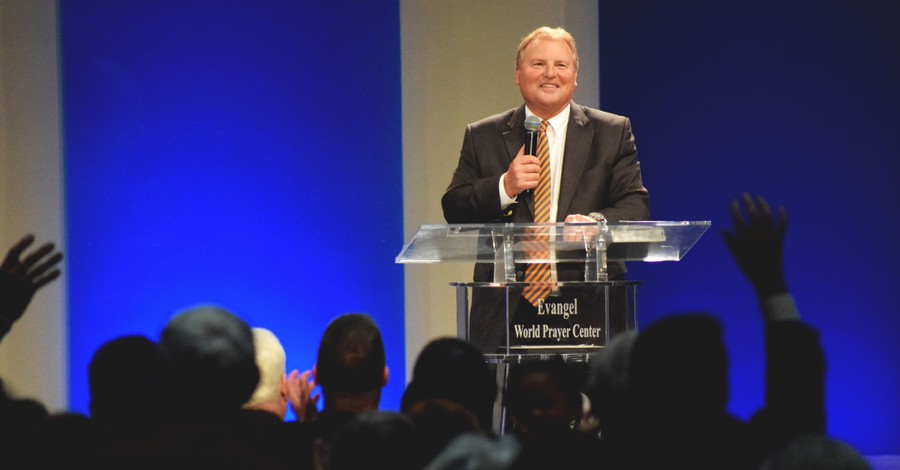 ---
One Kentucky megachurch pastor has come under fire after he called for a curse against those who – he says – "stole" the 2020 presidential election from President Trump, The Christian Post reports.
During a worship service on Sunday, Rev. Bob Rodgers of Evangel World Prayer Center in Louisville made the remarks as he led his congregation in prayer.
"Father, those that have lied, those that have stolen this election, those that have cheated, I place the curse of God upon them," Rodgers said, according to a video clip shared on Twitter.
Bob Rodgers is a religious, far-right extremist at Evangel World Prayer Church in Louisville, KY. It's alarming that he's praying for God to destroy people's livelihoods because they voted against 4 more years of Donald Trump. This is total BS! 😡 pic.twitter.com/gTSdS5cyMP

— Israel McCullough (he/him) (@IsraelMC01) January 10, 2021
"I curse you with weakness in your body. I curse you with poverty. I cursed you with the worst year you've ever had in the name of the Lord," he continued.
In another clip that is believed to be from the same service, Rodgers explained that he had an angel tell them Trump was supposed to win and that "it isn't over yet."
"I had an angel come to me and tell me that Trump was going to be the next president. And to be honest, he probably had the biggest landslide victory in the history of America," he argued. "But that doesn't mean we are wrong. It means it isn't over yet."
From yesterday: Christian Nationalism from the pulpit. This is how extremists are made. This is how we get raids on the Capitol.

Fellow Christians & Christian leaders- we MUST condemn this.

Shame on @DrBobRodgers from @EvangelWPC #ChristianNationalism#TrumpSupporters pic.twitter.com/VbZjonN1qa

— April Reuning (@aprilajoyr) January 11, 2021
On Wednesday, several Louisville pastors condemned Rodger's comments in a press conference that was streamed on Facebook.
According to local news outlet WHAS11, Rev. Tim Findley of the Kingdom Fellowship Christian Life Center said that in the wake of last week's U.S. Capitol attack that resulted in the deaths of five people, Rodger's words were not only irresponsible but dangerous.
"Less than a week after we see the violent mob storm the Capitol, and riot and loot, where one police officer was beat to death, and less than a week after that, you're pushing that kind of rhetoric ..." Findley said at the press conference. "I think now you're in an irresponsible, dangerous place."
Meanwhile, Frank Smith of Christ's Church For Our Community urged the megachurch pastor to apologize and confess that he went too far.
"Confess that you have gone too far," Smith contended. "Lead your people to truly a sound theology not tainted with Democratic patriotism but rather based on the sacrificial blood from the cross."
Findley noted that there is a "mentality of superiority" that "has invaded the pulpit", and that such language, as used by Rodger's, should be condemned.
"Why is this so important right now? Because there are alerts going out to law enforcement as we speak alerting people to be on guard because on the day of the inauguration there are planned – not protests – but violent actions," he explained.
On Tuesday, Rodgers, who is also the president of Word Broadcasting Network in Louisville and co-hosts a Christian program called "Word Alive" with his wife, clarified that his words were not meant to curse people but the demonic forces within them.
"This is a prayer not to curse people but to curse the demonic forces that people have allowed to rule them that would harm a nation," he told WHAS11. "I do pray that trouble will come to them if they don't repent and that they will turn from their wicked ways."
Photo courtesy: Rev Bob Rodgers Facebook
---
Milton Quintanilla is a freelance writer. He is also the co-hosts of the For Your Soul podcast, which seeks to equip the church with biblical truth and sound doctrine. Visit his blog Blessed Are The Forgiven.