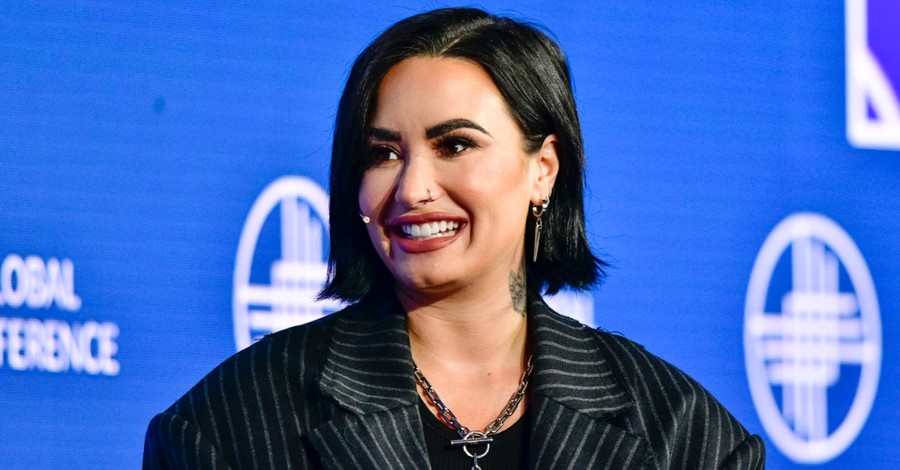 Pop singer and former Disney actress Demi Lovato is facing backlash for her new song touting abortion.
Lovato released the profanity-laced song and music video titled "Swine" late last month, one year after Roe v. Wade was overturned.
"God forbid, I wanna suck whatever the f— I wanna/God forbid, I wanna f— whoever the f— I want/And if he c—, I guess I gotta be a mother," adding, "My life, my voice/My rights, my choice/It's mine, or I'm just swine," the lyrics read in part.
Lovato also likened women who have abortions to the victims of the Salem Witch Trials.
"We gotta grow 'em, we gotta raise 'em, we gotta feed and bathe 'em," Lovato sings. "And if you won't, they call you a witch to burn at the stake in Salem/Thought by now they'd change, but we're still waiting/Let's give these [plural expletive] hell."
As of Friday, the song has over 640,000 views on YouTube. It was released two weeks ago.
According to The Christian Post, several conservative and Christian commenters have voiced concerns about Lovato's new single.
"Demi Lovato quit being a 'them' so that she could write a women's rights anthem. I cannot make this up ladies and gentlemen," Popular Christian Youtuber Ruslan KD said in a response video titled Demi Lovato MOCKS Bible in DEMONIC New Song?
Lovato identifies as non-binary and uses "she/her" and "they/them" pronouns.
"I would just like it to be known that Demi Lovato is getting ratioed by people in the dislikes section of this video. 47,000 dislikes versus [49,000] likes and the video has 493,000 views in seven days," Ruslan KD noted.
A supporter of the prominent pro-life organization Live Action posted a response video denouncing the song.
"This is a terrible song, and the lyrics were written to reduce a woman to her body. Demi, do you really think that the only thing women are good for is sex, to please others, and to be pleased? Are we not valuable human beings that should respect [ours and our children's bodies]?" the young woman in the video said.
"Defending the lives of our own children in the womb does not make us swine or pigs. It makes us strong. We have a superpower that can grow human beings inside of our wombs, and it should never be reduced or mocked."
Conservative commentator Ben Shapiro of the Daily Wire also issued a video response asserting that "Demi has officially gone off of the deep end" and is now "fully evil."
In a recent episode of the Relatable podcast, conservative Christian Allie Beth Stuckey pointed to Bible verses about swine.
"She says that if she can't choose to have an abortion, then she's just swine. She's just a pig. I think it's very interesting that she chooses that terminology, that she chooses that word. We see swine or pigs used a lot in Scripture as an example of being unclean," Stuckey explained. And I think specifically, I think specifically of the story in Mark 5 when Jesus casts the demons out of the man who was wandering in the cemetery:
"It just seems a little bit comparable here. It seems like that's kind of what's going on. These are demonic ideas. She's calling herself a swine, of all things, because she can't have an abortion. These are definitely pig-like assertions that she's making," she continued. "Like she is basically glorifying selfishness. She's glorifying this kind of crass, promiscuous lifestyle where she should be able to choose what she wants to do, whatever she feels like doing in any moment, no matter the consequences that have to be endured by other people."
In a video on Instagram last month, Lovato issued an explanation behind the song.
"It's been one year since the Supreme Court's decision to dismantle the constitutional right to a safe abortion, and although the path forward will be challenging, we must continue to be united in our fight for reproductive justice," she wrote in the caption.
"I created 'SWINE' to amplify the voices of those who advocate for choice and bodily autonomy. I want this song to empower not only the birthing people of this country but everyone who stands up for equality, to embrace their agency and fight for a world where every person's right to make decisions about their own body is honored."
Photo courtesy: ©Getty Images/Jerod Harris/Stringer
---
Milton Quintanilla is a freelance writer and content creator. He is a contributing writer for Christian Headlines and the host of the For Your Soul Podcast, a podcast devoted to sound doctrine and biblical truth. He holds a Masters of Divinity from Alliance Theological Seminary.
---
---