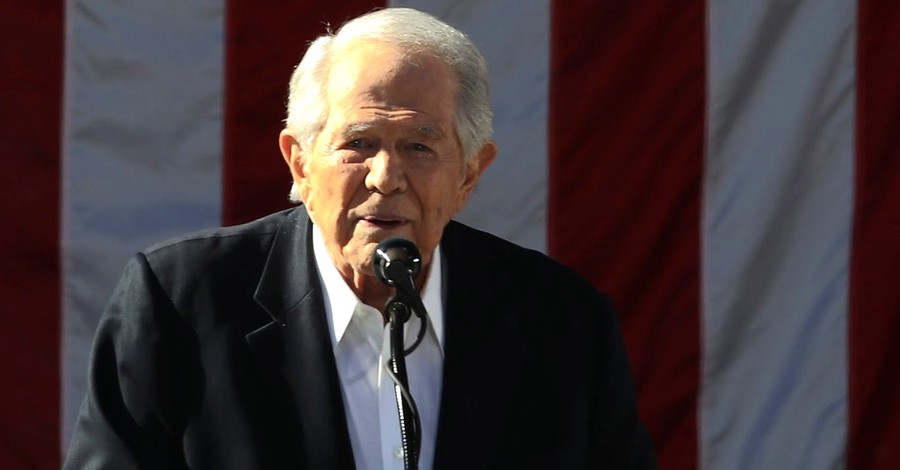 Last Saturday, one of the three co-founders of the Black Lives Matter organization spoke out against televangelist Pat Robertson for rendering the group as anti-Christian, Newsweek reports.
Robertson, who hosts the 700 Club, made the remarks on Thursday's broadcast as the televangelist called out the movement's Marxist ideologies, as seen on their website.
"They're talking about Marxist communism," Robertson said. "They're talking about destroying the nuclear family. They're talking about destroying essentially Christianity as being racist. And all the way through, they want to upend the capitalist structure and destroy America."
While he affirms the phrase "Black Lives Matter", the televangelist noted that the organization is ultimately, "a stalking horse for a very, very radical anti-family, anti-God agenda."
"People should be aware that they're not just standing with the poor oppressed Black people. Of course we want to stand with people against police brutality. Of course we do," he said.
"But we don't want to go along with a lesbian, anti-family, anti-capitalist Marxist revolution. We don't want that for America."
In a statement released on Saturday, BLM co-founder Patrice Cullors decried Robertson's comments as "completely inflammatory and dangerous" as she defended the group's support of Christianity.
"In response to the outlandish comments made by televangelist Pat Robertson, we are here yet again being attacked for standing up against white supremacy. To insinuate that our movement is trying to destroy Christianity is disgraceful and outright offends our Christian siblings who are a part of our movement against racial injustice," Cullors argued.
She added that "Christianity was built on empathy; not hate. Until hate and racism is eradicated, America will continue to be a divided nation."
"It is our hope that Pat Robertson and anyone else who believes we are destroying Christianity with our work, would join us in our movement as we will continue to galvanize these moments of division and false character accusations as fuel to move our country and world forward. Every day, we are surviving — if we do. We will continue to rise up until all Black lives are valued and matter across this world," Cullors concluded.
As Christian Headlines previously reported, Abraham Hamilton III, a black Christian teacher and conservative commentator, claimed that the Black Lives Matter movement is practicing witchcraft.
Hamilton played a clip of a June conversation that Cullors had with BLM Los Angeles founder Dr. Melina Adullah, where they highlighted the spirituality that lies at the heart of the movement. For instance, the "say their name" chant that is popularized by BLM, is meant to invoke a spiritual connection with Black people who were killed by police.
"When we say the names, right, so we speak their names, we say her name, say their names, we do that all the time, that you kind of invoke that spirit. And then those spirits actually become present with you," Abdullah said.
But Hamilton denounced the group for their attempts at conducting "ancestral worship."
Over the Labor Day Weekend, Cullors addressed the criticisms made against BLM's spirituality.
"Attacks on African faith practices are not new," she wrote. "Attacks on indigenous faith practices are not new. In fact, even attacks on charismatic practices in the black church are not new. These are ways that white supremacy tries to strip Black folks of the divine salvation and the right to connect to the divine," she asserted.
Photo courtesy: ©Getty Images/Win McNamee/Staff
---
Milton Quintanilla is a freelance writer and content creator. He is a contributing writer for Christian Headlines and the host of the For Your Soul Podcast, a podcast devoted to sound doctrine and biblical truth. He holds a Masters of Divinity from Alliance Theological Seminary.
---
---