Michael Foust
| ChristianHeadlines.com Contributor
| Monday, February 4, 2019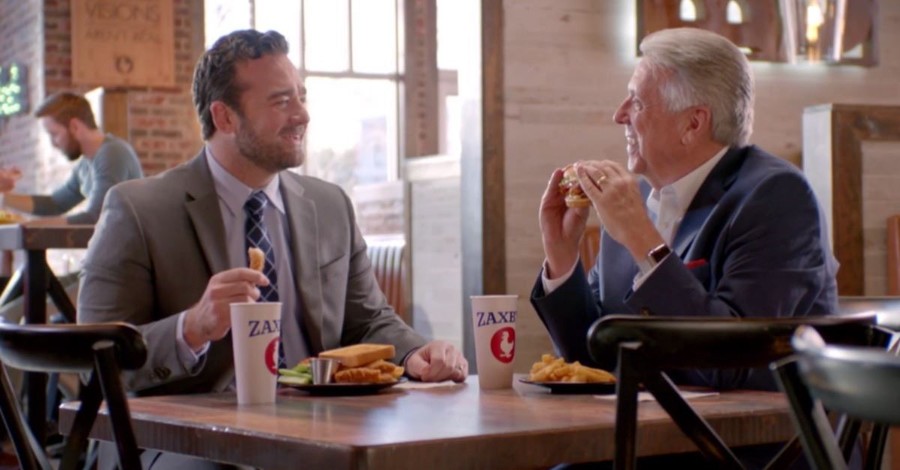 A Zaxby's Super Bowl commercial that took a shot at Chick-fil-A for being closed on Sundays may have backfired.
The ad shows former NFL player Jeff Saturday and former Major League Baseball player Rick Monday walking up to a restaurant as the announcer says, "The only thing that comes between them is where to go for chicken on Sunday." 
"You think they're closed?" Saturday asks as he tries to pull the door open. 
Monday then tells him to "push" the door, not pull it. After that, they sit down and eat. 
The announcer concludes, "Hand-breaded chicken, fresh-made salads and world-famous sauces. On Sunday and every day, only at Zaxby's." 
Zaxby's YouTube channel titled the commercial, "Zaxby's Sunday (And Every Day) Chicken."
Its competitor, Chick-fil-A, is never mentioned in the ad, but it's common knowledge Chick-fil-A is closed on Sundays. Interstate exit signs acknowledge that fact.  
Mentions of the ad on social media were overwhelmingly negative. Zaxby's did not post the commercial on its Facebook page, but Chick-fil-A fans still were posting their thoughts by hijacking an unrelated post. The commercial apparently was not a national ad but a local one broadcast only in some markets. Still, Zaxby's website called it the "super-sized commercial from the Big Game." 
"Unbelievable how you have to talk down to a competitor for closing on Sunday. Not sure how this promotes your business. Done!" Kevin Mings wrote on Zaxby's Facebook page. 
Donna De Sopo wrote, "Your super bowl ad is offensive. You don't need to mock your competitor for closing on Sunday in observance of, and keeping holy, the Sabbath. It's a jab to Christians, which you seem to think is okay. It's not and obviously intentional to get negative attention. If your food is better than the competition, focus on that! I've enjoyed your food but this ad leaves a bad taste in my mouth."
Christy Amanda Black wrote, "I'm glad Chick-Fil-A honors a day off for their employees to attend church! You're not superior – just greedy!" 
Some people were pledging never to eat at Zaxby's again.
Author Jon Acuff, who has nearly 300,000 followers on Twitter, wrote, "Whoa, did Zaxby's just throw shade at @ChickfilA for being closed on Sundays?"
Chick-fil-A's website says its founder, Truett Cathy, "made the decision to close on Sundays in 1946 when he opened his first restaurant in Hapeville, Georgia." 
"Having worked seven days a week in restaurants open 24 hours, Truett saw the importance of closing on Sundays so that he and his employees could set aside one day to rest and worship if they choose – a practice we uphold today," it says.
Cathy said in 2004 that closing on Sundays was a great business decision.
"God has blessed us for this. We have not suffered," said Cathy, who passed away in 2014.
Michael Foust is a freelance writer. Visit his blog, MichaelFoust.com.
Photo courtesy: Zaxby's screenshot
Video courtesy: Zaxby's
---
---