Michael Foust
| ChristianHeadlines.com Contributor
| Monday, June 27, 2022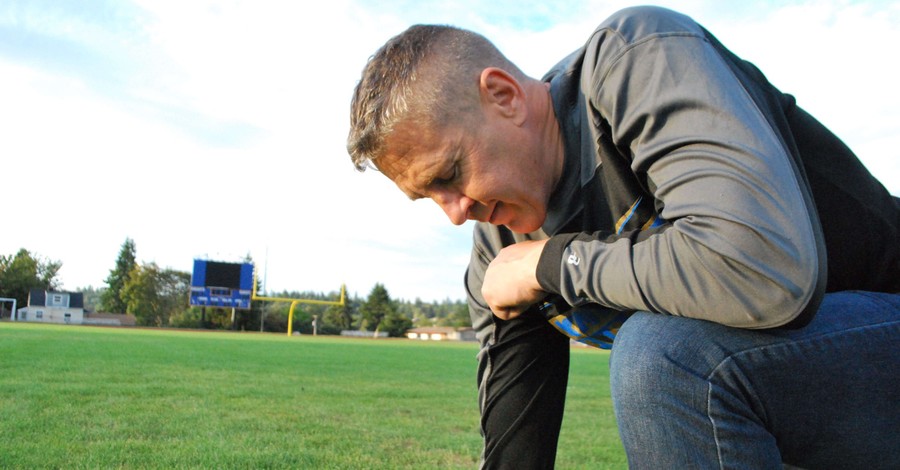 In a landmark ruling for religious liberty, the U.S. Supreme Court on Monday officially overturned a 51-year-old legal precedent known as the "Lemon Test" while siding with a football coach who had been fired for praying.
The high-profile case involved Joseph Kennedy, who was not retained as a coach by Bremerton (Wash.) High School after he conducted post-game public prayers, multiple times, in violation of a district policy. Many of the prayers took place at midfield as he kneeled, alone, with no one around.
Kennedy sued the district but lost at the district court and the appeals court.
But in a 6-3 decision Monday, Supreme Court Justice Neil Gorsuch wrote that the school district's policy and actions violated the Free Exercise and the Free Speech Clauses of the U.S. Constitution.
"Respect for religious expressions is indispensable to life in a free and diverse Republic – whether those expressions take place in a sanctuary or on a field, and whether they manifest through the spoken word or a bowed head," Gorsuch wrote. "Here, a government entity sought to punish an individual for engaging in a brief, quiet, personal religious observance doubly protected by the Free Exercise and Free Speech Clauses of the First Amendment. And the only meaningful justification the government offered for its reprisal rested on a mistaken view that it had a duty to ferret out and suppress religious observances even as it allows comparable secular speech. The Constitution neither mandates nor tolerates that kind of discrimination."
He was joined in the opinion by Chief Justice John Roberts and Justices Clarence Thomas, Brett Kavanaugh, Samuel Alito and Amy Coney Barrett.
Gorsuch noted that Kennedy initially "offered his prayers quietly while his students were otherwise occupied" yet – at some games – was joined by members of his team.
Gorsuch described the First Amendment as a "natural outgrowth of the framers' distrust of government attempts to regulate religion and suppress dissent." The amendment's language on religious liberty, he added, protects "not only the right to harbor religious beliefs inwardly" but also "the ability of those who hold religious beliefs of all kinds to live out their faiths in daily life through 'the performance of (or abstention from) physical acts.'"
Kennedy's public prayers, Gorsuch wrote, were private speech, not government speech.
"During the postgame period when these prayers occurred, coaches were free to attend briefly to personal matters – everything from checking sports scores on their phones to greeting friends and family in the stands," Gorsuch wrote.
The majority opinion also officially overturned the Lemon Test, which has been used since 1971 to determine the constitutionality of a law that deals with religion. Conservatives frequently have criticized the test, saying it has been used to restrict religious liberty. According to the Lemon Test est, a law is constitutional if it: 1) has a secular purpose, 2) neither advances nor inhibits religion, and 3) doesn't foster government "entanglement" with religion.
"[T]his Court long ago abandoned Lemon and its endorsement test offshoot,'" Gorsuch wrote. … "In place of Lemon and the endorsement test, this Court has instructed that the Establishment Clause must be interpreted by 'reference to historical practices and understandings.'"
The goal of courts, he added, should be to "faithfully reflec[t] the understanding of the Founding Fathers" in religious liberty cases.
Justice Sonia Sotomayor, in a dissent, criticized the court for "overruling Lemon" and calling into "question decades of subsequent precedents."
First Liberty Institute, which represented Kennedy, applauded the court's decision.
"This is a tremendous victory for Coach Kennedy and religious liberty for all Americans," said Kelly Shackelford, president and chief counsel for First Liberty. "Our Constitution protects the right of every American to engage in private religious expression, including praying in public, without fear of getting fired. We are grateful that the Supreme Court recognized what the Constitution and law have always said – Americans are free to live out their faith in public."
Kennedy also expressed gratitude.
"I am incredibly grateful to the Supreme Court, my fantastic legal team, and everyone who has supported us," he said. "I thank God for answering our prayers and sustaining my family through this long battle."
Related:
Supreme Court Appears Ready to Rule for Football Coach Fired for Praying
Photo courtesy: ©First Liberty, used with permission.
---
Michael Foust has covered the intersection of faith and news for 20 years. His stories have appeared in Baptist Press, Christianity Today, The Christian Post, the Leaf-Chronicle, the Toronto Star and the Knoxville News-Sentinel.
---
---