Michael Foust
| ChristianHeadlines.com Contributor
| Wednesday, February 13, 2019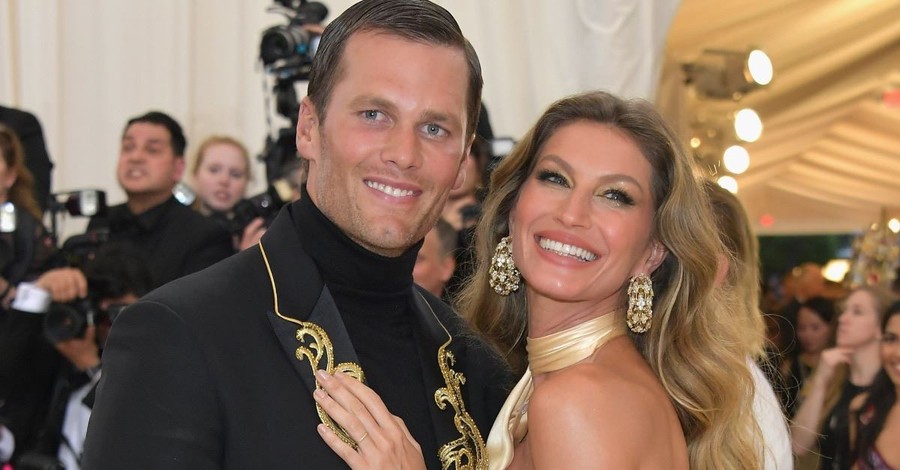 Quarterback Tom Brady has led the New England Patriots to six Super Bowl championships during his unprecedented career, but he says some of the credit goes to his wife, Gisele Bundchen, who performs witchcraft to assist him.
Brady made the comments last week during an event sponsored by Gillette in Boston. They first were reported by CBS Boston.
"You know I've learned a lot from my wife over the years," Brady said, leaning back in a barber's chair. "She's so about the power of intention and believing things that are really going to happen.
"She always makes a little altar for me at the game, because she just wills it so much. So she put together a little altar for me that I can bring with pictures of my kids, and I have these little special stones and healing stones and protection stones, and she has me wear this necklace, and take these drops she makes, and I say all these mantras, and I stopped questioning her a long time ago. I did. I just shut up and listen."
At first, Brady said, he thought it was "kinda crazy."
"And then about four years ago, we were playing the Seahawks and she said to me, 'You better listen to me. This is your year. But this is all the things you're going to have to do to win.' And I did all those things and … it worked."
The Patriots beat the Seahawks that year in Super Bowl 49.
In January 2015, he said, his wife told him, "I just want to let you know this is not going to be your year." The Patriots didn't advance to the Super Bowl that year, losing to the Denver Broncos in the AFC Championship.
Brandy added that she predicted success for him in 2016 and 2018, too -- both Super Bowl championship years.
"She said, 'You're lucky you married a witch. I'm just a good witch.'"
CBN reported that Brady has dabbled in other religions, too. The website also quoted Patriots players who are vocal about their Christian faith.
"This is not life and death," Patriots team captain Matthew Slater told CBN prior to the Super Bowl. "This is not the biggest thing that we'll do. The biggest and most important decision we'll ever make in our lives is what we do with the knowledge of Jesus Christ. We love what we do but we have to keep perspective on the greater good."
Patriots running back Rex Burkhead told CBN, "We've grown as a team because you don't play for yourself. Those earthly glories, stats, awards, what not, you play for God's glory. Just go out there and glorify Him with the talents He's given you, make the most of those abilities to give all the praise to Him."
Read more about witchcraft:
The Frightening Truth about Wicca in the United States
Billy Graham on Why the Bible Warns against the Occult & Witchcraft
What Does the Bible Say about Curses and Spells?
H/T CBN
Michael Foust is a freelance writer. Visit his blog, MichaelFoust.com.
Photo courtesy: Getty Images/Neilson Barnard/Staff
Video courtesy: Robert Belsha
---
---