Michael Foust
| ChristianHeadlines.com Contributor
| Wednesday, April 20, 2022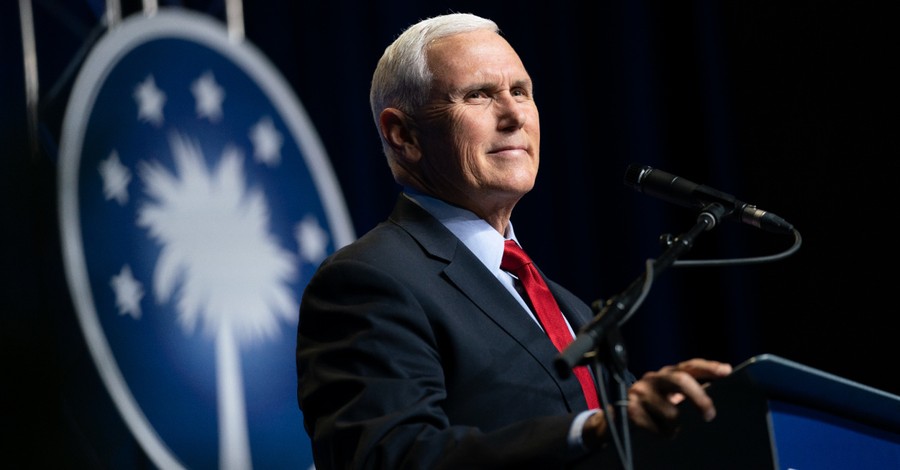 The Biden administration is leading an "assault on culture and values," but the American people are stepping up to oppose it, former Vice President Mike Pence told a gathering of college students and supporters at the University of Virginia last week.
Pence's speech, sponsored by the university's Young Americans for Freedom chapter, focused on the accomplishments of the Trump-Pence administration and what Pence sees as the future of conservatism in America.
The school student newspaper, the Cavalier Daily, had urged school officials to cancel Pence's speech, but university President Jim Ryan and Provost Ian Baucom declined the idea, saying the university supported freedom of expression and the exchanging of ideas.
"I heard there was a little bit of controversy preceding my visit," Pence said, laughing.
The Biden administration, he said, has "unleashed a tidal wave of left-wing policies."
"One of the most troubling developments this past year has been the Biden administration's all-encompassing assault on culture and values," Pence said. "Under the Biden administration, wokeism is running amok in our public schools and universities. Patriotic education has been replaced by political indoctrination."
Pence noted that the Biden administration abolished the Trump-era 1776 Commission, an advisory group that released a report asserting that the United States is an "exceptional country."
"[The Biden administration] authorized the teaching of what's known as Critical Race Theory in our public schools," Pence said. "Critical Race Theory actually teaches children as young as grade school to be ashamed of the color of their skin. Let me be clear: Critical Race Theory is nothing more than state-sanctioned racism, and it should be rejected by every state in every city in this country."
The Left, he said, has led an "assault on free speech."
Pence thanked the university's administration for allowing him to speak.
"The antidote to cancel culture is freedom. The antidote to woke America is freedom," Pence said.
Pence quoted the First Amendment. He also quoted University of Virginia founder Thomas Jefferson as saying, "As long as we may think as we will and speak as we think, the condition of man will proceed in improvement."
"Mr. Jefferson was right. As long as we think as we will, and speak as we think, the future will always be brighter," Pence said. "... The freedom of speech is the God-given birthright of every American. And we can never let the woke Left take it away. Thankfully, I'm proud to report that the American people have been stepping up for freedom, just like courageous voices did here and did on other university campuses where I've had the privilege to speak."
Pence noted that Virginia Gov. Glenn Youngkin was elected, in part, on a platform to give parents more freedom over public schools. Pence also referenced a recent San Francisco election in which three school board members who backed a controversial plan to rename 44 schools – including one named after Abraham Lincoln – were recalled by voters.
"The truth is where many on the Left spent years agitating for a culture war, it looks like they got it. And it looks like they're losing," Pence said. "Because this generation, I believe, is a freedom generation."
Related:
San Francisco Voters Boot School Board Members Who Removed Names of Abraham Lincoln, George Washington from Schools
Photo courtesy: ©Getty Images/Sean Rayford/Stringer
Video courtesy: ©Young America's Foundation
---
Michael Foust has covered the intersection of faith and news for 20 years. His stories have appeared in Baptist Press, Christianity Today, The Christian Post, the Leaf-Chronicle, the Toronto Star and the Knoxville News-Sentinel.
---
---