Michael Foust
| ChristianHeadlines.com Contributor
| Thursday, February 25, 2021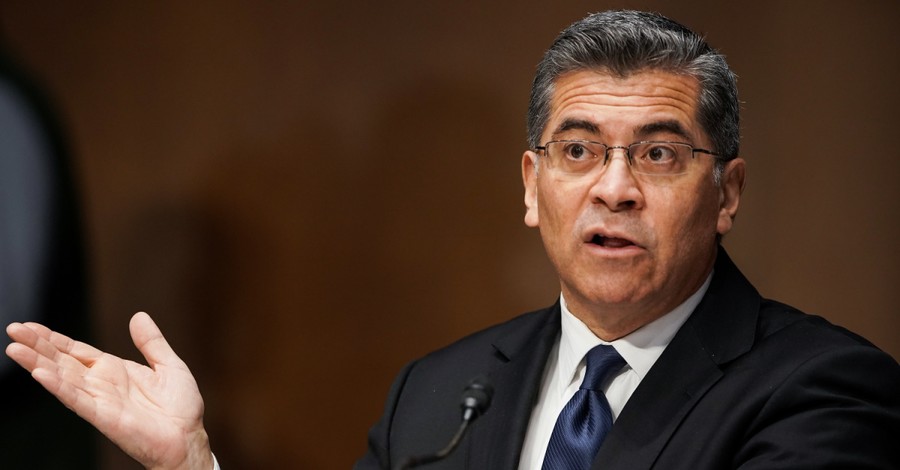 ---
President Biden's choice for secretary of Health and Human Services on Wednesday dodged a series of pointed questions about his beliefs and political positions on abortion, refusing to say whether he supports any restrictions on the procedure.
The questioning of Biden nominee Xavier Becerra in the Senate Finance Committee continued a theme from Tuesday about what pro-lifers see as his extreme views. As a member of the House of Representatives, Becerra voted against a ban on partial-birth abortion.
Becerra currently serves as California attorney general.
Today, I asked @HHSGov nominee Xavier Becerra if he supported any kind of restriction on abortion, including restrictions on the lethal discrimination of babies with Down syndrome or partial-birth abortion.

He refused to answer. pic.twitter.com/vwgZIqe37t

— Steve Daines (@SteveDaines) February 24, 2021
"Name one abortion restriction that you might support," Sen. Steve Daines (R-Mont.), a member of the Finance Committee, urged Becerra.
"Senator, let me try to respond this way," Becerra answered. "I have tried to make sure on this important issue for so many people -- where oftentimes again we have different views, but deeply held views – I have tried to make sure that I am abiding by the law. Because whether it's a particular restriction or whether it's the whole idea of abortion – whether we agree or not, we have to come to some conclusion."
Daines asked again, "To be clear, is there any line you would draw. Is there just one – just one restriction – as it relates to abortion that you might support?"
"Senator, you're talking to the spouse of an OB/GYN who for decades has practiced saving lives of women and babies," Becerra answered, referencing his wife, a doctor. "And I can tell you that from the stories I've heard from Carolina my wife, I know how hard many women struggle just to save the life of their baby."
Daines, undeterred, told Becerra the issue should focus on "those who don't have a voice, which are the little babies."
"You didn't answer the question," Daines said, before asking a more specific question: "How about a ban on the lethal discrimination of babies who are diagnosed with Down syndrome?"
"Senator, once again, if I can simply say to you, that I respect the different views that are out there," said Becerra, adding that his goal was to follow and enforce the law.
"You're going to be the head of HHS," Daines responded. "That's a huge organization that has profound impact on our society. How about a ban on sex-selective abortion? ... Would you say you can't have a sex-selective abortion?"
"I respect those who take a particular view," Becerra said. "My job will be to make sure that I am following the law."
On Monday, a coalition of more than 60 pro-life leaders sent a letter to members of the Senate Health Committee, urging them to oppose Becerra's nomination. The coalition called him a "radical" on abortion.
"As Attorney General, Mr. Becerra went out of his way to attack pro-life policies and conscience protections," the letter says. "He led the charge against the Title X Protect Life Rule which, under the prior administration, successfully defunded Planned Parenthood of $60 million. Despite the Supreme Court already siding with the Little Sisters of the Poor in an earlier case, Mr. Becerra took the nuns and similar groups to court to force them to violate their consciences.
"However, perhaps most ironically, Mr. Becerra has argued in opposition to following an existing Federal law against forcing healthcare entities to provide, pay for, provide coverage of, or refer for abortion (the longstanding Weldon Amendment) calling the enforcement of such provisions 'illegal.' Notably, if confirmed Mr. Becerra would be responsible for overseeing the Title X program, establishing the federal preventive service mandates that infringed on the conscience rights of the Little Sisters of the Poor, and enforcing the Weldon Amendment."
Related:
Biden's HHS Nominee Defends Partial-Birth Abortion, Labels the Unborn 'Future Babies'
Xavier Becerra, Biden's HHS Pick, Is an 'Extremist on Abortion,' Pro-Lifers Warn
Photo courtesy: ©Getty Images/Pool
---
Michael Foust has covered the intersection of faith and news for 20 years. His stories have appeared in Baptist Press, Christianity Today, The Christian Post, the Leaf-Chronicle, the Toronto Star and the Knoxville News-Sentinel.