Scott Slayton
| ChristianHeadlines.com Contributor
| Monday, November 12, 2018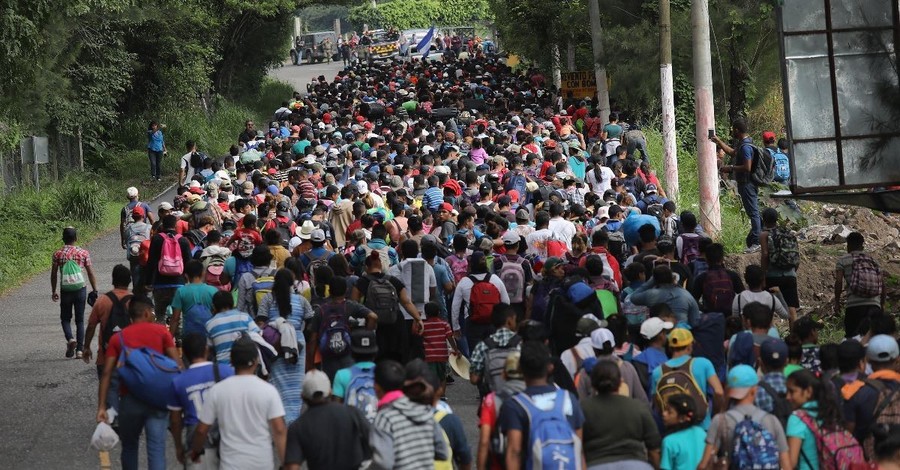 President Trump signed a proclamation Friday aimed at preventing migrants from seeking asylum if they enter the country illegally. The move comes as a caravan of migrants from Central America moves through Mexico.
The President said he is not trying to limit legal immigration, but rather seeking to stop those who come into the country in improper ways. He told reporters, "We want people to come into our country, but they have to come into the country legally." 
Illegal immigration has been a centerpiece of the President's domestic policy since he announced his candidacy in June 2015. He promised during the run-up to the 2018 midterm that he would stop the migrant caravan from entering the country.
The American Civil Liberties Union immediately challenged the new regulations in a federal court in Northern California. They argue that the proclamation bypasses laws passed by Congress. ACLU attorney Lee Gelernt said, "The president is simply trying to run roughshod over Congress's decision to provide asylum to those in danger regardless of the manner of one's entry." 
Acting Attorney General Matthew Whitaker believes the President is within his rights as Chief Executive. He said, "Our asylum system is overwhelmed with too many meritless asylum claims from aliens who place a tremendous burden on our resources, preventing us from being able to expeditiously grant asylum to those who truly deserve it."
The director of the ACLU's Immigrants' Rights Project, Omar Jadwat, responded to Whitaker's assertion in a statement. He said, "U.S. law specifically allows individuals to apply for asylum whether or not they are at a port of entry. It is illegal to circumvent that by agency or presidential decree."
Administration officials say the new regulations will force migrants to legitimate ports of entry, thus allowing their claims to be processed faster. However, critics say that existing ports of entry are already overwhelmed, with some people waiting over a month to have the opportunity to claim asylum.
With the approaching caravan, tensions could rise at the southern border in the near future. 5,600 troops have been deployed to the border, but can only help with logistics unless the President declares martial law as a result of the caravan.
Scott Slayton writes at One Degree to Another.
Photo courtesy: Getty Images/John Moore/Staff
---
---