Scott Slayton
| ChristianHeadlines.com Contributor
| Tuesday, September 18, 2018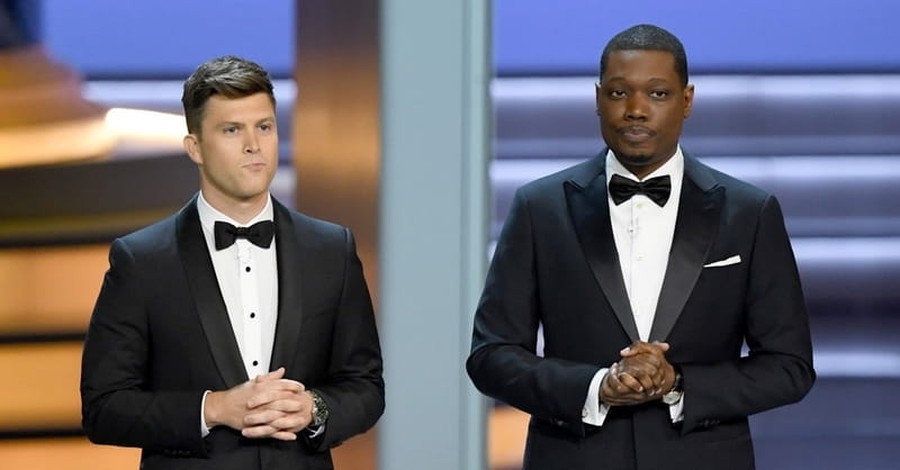 Co-host Michael Che angered some viewers during the 70th Primetime Emmy Awards a line that seemed to mock Christians. The Saturday Night Live star's comments came during a comedy set with his co-host Colin Jost, who is also on the cast of SNL.
Jost joked about the low viewership numbers for the event, welcoming the "thousands of you here in the audience tonight and the hundreds of you watching at home."
Then Che said, "My mother is not watching." Then he set up his joke explaining, "She said she doesn't watch white award shows because you guys don't thank Jesus enough." After sparse, polite laughter from the audience, Che continued, "That's true. The only white people that thank Jesus are Republicans and ex-crackheads."
Che's joke received tepid laughter from the audience and the ire of some of social media. One Twitter user said, "Colin Just [sic] and Michael Che's opening monologue bombed harder than I ever could have dreamed." Another pointed out that the jokes about Christians have gotten old. "What great family entertainment that gets everyone around the TV to laugh… It's not even outrageous, it's just boring at this point."
Malachi O'Brien, President of OneCry, pointed out that many people praise God other than Republicans and former drug-addicts, saying, "All people were made to have a relationship w/God. Every day we live is a reason to thank Jesus for his love & death on the cross."
Thandie Newton referenced Che's joke when she accepted the award for best-supporting actress in a drama series for her work on Westworld. An obviously overwhelmed Newton exclaimed, "I don't even believe in God, but I'm going to thank her tonight.
Nielson reported that overnight ratings were down over 10% from last year's broadcast on CBS. The audience for the Primetime Emmy's has fallen every year since 2013. The Emmys are the latest awards show to see declining ratings. The Oscars and Grammys saw smaller audiences as well.
Photo courtesy: Getty Images/Kevin Winter/Staff
---
---