Scott Slayton
| ChristianHeadlines.com Contributor
| Updated: Jul 09, 2020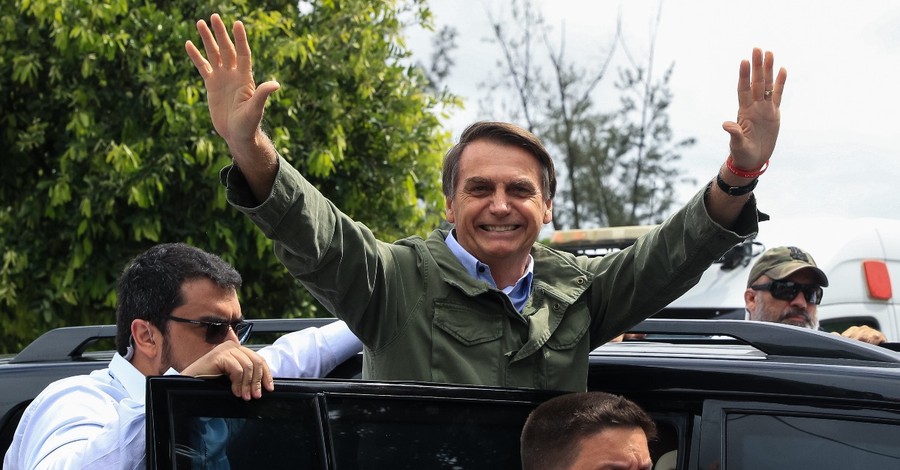 Brazilian President Jair Bolsonaro spent months downplaying the seriousness of the COVID-19 pandemic, even as his country had one of the world's worst outbreaks. Now, Bolsonaro has announced to the world that he has also been infected with the virus, the Associated Press reports.
Before displaying symptoms, he attended an Independence Day luncheon at the home of American Ambassador Todd Chapman. A photo posted to Twitter showed the President and some of his ministers sitting close to each other and not wearing masks. The U.S. Embassy announced that Ambassador Chapman and his wife have both tested negative. However, they will quarantine at home for the next two weeks.
President Bolsonaro told reporters that he started running a fever accompanied by muscle pain and fatigue, which led him to take a test on Monday. He told them he was feeling "very well" as he spoke to them outside the presidential residence in Brasilia. He attributed his recovery to taking the anti-malaria drug hydroxychloroquine.
Despite his diagnosis, he remained steadfast in his conviction that the coronavirus does not pose a serious threat to healthy people. He has repeatedly appealed to his having been an athlete in his youth as a reason he did not feat the virus and said his contracting the virus is a result of his leadership style, which often has him amongst his fellow citizens.
According to the New York Times, he told reporters, "I am the President. I have to be on the front lines of the fight." He also said COVID-19 is like the rain and that "it is going to get you."
President Bolsonaro has clashed with many state and city officials as he encouraged residents to ignore local lockdown and social distancing measures. He also refused to wear a mask, replaced two health ministers who disagreed with him, and attended mass rallies with his political supporters.
Brazil has been one of the world's leading hotspots for COVID-19 in recent weeks. 1.5 million have tested positive for COVID-19 and the nation of 210 million has reported 65,000 deaths.
President Bolsonaro did wear a mask as he addressed reporters Tuesday. As the press conference drew to a close, he stepped back and pulled down his mask to deliver one final message. He said, "Thank you to all those who have prayed for me and rooted for me. I'm fine, thank God. Those who have criticized me, that's fine, they can continue to criticize me."
Photo courtesy: ©Getty Images/Buda Mendes/Staff
---
Scott Slayton writes at "One Degree to Another."
---
---