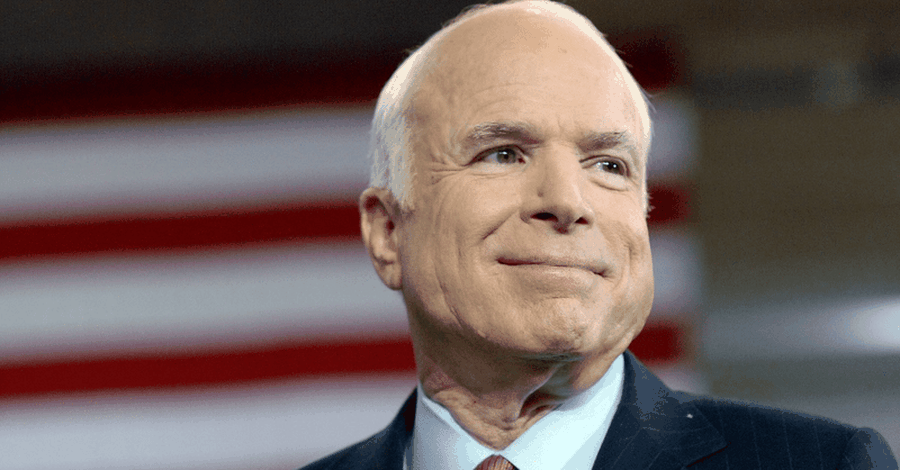 America will bid one of its great heroes farewell this weekend.
John McCain's body lies in state inside the US Capitol Rotunda today, where his Senate colleagues and staff will conduct a memorial service at 11 a.m. The public can then pay their respects from 2 p.m. to 8 p.m.
Tomorrow, a televised funeral service in the Washington National Cathedral will begin at 10 a.m. On Sunday, his body will be laid to rest in a private ceremony at the US Naval Academy.
Much will be said about McCain's heroism as a prisoner of war in Vietnam, his lifelong commitment to serving the nation he loved, and his passionate devotion to his family and friends. Longtime colleagues in Washington will tell personal stories and pay tribute to his life and legacy.
One dimension of John McCain's life that has not received as much media attention is his personal faith in Jesus.
"It means I'm saved and forgiven"
McCain attended an Episcopal high school in Virginia, where he participated in chapel each morning and on Sunday evenings. There he began reading Scripture and learned to quote from God's word at great length.
However, his faith became personal when his plane was shot down over Hanoi and he spent the next five and a half years as a prisoner of war, two of them in solitary confinement. He has written that during that time he prayed "more often and more fervently than I ever had as a free man."
When he was moved from solitary confinement, his Vietnamese captors wouldn't give him a Bible, so he led his fellow prisoners in studying biblical passages he quoted from memory. When he married his second wife, Cindy, he joined her at North Phoenix Baptist Church. There the message of God's grace became even more central to his life and faith.
When Rick Warren asked McCain during the 2008 presidential campaign what it meant to be a Christian, the Senator replied, "It means I'm saved and forgiven."
In preparing for his funeral services, he chose for his son Andrew McCain to read Paul's testimony: "For I am already being poured out as a drink offering, and the time of my departure has come. I have fought the good fight, I have finished the race, I have kept the faith. Now there is in store for me the crown of righteousness, which the Lord, the righteous Judge, will award to me on that day; and not only to me, but also to all who have longed for his appearing" (2 Timothy 4:6-8).
"We rejoice in our sufferings"
In god is not Great: How Religion Poisons Everything, Christopher Hitchens calls organized religion "violent, irrational, intolerant, allied to racism and tribalism and bigotry, invested in ignorance and hostile to free inquiry." In The God Delusion, Richard Dawkins caricatures the "God of the Old Testament" as "a petty, unjust, unforgiving control-freak." He describes faith in a God who gives meaning to life as "infantile."
I wish Hitchens and Dawkins had seen John McCain leading Bible studies in a Vietnamese prison. Or been with me in Cuba where I have witnessed Christians taking extraordinarily courageous stands for their faith. Or traveled with me to Bangladesh and Cairo and East Malaysia where I have seen believers risk their lives for their Lord.
Of course, skeptics are likely to dismiss such faith in the face of suffering as an "opiate," a "pie in the sky" wish that offers (false) hope in pain, a kind of crutch for cripples. They would point to the churches that overflowed with worshipers after 9/11 but returned to "normal" a few weeks later.
I would respond that the Christian faith is not logically invalidated because it sustains us in hardship. This, in fact, is one of its intrinsic promises: "We rejoice in our sufferings, knowing that suffering produces endurance, and endurance produces character, and character produces hope" (Romans 5:3-4).
I would also add that Christian faith is especially validated when we maintain our commitment to Christ after the crisis passes. John McCain's faith only grew in the years after Vietnam. As a pastor, I have watched parents lose a child, then use the lessons learned in such horrific suffering to minister to others many years later.
Eternal life does not begin when physical life ends. To the contrary, Scripture promises that whoever believes in Jesus "should not perish but have eternal life" (John 3:16, my emphasis). Note the present tense.
Such life is ours from the moment we make Christ our Lord and continues forever.
"In this sorrow, I take comfort in this"
In light of such remarkable grace, biblical scholar William Barclay was right: "A gloomy Christian is a contradiction in terms." We who know Jesus as our Lord know God's forgiveness and presence today and the promise of paradise with our Father in eternity.
As we mark John McCain's passing, I am praying that his transforming faith becomes part of his lasting legacy and his enduring gift to the nation he loved and served. I invite you to trust his Lord with your greatest challenges and to offer the grace of God to someone in need today.
Upon John McCain's passing, his daughter Meghan stated that she was with him "at his end as he was with me at my beginning."
"My father is gone, and I miss him as only an adoring daughter can," she wrote. "But in this loss, and in this sorrow, I take comfort in this: John McCain, hero of the republic and to his little girl, wakes today to something more glorious than anything on this earth. Today the warrior enters his true and eternal life."
So will all who know Christ as Lord. This is the promise and the invitation of God.
For more from the Denison Forum, please visit www.denisonforum.org.
The Daily Article Podcast is Here!
Publication Date: August 31, 2018
Photo Courtesy: Getty Images/William Thomas Cain / Stringer
---
---