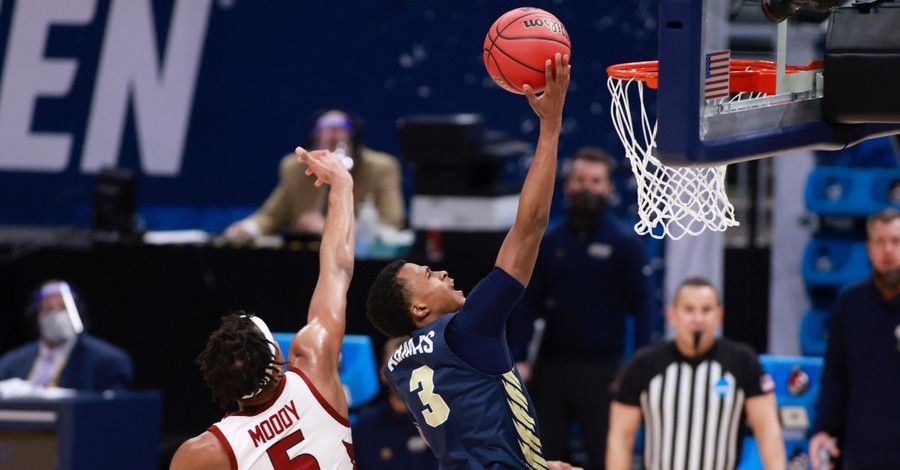 My wife's parents lived in Arkansas for many years; we think it is a beautiful state. I have visited the campus of Oral Roberts University (ORU) in Tulsa only one time; we drove around and then left. And yet, I really wanted Max Abmas' last-second three-point shot to go in Saturday night, as that would have given ORU the win over Arkansas in the NCAA men's basketball tournament and sent them to the Elite Eight tonight. But it was not to be.
My sentiments had nothing to do with athletes on either team but with ORU's commitment to biblical sexual morality and the enormous criticism the school is facing as a result.
A USA Today writer went so far as to condemn the NCAA for even allowing the team to play in the tournament, complaining about ORU's "deeply bigoted anti-LGBTQ+ policies" that "can't and shouldn't be ignored." In her view, the school's policies are "wildly out of line with modern society and the basic values of human decency."
Over the weekend, I saw an interview with the university's president in which he was asked about such criticism. He made the point that ORU simply believes in biblical morality and always has. He added that the school considers such morality to be best for all its students, faculty, and alumni.
In other words, ORU embraces biblical morality because such morality promotes "the basic values of human decency."
"This is a stunning 180"
To their credit, USA Today later ran a response by Dr. Ed Stetzer, professor and dean at Wheaton College. He describes the "new moral dogma" of our day which "teaches that tolerance must mean agreement, then brands all who disagree as intolerant and harmful. Not satisfied that we respect opposing views on human sexuality, all must affirm homosexuality as acceptable within our own theology. There can no longer be any disagreement, only compliance."
He adds: "This is a stunning 180 from the arguments we heard in 2009 when LGBTQ+ advocates maintained, 'All we want is the right to marry. How will my gay marriage hurt you?' Now it's: 'We want your college accreditation, your athletic participation and more.'
"Considering how much those who expressed concern a decade ago were mocked for advancing slippery slope arguments, the rhetoric deployed against ORU ... suggests these concerns were underemphasized."
Here's the irony: as Christianity Today reports, ORU's "involvement in basketball is part of a much longer story of Christian engagement with the game." The article notes that James Naismith invented basketball in 1891 at a Christian college: the YMCA International Training School. He described the task of a YMCA physical director: "to win men for the Master through the gym."
From then to now, many Christian colleges and universities have developed outstanding basketball programs. In fact, the article notes that ORU is just one of six Christian schools which advanced to the Sweet Sixteen in this year's tournament.
A familiar yet stunning story
My purpose in writing on the ORU controversy is not to vilify those who condemn biblical morality today. Rather, it is to elevate Jesus' response to his critics on this day in Holy Week as our model.
The story is familiar yet stunning: "Jesus entered the temple and drove out all who sold and bought in the temple, and he overturned the tables of the money-changers and the seats of those who sold pigeons. He said to them, 'It is written, "My house shall be called a house of prayer, but you make it a den of robbers."' And the blind and the lame came to him in the temple, and he healed them" (Matthew 21:12-14).
I explained the background of this event in last year's Holy Monday Daily Article and have noted that "at no point did [Jesus] endanger or harm humans" by his actions. For today, let's focus on two interrelated imperatives our Lord displayed on this day twenty centuries ago.
One: Be courageous.
Jesus had already told his disciples that in coming to Jerusalem he was coming to die (cf. Matthew 17:22-23). He knew his actions at the temple would provoke the very authorities who would later arrange his torture and execution.
A skeptic could argue that his actions would not effect permanent change—the moneychangers could go back to their sinful ways after he returned to heaven. What difference would or could he make?
But God assures us that his word "shall not return to me empty, but it shall accomplish that which I purpose, and shall succeed in the thing for which I sent it" (Isaiah 55:11). The temple would soon be destroyed and its moneychangers dispersed, but we are still discussing Jesus' courage twenty centuries later.
Two: Be compassionate.
Note that shortly after Jesus cleaned the temple, "the blind and the lame" came to him and "he healed them." His courage paved the way for his compassion.
What's more, his courage was an act of compassion. He knew that rebuking the sin of the moneychangers was best for the moneychangers. The doctor who tells the patient he has cancer is delivering difficult but essential news. The attorney who convinces her guilty client to accept his guilt is serving her client. The first step in every Twelve Step program is for the addict to admit their addiction.
ORU's president was right: biblical morality is best for all people, LGBTQ individuals included. We are to speak the truth in love (Ephesians 4:15) knowing that love requires speaking the truth and that speaking the truth is an act of love.
"There are two ways of spreading light"
Jesus proclaimed, "I am the light of the world. Whoever follows me will not walk in darkness, but will have the light of life" (John 8:12). Novelist Edith Wharton noted that "there are two ways of spreading light: to be the candle or the mirror that reflects it."
Jesus is the candle. Will you be his mirror today?
Publication date: March 29, 2021
Photo courtesy: ©Getty Images/Justin Casterline/Stringer
The views expressed in this commentary do not necessarily reflect those of Christian Headlines.
For more from the Denison Forum, please visit www.denisonforum.org.
The Daily Article Podcast is Here!
---
---