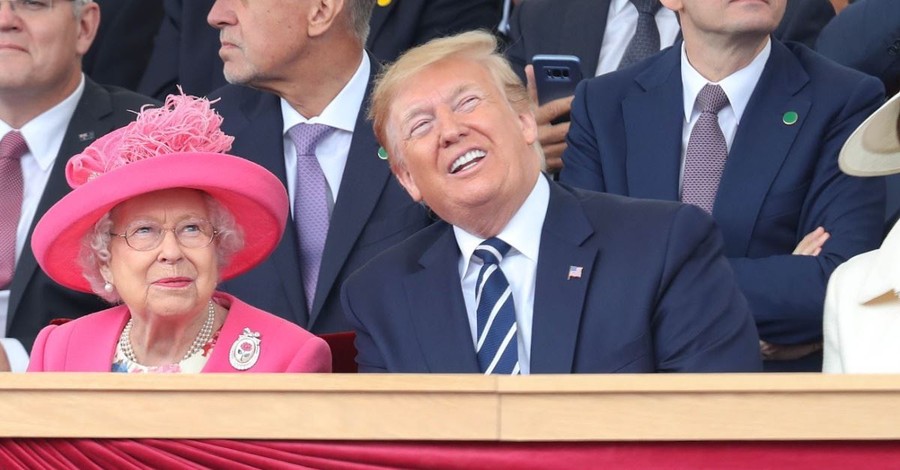 President Trump concludes his three-day visit to the United Kingdom today.
The president was welcomed Monday by the Queen of England, toured Westminster Abbey, and attended a state banquet in Buckingham Palace. Yesterday, he met with the prime minister, then attended a banquet at the US ambassador's residence. 
Today, President Trump will join Queen Elizabeth and Prince Charles at a national commemorative event in Portsmouth for the seventy-fifth anniversary of the D-Day landings (about which I plan to write tomorrow). 
When the queen was called "a priggish schoolgirl" 
Media coverage has focused largely on protests against the president. Of course, this is not the first time a US president has faced criticism abroad.
When President George W. Bush visited the UK in 2003, more than one hundred thousand people formed the biggest weekday demonstration London had ever seen (which is remarkable, given that the city was founded by the Romans around AD 50). Their protests climaxed with the toppling of an effigy of the president. 
Queen Elizabeth is no stranger to criticism herself. A few years after becoming queen, she was attacked by a journalist for her speeches: "The personality conveyed by the utterances which are put into her mouth is that of a priggish schoolgirl, captain of the hockey team, a prefect, and a recent candidate for Confirmation." 
The Netflix series The Crown portrays the queen as meeting with this critic and adjusting her speeches to relate more effectively with ordinary people. Whether their meeting occurred or not, changes did occur afterward. The queen delivered her first televised Christmas Message that year, replaced upper-class debutante "presentation parties" with more accessible "garden parties," and took other steps to change the image of the royal family. 
Priest called a "hate-filled hypocrite" 
Evangelical Christians can expect to face escalating opposition from those who are opposed to biblical truth. Whether the subject is abortion, same-sex marriage, transgender bathrooms, euthanasia, or a host of other issues, our society (and especially its expression in popular culture and media) is more firmly on the wrong side of biblical morality than ever before. 
Yesterday, I cited an article that calls pro-life supporters "forced-birth extremists." Here's the rest of the sentence: "I refuse to dignify a movement that makes a mound of women's bodies and calls it the moral high ground with the moniker 'pro-life.'" Bill Maher mocked Alabama's recently passed abortion law for not allowing an exception for rape and incest: "How else are you supposed to get pregnant in Alabama?" 
A Catholic priest recently tweeted that LGBTQ "Pride Month" events "promote a culture and encourage activities that are contrary to Catholic faith and morals. They are especially harmful to children." Actress Mia Farrow responded: "Ignore this hate-filled hypocrite." And a member of the US House of Representatives replied: "Your asinine remark about children is exactly the type of bigoted belief that leads to the evil of conversion therapy." 
In the coming years, the question will become increasingly relevant: How do we love those who oppose us? 
Three steps to hope in hardship 
In the past, we've discussed the need to understand the perspective of those who reject biblical truth and to speak the truth to them in love. Today, let's consider a related factor. 
Writing on the subject of his persecutions, Paul stated: "We do not lose heart. Though our outer self is wasting away, our inner self is being renewed day by day. For this light momentary affliction is preparing for us an eternal weight of glory beyond all comparison, as we look not to the things that are seen but to the things that are unseen. For the things that are seen are transient, but the things that are unseen are eternal" (2 Corinthians 4:16–18). 
Paul learned that living for heaven while on earth brings purpose and hope to temporal challenges. How do we do this? 
One: Seek to honor God in all we do. 
Paul continued: "Whether we are at home [with God] or away, we make it our aim to please him" (2 Corinthians 5:9). "Aim" means "to earnestly aspire to something"; "please" translates a Greek word meaning "to find favor in the eyes of." Paul's passionate, all-consuming commitment was to live constantly in light of the fact that God was watching him and therefore to please him with all he did. 
Two: Live today for eternal reward. 
The apostle added: "For we must all appear before the judgment seat of Christ, so that each one may receive what is due for what he has done in the body, whether good or evil" (v. 10). What we receive in heaven will far outweigh its cost on earth. 
Three: Help others choose truth. 
Paul concluded: "Therefore, knowing the fear of the Lord, we persuade others" (v. 11). Every person we know deserves to know the God we know. 
"The first page of a never-ending story" 
The time to decide we will stand for Jesus against opposition is before opposition comes. Christians living in Cuba prior to the Castro revolution did not know they would face the persecution that continues even today. Christians living in China a few years ago did not know that their government would become so oppressive. 
Even if our culture experiences a spiritual awakening that reverses our moral trajectory, it is still true that the best way to live this day is to be ready for eternity today. 
Billy Graham explained his life simply: "My home is in Heaven. I'm just traveling through this world." C. S. Lewis believed that "our life on earth is the first page of a never-ending story." 
What sentence will you write today?
For more from the Denison Forum, please visit www.denisonforum.org.
The Daily Article Podcast is Here!
Publication Date: June 5, 2019
Photo Courtesy: Getty Images/Chris Jackson/Staff
---
---