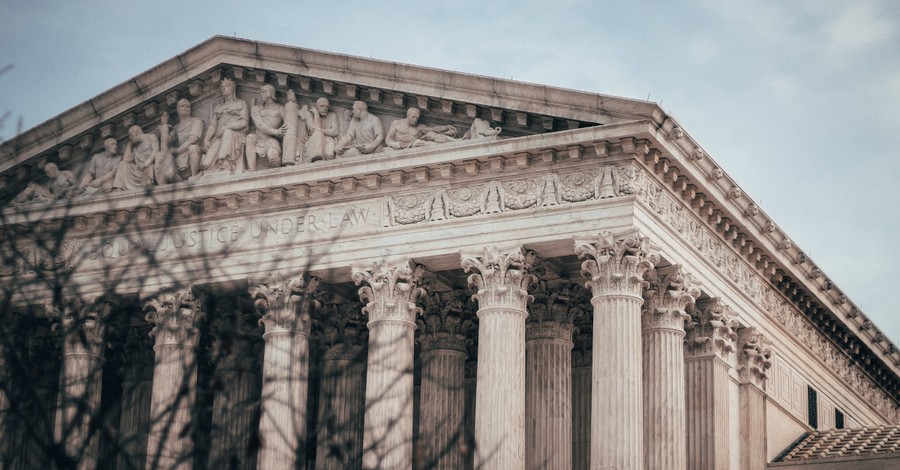 The Supreme Court has voted to strike down Roe v. Wade, according to what POLITICO calls "an initial draft majority opinion."
I intended today to continue Monday's discussion of mental health issues and biblical encouragement. However, since the POLITICO report is such an obviously significant story, I will shift to summarizing it, then we'll consider three biblical responses.
"Roe and Casey must be overturned"
The draft making global headlines today was written by Justice Samuel Alito and circulated inside the court. It was obtained by POLITICO last night, which describes it as "a full-throated, unflinching repudiation" of the 1973 Roe v. Wade decision guaranteeing federal abortion rights and the 1992 Planned Parenthood v. Casey decision that largely maintained them.
Alito writes, "We hold that Roe and Casey must be overruled. It is time to heed the Constitution and return the issue of abortion to the people's elected representatives."
POLITICO further reports that, according to "a person familiar with the court's deliberations," justices Clarence Thomas, Neil Gorsuch, Brett Kavanaugh, and Amy Coney Barrett voted with Alito in a conference after hearing oral arguments on Dobbs v. Jackson Women's Health Organization last December. The line-up reportedly remains unchanged as of this week.
Justices Stephen Breyer, Sonia Sotomayor, and Elena Kagan are working on one or more dissents, according to the source. It is reportedly unclear how Chief Justice John Roberts will ultimately vote and whether he will join an already written opinion or draft his own.
An "unprecedented revelation"
The draft opinion runs ninety-eight pages and includes a thirty-one-page appendix of historical state abortion laws. According to POLITICO, it is "replete with citations to previous court decisions, books and other authorities, and includes 118 footnotes." It is labeled as a first draft of the majority opinion and includes a notation that it was circulated among the justices on February 10.
However, as POLITICO notes, justices sometimes change their votes as draft opinions circulate. Major decisions can be subject to multiple drafts and vote changing, sometimes until just days before a decision is unveiled. The court's decision will not be final until it is published, probably in the next two months.
POLITICO adds that "no draft decision in the modern history of the court has been disclosed publicly while a case was still pending" and observes, "The unprecedented revelation is bound to intensify the debate over what was already the most controversial case on the docket this term."
What about legal precedents?
Justice Alito notes, "Until the latter part of the twentieth century, there was no support in American law for a constitutional right to obtain an abortion. Zero. None. No state constitutional provision had recognized such a right."
Justice Alito lists about two pages' worth of decisions in which Supreme Court justices overruled prior precedents. He also writes, "We emphasize that our decision concerns the constitutional right to abortion and no other right. Nothing in this opinion should be understood to cast doubt on precedents that do not concern abortion."
The justices held their last arguments of the current term last Wednesday. A series of sessions are now set over the next two months to release rulings in still-unresolved cases, including the Mississippi abortion case that led to Alito's draft.
If the court does rule as the draft document would indicate, a federal constitutional protection of abortion rights would end and each state would be allowed to decide whether to restrict or ban abortion.
Would this end abortion?
According to this morning's New York Times, if the court overturns Roe, "abortion would probably become illegal in about half of states." One group lists twenty-four states that are likely to ban abortion; another group lists twenty-six such states.
However, women seeking abortions could travel to a state where abortion is legal or order pills online from outside the country. Texas is an example: after a law went into effect in September banning abortion at around six weeks, abortions at Texas clinics fell by half. But many women were able to obtain abortions in other states or by ordering pills. As a result, the total number of abortions among Texas women fell only by around 10 percent.
So, what does today's news mean?
If the Supreme Court rules as the draft opinion would indicate, the fight for unborn children will be waged in the states. Since abortion will still be available in many states and through pills, we will need to focus on what has always been the heart of the issue: ministering to women who are considering abortion. Let's close with three simple but urgent ways to do this.
One: Go to them.
Jesus went to Samaria (John 4:4), where he initiated a relationship with a Samaritan woman (v. 7), violating the conventions of his Jewish culture (v. 27). Following his example, let's seek ways to help women who are considering abortion. If you do not know any, ask the Lord to lead you. Consider volunteering at a crisis pregnancy ministry in your community. Earn the right to be heard by building relationships based on compassion and humility.
Two: Offer hope in Christ.
The Samaritan woman came to Jacob's well for water, but Jesus offered her "living water" (v. 10) that would become "a spring of water welling up to eternal life" (v. 14). Jesus will forgive every sin we confess (1 John 1:9) and make us a "new creation" (2 Corinthians 5:17) with "abundant" and joyful life (John 10:10).
Our highest purpose with every person we meet is to offer them the hope we have found in Christ. To do this, we must often meet felt needs to meet spiritual needs (cf. John 6:2). Women choose abortion for a variety of reasons, including financial pressures, educational or job plans, and not being emotionally or mentally prepared to become a mother. Christians and churches can help to meet these practical needs, offering hope that leads to our ultimate hope in Christ.
Three: Pray for them.
Please join me in praying daily for women and their families to choose life for their unborn children. Pray for those who minister directly with such women and consider joining them. Support their ministries as you can.
Joni Eareckson Tada was right: "Though gradually, though no one remembers exactly how it happened, the unthinkable becomes tolerable. And then acceptable. And then legal. And then applaudable."
Let's make abortion unthinkable through our intercession and compassion. Millions of lives are in the balance.
Publication date: May 3, 2022
Photo courtesy: Harold Mendoza/Unsplash
The views expressed in this commentary do not necessarily reflect those of Christian Headlines.
For more from the Denison Forum, please visit www.denisonforum.org.
The Daily Article Podcast is Here!
---
---