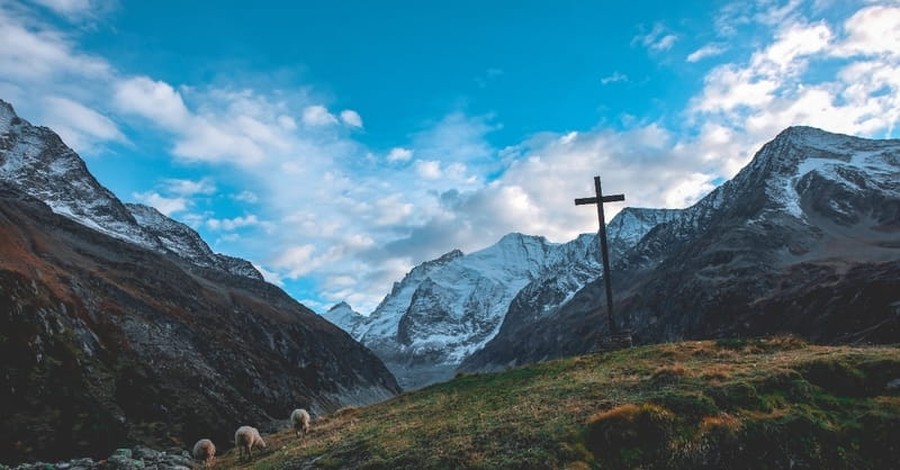 On Monday, the Supreme Court will choose cases to hear in the upcoming term. We need to pray it chooses at least these two cases in particular.
Each year in late September, the Supreme Court gathers for what's called the "long conference," in which they choose cases to hear in the upcoming term.
This year's long conference is on Monday. Among the cases under consideration are two that we should all pray are selected by the court.
First is American Legion v. American Humanist Association, which concerns a cross-shaped monument known as the Peace Cross in Bladensburg, Maryland. The Cross was erected in 1925 by the American Legion as a memorial to 49 men from that area who died in World War I. Their names are listed on a plaque at its base.
For the first 36 years of its existence, the memorial stood on private land. In 1961, the state assumed control of the land and responsibility for the memorial's maintenance.  After more than 50 years on public land, the American Humanist Association, in 2014, challenged the constitutionality of the Peace Cross in federal court. They lost the initial case in Federal District Court but then prevailed at the Fourth Circuit Court of Appeals.
If the Fourth Circuit's decision stands, memorials on public land all across the country will be fair game to be scrubbed clean of anything resembling a cross or other religious symbols. For instance, what about all those crosses that fill Arlington National Cemetery? Will they have to go, too? Think about that.
The attempt to rid the public square of any possible reference to religion has prompted a broad coalition of civic, military, and religious groups to petition the Court to hear the case and reverse the Fourth Circuit. For our part, we should petition God for the same thing.
The other case involves Joe Kennedy, a high school football coach from Bremerton, Washington. For seven years, after the game when players had left the field, coach Kennedy would return to midfield, kneel, and a say a prayer of thanks. Often, he'd be joined by students and players from both schools.
In 2015, the school district, while acknowledging that student participation in the activity was voluntary, concluded that the activity constituted an impermissible establishment of religion. In response, Kennedy asked for an accommodation. Would the district allow him to kneel for fifteen seconds after the game and after players have left the field, in an act now known as "Tebowing" after former Heisman Trophy winner Tim Tebow.
In response, the District suspended Kennedy and then refused to renew his contract. Kennedy filed a claim of religious discrimination against the District with the Equal Employment Opportunity Commission (EEOC), and then filed suit against the District in federal court.
The suit was dismissed and the dismissal upheld by the Ninth Circuit. At the long conference, the Supreme Court will decide whether or not to hear his appeal of that dismissal. While the courts have been clear on student rights, the conscience rights of teachers and employees at schools are not as well established. At issue in this case is whether Christians must check their beliefs at the employer's door, especially if that employer is a public school.
But there's also a question here of viewpoint discrimination. After all, Kennedy isn't the only person asserting the right to kneel on a football field these days. Whatever you think of the NFL players' protest, why should freedom of speech require one group of men be allowed to kneel before the game, but doesn't require that another man be allowed to kneel after the game?
The only answer is a phobia of religion, the same kind of phobia that wants to eradicate a memorial cross from public property. We need to pray the Court will hear these cases and halt the spread of this phobia.
Come to BreakPoint.org and we'll link you to more information on these two cases which are being handled by First Liberty.
[Editor's note:  We just learned that the Supreme Court will not consider Coach Kennedy's case until later in the fall. To the best of our knowledge, it will still decide on Monday whether to hear the Peace Cross Case.]
---
BreakPoint is a Christian worldview ministry that seeks to build and resource a movement of Christians committed to living and defending Christian worldview in all areas of life. Begun by Chuck Colson in 1991 as a daily radio broadcast, BreakPoint provides a Christian perspective on today's news and trends via radio, interactive media, and print. Today BreakPoint commentaries, co-hosted by Eric Metaxas and John Stonestreet, air daily on more than 1,200 outlets with an estimated weekly listening audience of eight million people. Feel free to contact us at BreakPoint.org where you can read and search answers to common questions.
John Stonestreet, the host of The Point, a daily national radio program, provides thought-provoking commentaries on current events and life issues from a biblical worldview. John holds degrees from Trinity Evangelical Divinity School (IL) and Bryan College (TN), and is the co-author of Making Sense of Your World: A Biblical Worldview.
Publication date: September 21, 2018
Photo courtesy: Unsplash/Yoal Desurmont
---
---