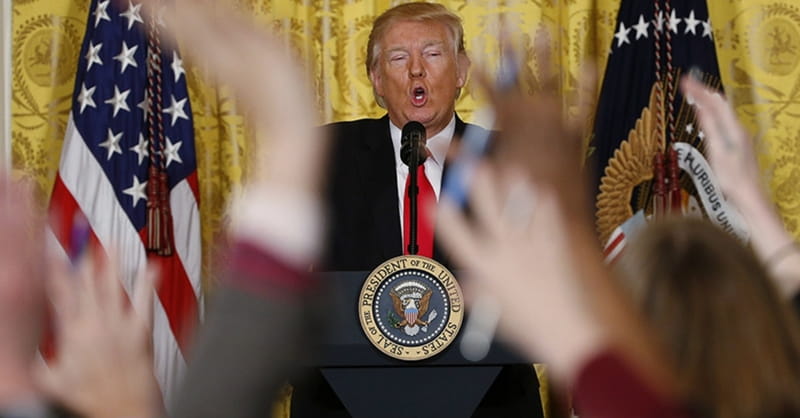 ---
In a tumultuous press conference on Tuesday, President Trump attempted to clarify why he did not initially denounce the white supremacists who rallied in Charlottesville, Virginia on Saturday and carried out a violent vehicle attack.
In his initial statement following news of Saturday's violent rally and protests the President said: "We condemn in the strongest possible terms this egregious display of hatred, bigotry and violence on many sides, on many sides. It has been going on for a long time in our country -- not Donald Trump, not Barack Obama. It has been going on for a long, long time. It has no place in America."
Many people took issue with the portion of the President's statement in which he said there was "hatred, bigotry and violence on many sides" (emphasis added).
Political commentators noted that it seemed the President was drawing a moral equivalency between white supremacists and the counter-protesters at the rally.
The President, however, has pushed back against this criticism, saying that when he made his initial statement, all the facts of the situation were not yet clear.
"Unlike a lot of reporters, I wanted to see the facts." He initially issued a "fast statement" condemning the general violence, he said. "I didn't know all of the facts."

Although the President did condemn white supremacists and neo-Nazis by name, he also defended his initial statement, reiterating that "I think there is blame on both sides and I have no doubt about it and you don't have any doubt about it either."
Photo courtesy: Religion News Service
Publication date: August 16, 2017
Veronica Neffinger wrote her first poem at age seven and went on to study English in college, focusing on 18th century literature. When she is not listening to baseball games, enjoying the outdoors, or reading, she can be found mostly in Richmond, VA writing primarily about nature, nostalgia, faith, family, and Jane Austen.