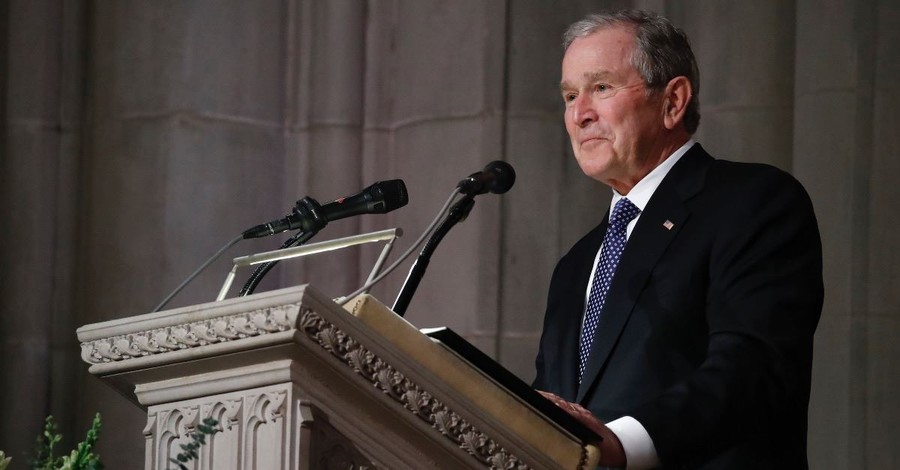 Former United States president George W. Bush took the stage to deliver a touching eulogy in honor of his late father, George H.W. Bush. 
According to Faithwire, the well-known faces in the audience, which included former presidents Barack Obama and Bill Clinton, were captivated, while many viewers at home tuned in to watch the former president give this moving eulogy live. The event took place on Wednesday at the Washington National Cathedral. 
Recalling a number of humorous and heartwarming stories about him, Bush was unable to hide his emotions as he described his father as a "great and noble man," and "the best father or son a daughter could have."
"To his very last days, Dad's life was instructive," Bush stated.  "As he aged, he taught us how to grow with dignity, humor and kindness, and when the good Lord finally called, how to meet Him with courage, and with the joy of the promise of what lies ahead."
In regard to his father's remarkable strength, the 43rd president had this to say: "When he lost, he shouldered the blame. He accepted that failure is a part of living a full life. but taught us never to be defined by failure. He showed us how setbacks can strengthen."
Bush went on to mention Robin, his younger sister, who had tragically passed away from leukemia when she was only three years old. 
"Jeb and I were too young to remember the pain and agony he and Mom felt when our 3-year-old sister died. We only learned later that Dad, a man of quiet faith, prayed for her daily. He was sustained by the love of the Almighty and the real and enduring love of her Mom. Dad always believed that one day he would hug his precious Robin again."
"In our grief," he concluded, "let us smile knowing that dad is hugging Robin and holding mom's hand again." 
Photo courtesy: Getty Images/Pool
Video courtesy: CNN
---
---