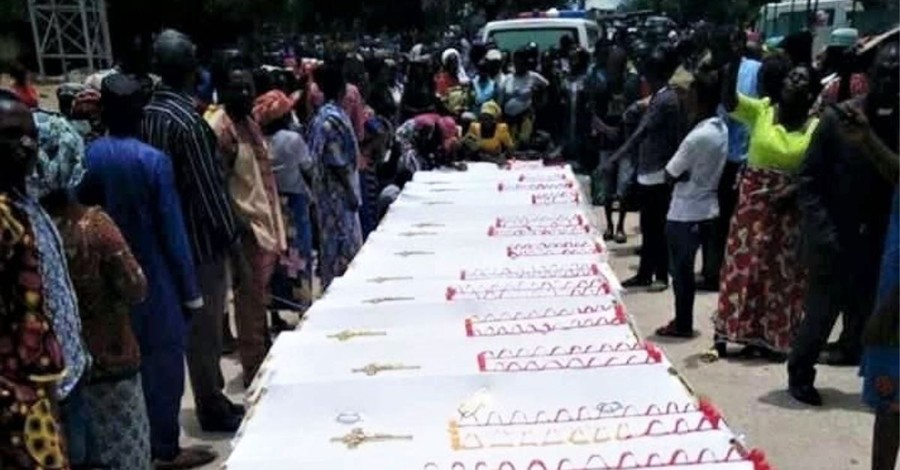 JOS, Nigeria, April 18, 2019 (Morning Star News) – Muslim Fulani herdsmen killed 17 Christians who had gathered after a baby dedication at a church in central Nigeria, including the mother of the child, sources said.
Safaratu John Kabiru Ali, the mother of the baby, was slain in the attack on Sunday (April 14) in Konshu-Numa village, in Nasarawa state's Akwanga County, which also took the lives of people ranging in age from 10 to 80. The baby's father, John Kabiru Ali, was shot and is in critical condition, sources said. He is receiving treatment at the Intensive Care Unit of the Federal Medical Centre, Keffi, in Nasarawa state.
The attack took place at about 7 p.m. as Christians in the predominantly Christian community gathered to eat after the child was dedicated that morning at the Ruhaniya Baptist Church in the village.
The massacred Christians were buried on Wednesday (April 17) after a funeral service at the Baptist church.
A resident of Akwanga town who lost relatives in the shooting, Jacob Tantse, told Morning Star News that 17 Christians were killed, including 10 members of the Ruhaniya Baptist Church, five members of Evangelical Reformed Church of Christ (ERCC), one member of the Evangelical Church Winning All (ECWA), and a musician playing for guests.
Tantse identified those killed as Ali Nkene, 80; Gode Kako, 13; Afiniki Kako, 10; Matthew Emmanuel, 28; Tafiya Baya, 17; Sarakuna Haruna, 21; Amos Julius, 60; Mary Amos, 40; Sunday Adebayo John, 21; Talatu Mada, 40; Saratu Kabiru John, 21; Justina Barrau, 60; Simon Anfani, 37; Kadon Sule, 20; Ayuba Bulus, 11;  Haruna Bawa, 22; and the musician, Samame Andaha, 28.
He also said eight Christians, including the host of the event, John Kabiru Ali, were wounded in the attack.
"They include members of the various congregations of the Baptist, Catholic, and ERCC churches," Tantse said.
He identified those wounded as John Kabiru Ali, 32; Maikasuwa Engila, 30; Biyaya Engila, 60; Ayuba Maikano, 80; Juliana Clement, 47; Gode Tijani, 30; Nicholas Danzaria, 26; and Alkali Raba, 43.
The wounded are from ERCC churches in Ngah Bar-Numa and Angwan Pa-Numa villages; the Roman Catholic Church in Nghah-Numa; the ECWA church in Gyan-Numa; the Ruhaniya Baptist Church in Konshu-Numa; and the Nasara Baptist Church in Numa, he said.
Samuel Meshi, chairman of the Akwanga Local Government Council, told Morning Star News that area Christians had done nothing to provoke the attack by the Muslim Fulani herdsmen.
"They just started shooting sporadically on a community that was just having a feast of dedication of a child after a church service earlier in the day on Sunday, 14 April, at a Baptist church in the area," Meshi said. "The killings occurred in the evening of that day. Unfortunately, these persons were killed in cold blood for just no reason."
Pastor Samson Gamu Yare, community leader of the Mada ethnic group in Nasarawa state, reportedly described the killings as "barbaric." He called on the federal government to urgently take measures towards curtailing the menace of herdsmen attacks on his people.
Nigeria ranked 12th on Open Doors' 2019 World Watch List of countries where Christians suffer the most persecution.
Christians make up 51.3 percent of Nigeria's population, while Muslims living primarily in the north and middle belt account for 45 percent. 
If you would like to help persecuted Christians, visit http://morningstarnews.org/resources/aid-agencies/ for a list of organizations that can orient you on how to get involved.  
If you or your organization would like to help enable Morning Star News to continue raising awareness of persecuted Christians worldwide with original-content reporting, please consider collaborating at https://morningstarnews.org/donate/?
Article originally published by Morning Star News. Used with permission.
Photo courtesy: Morning Star News
---
---