Kayla Koslosky
| ChristianHeadlines.com Editor
| Thursday, June 10, 2021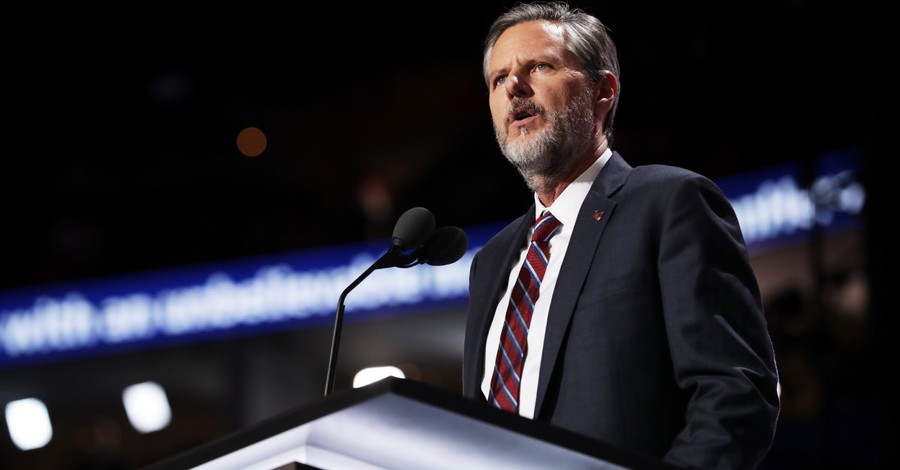 ---
Former Liberty University President Jerry Falwell, Jr. recently asserted that he believes the leaders of the Lynchburg-based college are trying to mischaracterize him and have asked them to stop doing so in a court filing.
According to The Christian Post, responding to LU's $40 million breach of contract lawsuit filed against him, Falwell, last week, submitted a filing to the Lynchburg Circuit Court accusing LU leaders of working toward "ruining Falwell's reputation."
"The rehashing of these events and protected defamation of Falwell through litigation serves one mission — ruining Falwell's reputation through mischaracterization of events and public shaming through out-of-context pictures filed in a public complaint," the filing states, according to The Lynchburg News & Advance.
Also in the filing, Falwell reportedly asserted that he was not obligated to inform the university of the goings-on in his private life.
As Christian Headlines previously reported, last August, Falwell and his wife, Becki, became embroiled in a sex scandal which ultimately resulted in Falwell's resignation.
In August, just before tendering his resignation, Falwell admitted that Becki had been engaging in a seven-year-long "inappropriate personal relationship" with a man named Giancarlo Granda.
In a statement to the Washington Examiner, he detailed the affair saying, "During a vacation over eight years ago, Becki and I met an ambitious young man who was working at our hotel and was saving up his money to go to school. We encouraged him to pursue an education and a career, and we were impressed by his initiative in suggesting a local real estate opportunity."
He continued, "My family members eventually made an investment in a local property, included him in the deal because he could play an active role in managing it, and became close with him and his family.
"Shortly thereafter, Becki had an inappropriate personal relationship with this person, something in which I was not involved – it was nonetheless very upsetting to learn about," Falwell said. "After I learned this, I lost 80 pounds and people who saw me regularly thought that I was physically unwell, when in reality I was just balancing how to be most supportive of Becki, who I love, while also reflecting and praying about whether there were ways I could have been more supportive of her and given her proper attention."
Falwell went on to assert that Granda was now blackmailing and extorting the couple.
Just one day after issuing this statement, in an interview with Reuters, Granda denied blackmailing the couple. He also claimed that Falwell not only knew about the affair from the beginning but also acted as a voyeur in the relationship.
Following these reports, Falwell was placed on an indefinite leave of absence which ultimately resulted in his resignation.
Then, in April 2021, LU filed a lawsuit against Falwell, claiming that his actions damaged the school's reputation and hurt the school's enrollment and donation numbers.
Related:
Jerry Falwell to Take an Indefinite Leave of Absence from Liberty University
Liberty University Board Accepts Jerry Falwell Jr.'s Resignation
Falwells Reveal Affair, Alleged Blackmail but Say 'Our Faith in Christ Is Greater Than Ever'
Liberty Sues Jerry Falwell Jr. for $10 Million, Alleges He 'Damaged' School's Reputation
Photo courtesy: ©Getty Images/Chip Somodevilla/Staff
---
Kayla Koslosky has been the Editor of ChristianHeadlines.com since 2018. She has B.A. degrees in English and History and previously wrote for and was the managing editor of the Yellow Jacket newspaper. She has written on her blog since 2012 and has also contributed to IBelieve.com and Crosswalk.com.