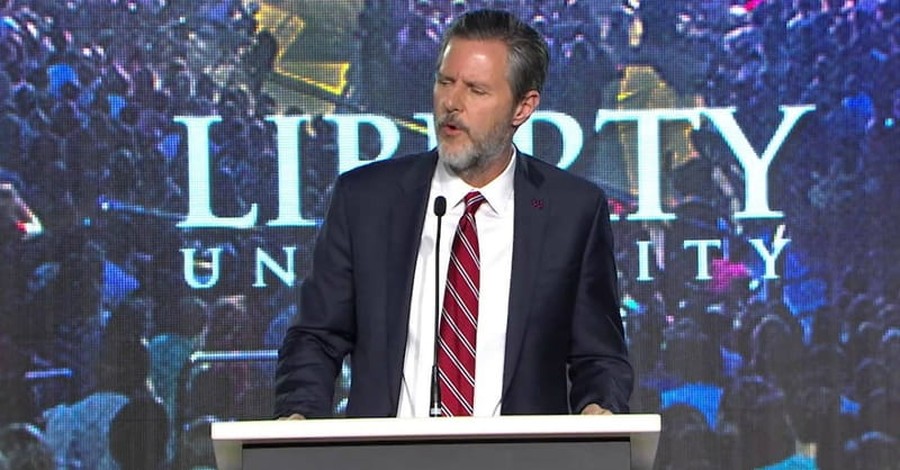 ---
Liberty University Chancellor Jerry Falwell Jr.
responded to tweets
criticizing him for a photo he posted to Twitter that shows Falwell and his wife, along with Donald Trump, standing in front of a framed picture of Playboy magazine in Trump's New York office.
TheBlaze.com reports that Falwell was participating in a forum between Trump and many other evangelical leaders on Tuesday when the picture was taken. Falwell tweeted:
@JerryJrFalwell @realDonaldTrump @beckifalwell Nice Playboy cover in the shot! Really brings out colours of the hypocrisy on display.

— JordanHeath-Rawlings (@TheGameSheet) June 21, 2016
Kim K tweeted:
@JerryJrFalwell @realDonaldTrump @beckifalwell Would you post that framed Playboy cover at Liberty?

— Kim K (@kimkuz) June 21, 2016
Falwell responded to some of the tweets, refusing to back down from his position supporting Trump and saying that the critics were acting like the Pharisees in Jesus' time.
Falwell has been criticized since first endorsing Trump, Trump is attempting to appeal to evangelicals, but many Christian leaders remain opposed to him.
Photo courtesy: youtube.com
Publication date: June 22, 2016