Amanda Casanova
| ChristianHeadlines.com Contributor
| Updated: Mar 29, 2022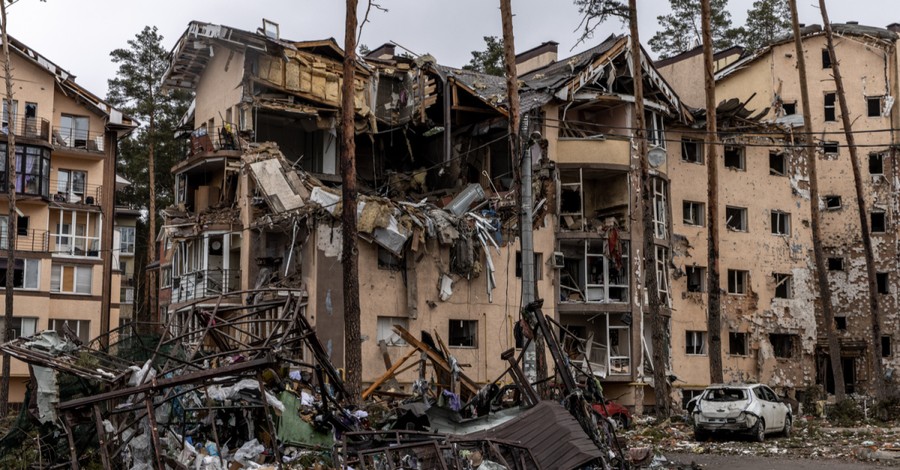 Whether it's Bibles or baby food, or a way out of the country, many Christian organizations are stepping up to help displaced and needy Ukrainian citizens, who are now a month into Russia's invasion of the country.
The conflict has continued to escalate, but this week, Ukrainian president Volodymyr Zelenskyy is expected to meet with Russia to talk about "obvious" goals of peace and restoration.
"Our priorities in the negotiations are known," Zelenskyy said. "Ukraine's sovereignty and territorial integrity are beyond doubt. Effective security guarantees for our state are mandatory. Our goal is obvious: peace and the restoration of normal life in our native state as soon as possible."
Violence in Ukraine
Meanwhile, missile strikes have continued in Ukraine following Russia's invasion of the country.
"More and more missiles every day," Mikhail Podoliak, an adviser to the Ukrainian president, tweeted.
"Russia no longer has a language, humanism, civilization. Only missiles, bombs and attempts to wipe Ukraine off the face of the earth," he said.
Thousands have fled Ukraine as the violence has continued, and reports say about 3.4 million refugees have fled Ukraine in less than a month. Another 6.5 million have been displaced internally within Ukraine.
As Christian Headlines previously reported, many refugees have fled to Poland, which is now housing about 2 million refugees. Ukrainians are also seeking shelter in Moldova, Romania, Hungary, Slovakia and Russia.
Rescue and Help
On Friday, the Christian group that helps people living with disabilities, Joni and Friends, staged a rescue operation of some 50 people with disabilities and their caregivers from eastern Ukraine.
According to a press release obtained by Christian Headlines, the rescue was the group's sixth caravan in Ukraine to rescue people. On average, about 50 to 60 people have been safely taken in each rescue mission to Poland from Ukraine as part of the efforts.
"Right now, amidst the war in Ukraine, we're not merely 'remembering' the afflicted; we are doing something about their desperate plight. Alongside our partners, we're working on behalf of Ukrainians with disabilities," Joni and Friends tweeted last week before the rescue.
For many refugees, the needs are basic, and that's why World Vision, an international Christian aid organization, has been working to provide hygiene and child-friendly kits to those in need. The group has also sent a team to Romania to help with incoming refugees.
The widely known evangelical humanitarian aid group Samaritan's Purse has also been participating in Ukrainian relief efforts. The organization recently opened an emergency field hospital in Lviv, receiving hundreds of patients in need of medical care. Further, the group has brought in much-needed relief and medical supplies to be routed to nearby hospitals.
"God calls us to go into crisis areas to help those who are most vulnerable," said Franklin Graham, the president of Samaritan's Purse. "As the conflict escalates in Ukraine, our international disaster response teams with doctors, nurses, and other specialists are equipped and ready to help people in Jesus' Name. We want them to know that God loves them and has not forgotten them."
And that's why the help isn't just for their spiritual needs.
Photo courtesy: ©Getty Images/Chris McGrath/Staff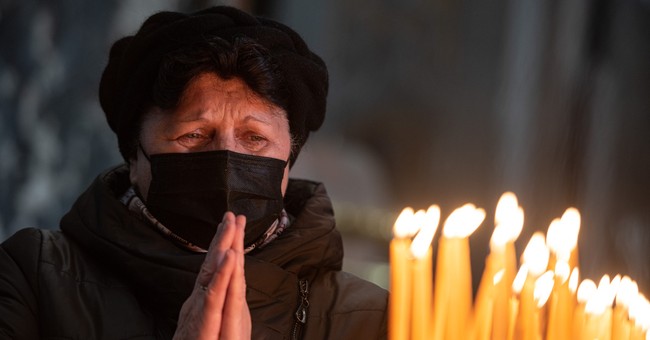 Spiritual and Physical Needs
After hearing from the Ukrainian Bible Society that Bibles were in short supply just before the Russian invasion, the American Bible Society agreed to work to provide access to Bibles.
According to the group, priests and pastors began requesting Bibles as their congregations heard rumors of war. The group says the need will continue to grow as the conflict rages on.
"Through a worldwide network of Bible Societies operating in more than 240 countries and territories, we're able to do cost-efficient print runs of resources in Ukrainian and to help pave the way for Bible-based trauma healing, which will become critical as people cope with the long-lasting trauma of this crisis," the American Bible Society said in a statement provided to Christian Headlines.
The group has also sent a team to Poland, led by Enid Almanzar, Director of Global Access Partnerships at the American Bible Society.
"Here in Poland, we have witnessed the Church unite to meet not only the spiritual needs of Ukrainians, but their physical needs as well. We have visited church-run aid stations, food pantries, and shelters—all powered by faithful believers serving as the hands and feet of Jesus Christ.
"Through the example of these churches, we see what it means to be the body of Christ— active and alive, responding to deep suffering with words and actions that point others to our eternal hope."
Every Need Met
According to the United Nations, more than half of all Ukrainian children are displaced, and most who are seeking shelter are women and children.
For that reason, Convoy of Hope has responded by sending trucks full of baby food across the border to those in need.
"Together, we're going to keep sending as much as we can, as fast as we can," said Clayton Gilligan, a Convoy of Hope team member deployed to Poland.
"As fast as we can get product, it's going," Clayton said. "It feels like the whole country is coming together to make sure people are okay. Everybody's dropping their everyday lives and figuring out how to help people."
Convoy of Hope also recently partnered with Grammy Award-winning Australian brother duo For King & Country to put on a benefit concert for Ukraine.
Another group, Operation Blessing, was one of the first groups after the invasion to reach out with food, water and fuel to communities hit by the violence.
"The entire world watched in shock as the lives of innocent Ukrainian families were thrown into turmoil," Operation Blessing wrote in a blog to its followers. "Women and children were forced to flee the country for their own safety when Ukraine was violently and aggressively invaded by Russia. In the face of such tragedy, you met this onslaught of violence with a powerful response of compassion and relief! And you are providing tremendous help to Ukraine."
How To Help
The need for spiritual and physical needs will continue as the crisis unfolds, and many humanitarian and Christian aid groups require support.
According to Christian Aid Ministries, significant needs include food, blankets and Christian literature.
For information on how to help, check with your favorite Christian organization or visit the following for a non-exhaustive list.
Related:
NASCAR Team Donates $302,000 to Samaritan's Purse Ukraine Relief: 'We Have a Moral Obligation'
Samaritan's Purse to Set Up Emergency Field Hospital in Ukraine
Mike Pence, Wife, Visit Ukraine, Ensure Refugees That 'Americans Are Standing with Them in Prayer'
Christian Aid Groups Send Emergency Supplies to Ukraine amid Russian Invasion
Photo courtesy: ©Getty Images/Alexey Furman/Stringer
---
Amanda Casanova is a writer living in Dallas, Texas. She has covered news for ChristianHeadlines.com since 2014. She has also contributed to The Houston Chronicle, U.S. News and World Report and IBelieve.com. She blogs at The Migraine Runner.
---
---