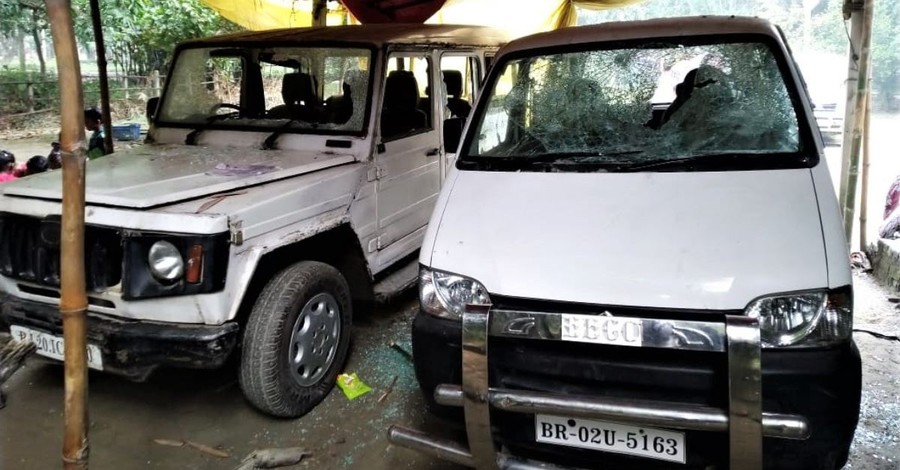 NEW DELHI, October 29, 2019 (Morning Star News) – A Hindu extremist mob in northeastern India tried to kill a pastor and his family in an attack on their home Sunday night (Oct. 27), the church leader said.
At 1 a.m. on Monday (Oct. 28), Hindu extremists brandishing swords, bricks and rods broke through windows and the roof of the home of pastor Palathingal Joseph Johnson in the Rajasan area of Vaishali District, Bihar state, he said.
"10 to 15 Hindu extremists shouting slogans of 'Jai Shri Ram! [Hail, lord Ram]' trespassed into my house," Pastor Johnson told Morning Star News. "They were using vulgar language declaring that they will kill me and my children and will outrage my wife's modesty."
The assailants also carried wooden sticks and appeared to be drunk, he said. They were members of the Hindu nationalist Rashtriya Swayamsevak Sangh or RSS, parent organization of the ruling Bharatiya Janata Party (BJP), he added.
Pastor Johnson, his wife Shalomi, and their four children ages 7 to 13 hid themselves in one of the rooms in their two-room house. The attack was well-planned, the 44-year-old pastor said.
"We heard their conversation from behind the closed door – they were talking like professional terrorists," he said. "They did not call each other by name. They had divided themselves into three teams, and one of the attackers assigned tasks to the teams by saying – 'A section – break the windows,' 'B section – break the cars,' 'C section – climb the roof.'"
Unable to break open the front door, they began to break windows, he said.
"Soon we heard the noise of the glass breaking," he said. "One team climbed the roof of our house, but they could not break open the roof to enter the house. So, they twisted the aluminum corrugated sheet and entered."
The room where he and his family were hiding did not have a latch on the inside, so the pastor hid his children under the bed while he and his wife braced themselves against the door, holding it shut with all their strength.
Pastor Johnson first tried calling the police emergency number but could not get through, he said. He then called a Christian in their neighborhood and asked her to gather people to help.
"While my wife and I caught hold of the door from inside, the attackers were pushing the door from outside trying to open it," Pastor Johnson told Morning Star News. "That moment I could see death face-to-face. A delay of two more minutes would have cost us our lives."
The Christian he had called reached the house with 50 other villagers just in time, he said.
"The Hindu extremists fled from our home when they saw a mob larger than their numbers," he said.
Though traumatized, his three daughters, ages 13, 12 and 9, and his 7-year-old son were very brave and did not cry out, he said.
"Along with us, they constantly kept on chanting, 'There is victory in the blood of Christ,'" he said.
Pastor Johnson came out of hiding to find his home and cars damaged. The attackers had used bricks and thick wooden sticks to break the house windows and the windshields and doors of his two parked cars. They also ruined a toilet, he said.
An activist and the presbyter of Indian Pentecostal Church in Nalanda Patna, pastor Gautam Kumar, said the assailants took advantage of area residents celebrating the Hindu festival of Diwali, as the sound of their firecrackers late at night hid the sound of the break-in.
"If the attackers had managed to come into the room where the family was hiding, we would be looking at a much worse situation," Pastor Kumar said. "I do not doubt that they would have killed the family."
Pastor Johnson, who has been living in the area for more than 10 years, leads the Set Free Church, where between 50 and 100 people attend worship every week. His home has a hall where the worship service is held on Sundays and two adjoining rooms where the family lives.
He also oversees an orphanage in the nearby Hajipur area, Pastor Kumar said. 
Police Make No Arrests 
Pastor Johnson approached the Bidupur police station on Monday (Oct. 28) to file a complaint, which police said they would register but only after initial investigation.
Two policemen have been deployed outside the pastor's home, and five members of his church volunteered to stay with him and his family for their protection, he said.
A First Information Report (FIR) was registered after initial investigation, case No. 427/19, dated Oct. 28, under Indian Penal Code sections for rioting, rioting armed with a deadly weapon, unlawful assembly, criminal trespass, house-trespass, promoting enmity between different groups on grounds of religion and outraging religious feelings.
The case was to be investigated by Assistant Sub-Inspector Jaykumar Singh.
A policeman at the Bidupur police station who declined to give his name told Morning Star News that the FIR has been registered but no arrests have been made.
Distressed by the rising number of attacks on Christians in Bihar and in the country as a whole, Pastor Kumar told Morning Star News that he is heart-broken.
"A handful of people in our country are spreading false propaganda against the Christian community and are polarizing the masses with false information that Christianity is a foreign religion, and that Christians are anti-nationalists," he said. "It is heart-breaking that the masses are believing this lie, and thus Christians are being targeted throughout the country."
Pastor Johnson said that he previously had received several mild threats and warnings from Hindu extremists and could sense that trouble in some form was forthcoming, he never imagined it would be this severe. The last time he had been threatened was six months ago, he said.
"I knew persecution will come and I was mentally prepared to face it, but I had never thought it would be scary like this," he said. "I saw my death before my eyes, and the thought of my wife and children dying with me was even scarier."
India is ranked 10th on Christian support organization Open Doors' 2019 World Watch List of the countries where it is most difficult to be a Christian. The country was 31st in 2013, but its position has been worse each year since Narendra Modi of the BJP came to power in 2014. 
If you would like to help persecuted Christians, visit http://morningstarnews.org/resources/aid-agencies/ for a list of organizations that can orient you on how to get involved.