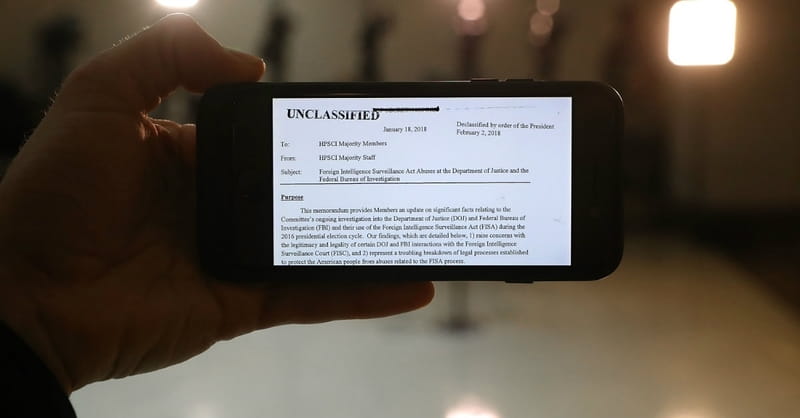 ---
A House Republican intelligence memo released last week says that the FBI abused the FISA process to obtain a surveillance warrant on a member of Trump's campaign team.
The memo was released Friday after President Trump authorized its release.
The FBI and Justice Department deny any wrongdoing, with the FBI saying it had "grave concerns" about the "accuracy" of the document.
Devin Nunes, a House Republican from California, drafted the memo. The memo says that a "biased" FBI and Justice Department abused their powers to launch an inquiry into the Trump's campaign potential link to Russia's alleged influence on the 2016 election.
Those inquiries led to the discovery of the "Steele dossier," a collection of memos compiled by former British intelligence officer Christopher Steele. The unverified documents show collusion between the Trump campaign and Russia.
With the Steele dossier, the FBI was allegedly able to obtain a warrant to spy on Carter Page, who had served as an adviser in Trump's bid for the White House.
In 2016, Page traveled to Russia. National security officials questioned some of Page's meetings in Russia and whether he met with Russian government to discuss influencing the U.S. presidential election.
The House Republican memo released last week says that the FBI abused its power to investigate Page.
"This memo totally vindicates 'Trump' in probe. But the Russian Witch Hunt goes on and on. Their [sic] was no Collusion and there was no Obstruction (the word now used because, after one year of looking endlessly and finding NOTHING, collusion is dead). This is an American disgrace!" Trump tweeted Saturday.
Meanwhile, the House Intelligence Committee has voted to make public the Democratic memo that would refute the GOP memo.
The Democratic memo says the GOP memo is inaccurate.
Trump has five days to decide whether to release the document to the public. If he objects, the House Intelligence Committee could send the issue to the full House to debate whether to release the memo.
Photo: A six-page memo alleging misconduct by senior FBI officials investigating President Donald Trump's 2016 campaign was released to the public February 2, 2018 in Washington, DC. Assembled by Committee staff of House Intelligence Committee Chairman Devin Nunes (R-CA), the formerly classified memo alleging FBI misconduct was released to the public Friday with permission from President Donald Trump. (
Photo courtesy: Chip Somodevilla/Getty Images
Publication date: Febraury 6, 2018
---
Amanda Casanova is a writer living in Dallas, Texas. She has covered news for ChristianHeadlines.com since 2014. She has also contributed to The Houston Chronicle, U.S. News and World Report and IBelieve.com. She blogs at The Migraine Runner.