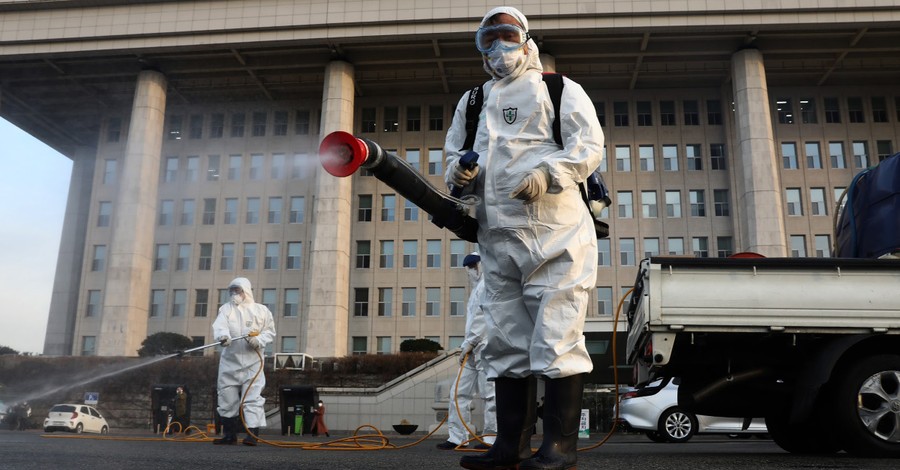 Latest reports show that the number of coronavirus related deaths are still on the rise in China and South Korea.
According to ABC News, "Chinese officials reported 409 new cases of the virus Sunday, pushing its national total past 77,000." This report brings the current total number of deaths in China to over 2,500, causing the alert level in South Korea to be raised to the highest for the first time in 11 years, since the outbreak of influenza A (H1N1).
The Korea Centers for Disease Control and Prevention (KCDC) reports that in the last 24 an additional 169 cases with four deaths have been confirmed in South Korea. This brings South Korea's death total to six, with 602 confirmed diagnoses. Eighteen others are reported to have received full treatment for the virus while an additional 8,057 are undergoing testing for suspected symptoms.
Interestingly enough, a religious sect called the Shincheonji Church of Jesus is considered to be the center of the South Korean outbreak. As the New York Times reports, "The outbreak has struck hardest at Shincheonji's church in Daegu, a city of about 2.5 million in the country's southeast, where a 61-year-old woman known as Patient No. 31 is believed to be a link between many of the cases. The restrictions on public gatherings have been implemented more forcefully in Daegu than elsewhere in the country."
However, there have been no recent trips to China from the Shincheonji who have made past visits for proselytizing, so how does Patient No.31 factor in? According to her, she visited a public bathhouse in Cheongdu, which is near Daegu. Cheongdu is the same location in which one hospital reported that 108 patients and medical staff were tested positive for the coronavirus. It is also where members attended the funeral of the brother of the church's founder, Lee Man-hee in early February.
Despite feeling sick, No. 31 attended church due to their strictness on doing God's work, "even when sick" lest it be a sin. What began as flu-like symptoms would result in being tested positive for the coronavirus for No. 31. About 9,000 members were screened by health authorities, while 600 unreached members are being tracked down by government-assigned special police forces. Apparently, members were told to lie about their membership in light of the coronavirus outbreak. However, the church said it did not align with their policy. Therefore, it is possible that the unreached members are actually in hiding as, "Shincheonji members know of their bad image and they usually hide their affiliation from non-church members, even from their parents," said Hwang Eui-jong, a pastor who has researched the church. "No wonder many of them are unreachable. They must be huddled together somewhere, praying that this will eventually go away."
The Shincheonji are often labeled a cult as their founder, Lee Man-hee is considered Christ who has returned and only he can correctly interpret the Bible.
Photo courtesy: ©Getty Images/Chung Sung-Jun/Staff
---
Milton Quintanilla is a freelance writer and content creator. He is a contributing writer for Christian Headlines and the host of the For Your Soul Podcast, a podcast devoted to sound doctrine and biblical truth. He holds a Masters of Divinity from Alliance Theological Seminary.
---
---