Amanda Casanova
| ChristianHeadlines.com Contributor
| Thursday, February 17, 2022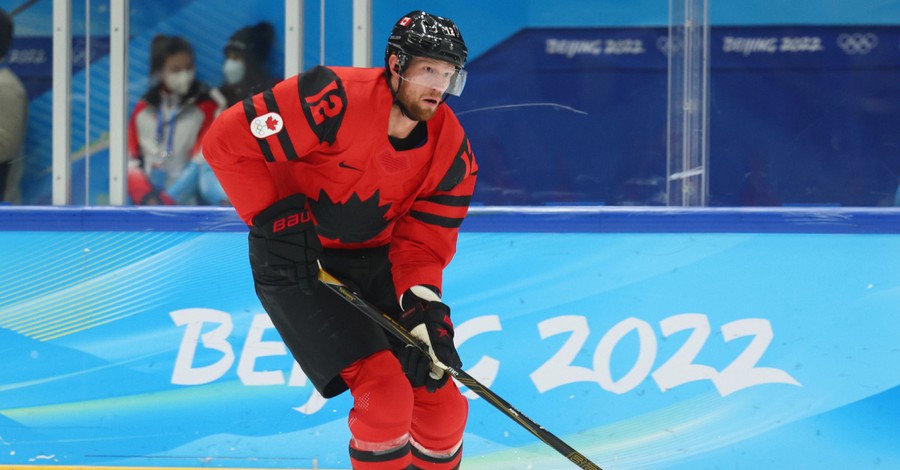 The Winter Olympics continue over the weekend, closing in Beijing, China, on Sunday.
The winter session of the Olympics has drawn a range of athletes, some 2,800 competitors from around the world.
Whether taking on the slopes or figure skating on ice, competitors have a range of backgrounds and stories, but several athletes are opening up about their Christian faith as they compete.
Here's a look at seven Christian athletes competing in the 2022 Winter Olympics:
1. Eric Staal, Hockey, Canada
Hockey veteran and former National Hockey League athlete Eric Staal is part of Canada's hockey Olympic team this year. The NHL and the NHLPA had both decided not to compete in the Winter Olympics, but since Staal did not play in the NHL this season, he was eligible to play for Canada's team.
Staal was initially drafted second overall by the Hurricanes in 2003. He has gone on to amass 1,034 career points (441 goals, 593 assists), has been selected for the NHL All-Star Game six times and was named MVP in 2008.
"Hockey season is always a busy time — it's a long year, and sometimes it's tough to find that study time, but when I do, it's always great and refreshing," Staal told Promise Keepers in 2018. "It's a chance to try to live our lives for God and show our fans and teammates that there are better things up above. It just becomes a way of life after enough time."
Canada lost to Sweden in the Olympic hockey quarterfinals.
2. Elana Meyers, Bobsled, United States
Elana Meyers is a world champion bobsledder who added a silver medal to her list of accomplishments this year. Meyers came in second place for the monobob event during this Olympics. She competes this weekend in the two-woman event.
Meyers previously won two other Olympic silver medals in the two-woman bobsled event (2014 and 2018) and a bronze in the two-woman bobsled event (2010).
"I'm in this sport to glorify God," she said.
"God put me here for a specific reason, and I don't think it's just to win medals," she added. "At the end of the day, I'm in this sport to glorify God, so if that means I come in last place, or I win the gold medal, that's what I'm going to do."
3. David Wise, Freestyle Skiing Halfpipe, United States
David Wise was the first Olympic gold medalist in the halfpipe event in 2014. In 2018, he again won gold, and he's hoping to earn the gold again this year in Beijing.
He's faced a tough climb back to competition after breaking his leg in 2019.
"I spent 11 days in the hospital before I could fly home," he said in an Instagram post. "I had to humble myself and embrace my own weakness, brokenness and inability to be master of the situation.
"I was finally aware of my powerlessness. It was immensely freeing. I was able to admit that I wasn't in control, but God was," he wrote.
Photo courtesy: ©Getty Images/Elsa/Staff
4 & 5. Alexa Scimeca Knierim and Chris Knierim Figure Skating, United States
Married couple Alexa Scimeca Knierim and husband Chris Knierim were the first American pair to ever perform a quad twist at the Olympic Games in 2018. This year, their performances in the free skate (4th place) helped the team win a bronze medal overall. The couple has said their faith plays a "big role" in their lives.
Alexa has struggled with a rare gastrointestinal condition, but she has said her faith has strengthened her.
"It's the reason I was able to get back on the ice," Alexa said, "because I stopped worrying and stopped trying to control life because I couldn't. In the moment, you know, I was so sick and didn't really know where things were going to go for me, whether it was skating or life in general. So I finally just threw my hands up and said like, 'You lead the way,' and it's my testimony, and I stay true to it."
"And even here at the Games, it's no longer about me," she added. "I have fans out there who know that I am a true believer in the Lord, and I'm trying my best to shine his light and let people know that it's okay to promote him and do things for him, because in the Christian life that's kind of what we're supposed to."
6. Nicole Hensley, Hockey, United States
In 2018, Nicole Hensley was part of the 2018 Team USA team that won the gold medal in the Winter Olympics. This year, Canada beat Team USA for the gold with a score of 3-2.
Hensley has long been open with her faith and constantly shares bible verses on her social media accounts.
"I feel that with the abilities and love for hockey that God has given me, He's also given me a bit of a platform to possibly reach others who are wondering about their faith, or maybe don't have any faith, or want to grow stronger in their faith. Maybe it's a way to start a conversation with somebody."
She said she grew up in a Baptist church but later started attending a non-denominational church, saying she would "classify" herself as "a follower of Christ."
"It is something bigger than the game," she stated. "As an athlete, my faith has calmed me down on the ice and helped me realize too that the result is not necessarily the most important thing. It is more important to be on the ice and enjoy the chance to play when God has given me such a passion and ability in this game."
7. Matthias Mayer, Ski, Austria
Matthias Mayer is only the second alpine skier in history to win three golds in three different Olympic Games. This year, he won bronze in the men's downhill event and gold in the Super Gian skying event. He also won gold in 2014 in the downhill and gold in 2018 in the Super G event.
He has said he is a committed Christian who relied on his faith when his career was faced with injuries and sickness.
"For me, sporting achievements and successes are not only borne by physical and mental training, but also very much by my faith and a very special strength that I receive from it," he said.
"When you get such high praise, I realize how important faith in God is for me. It gives me security, I know that no matter what happens, I can go into the day relaxed because he accompanies me on my way. And I am infinitely grateful for that."
Related:
8 Christian Athletes Who Played in Super Bowl LVI
Photo courtesy: ©Getty Images/Matthew Stockman/Staff
---
Amanda Casanova is a writer living in Dallas, Texas. She has covered news for ChristianHeadlines.com since 2014. She has also contributed to The Houston Chronicle, U.S. News and World Report and IBelieve.com. She blogs at The Migraine Runner.
---
---