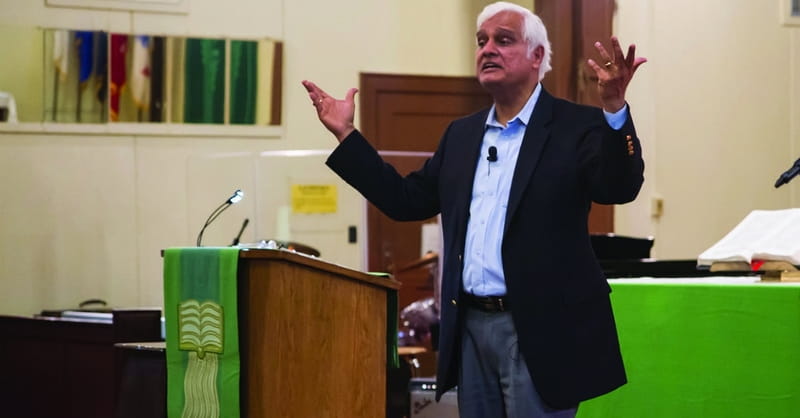 ---
Christian apologist Ravi Zacharias, the head of Ravi Zacharias International Ministries (RZIM), has responded to allegations that he engaged in inappropriate text messaging with a woman he met at one of his conferences.
According to Christianity Today, Zacharias filed a lawsuit that claimed what began as a "friendly correspondence" with the woman evolved into her sending the evangelist "unwanted, offensive, sexually explicit language and photographs." The woman and her husband reportedly sent a letter to Zacharias demanding a settlement of millions of dollars in exchange for keeping the messages a secret.
"In the alternative of protracted and public litigation, [the couple] will sign a release of you and your church and ministry in exchange for a certified check in the amount of $5 million," read the letter, sent to Zacharias by the couple's legal counsel.
Zacharias maintains that he never fostered any inappropriate communication with the woman and had repeatedly told her to stop messaging him and even blocked her number. He also said he informed RZIM of the situation, and filed the lawsuit after seeking legal counsel. Zacharias' lawsuit alleges that the couple was attempting to compromise the evangelist's reputation in order to make a monetary gain. "Conspiring together, [the couple] labored relentlessly to foster a relationship with [Zacharias] in hopes of manipulating him into a compromising position," stated Zacharias' lawsuit.
In his statement, Zacharias said, "Let me state categorically that I never met this woman alone, publicly or privately. The question is not whether I solicited or sent any illicit photos or messages to another woman—I did not, and there is no evidence to the contrary—but rather, whether I should have been a willing participant in any extended communication with a woman not my wife.
"The answer, I can unequivocally say, is no, and I fully accept responsibility," he continued. "In all my correspondence with thousands of people in 45 years of ministry, I have never been confronted with a situation such as this, and God and my family and close friends know how grieved I have been."
The couple, however, claims that Zacharias fostered communication with the woman for his own gain. "As a result of your actions, she eventually opened up her life to you to the point where you exercised a controlling influence over her as one with spiritual authority," wrote the couple's attorney in the letter demanding a monetary settlement. "Armed with that information and your excellent grooming skills, you chose to exploit her vulnerability to satisfy your own sexual desires."
Zacharias has also been criticized for claiming the title of "doctor" solely based on honorary doctorates with which he has been bestowed. Recently, RZIM changed his bio to specify that these degrees are "honorary doctorates."
Photo courtesy: Wikimedia Commons
Publication date: December 4, 2017
Veronica Neffinger wrote her first poem at age seven and went on to study English in college, focusing on 18th century literature. When she is not listening to baseball games, enjoying the outdoors, or reading, she can be found mostly in Richmond, VA writing primarily about nature, nostalgia, faith, family, and Jane Austen.