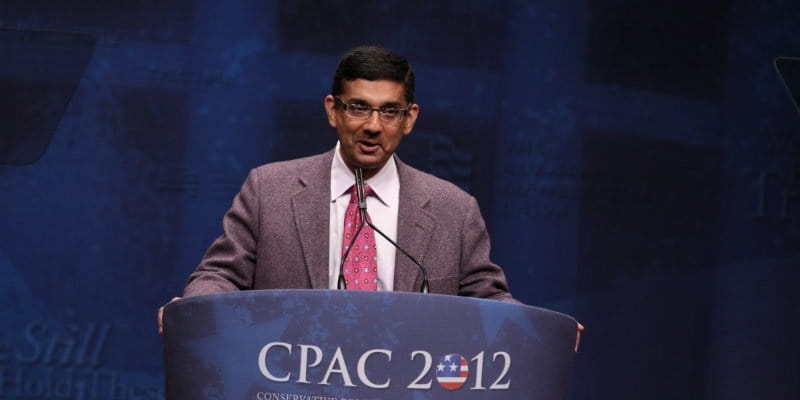 ---
Conservative commentator and former Christian college president Dinesh D'Souza, facing a Sept. 23 sentencing in New York, asked for community service probation instead of prison time in court filings on Wednesday. He told the judge overseeing his sentencing that he was sorry for his actions and wouldn't repeat them. Accompanying the pre-sentencing memo were dozens of letters of support from D'Souza's friends, family, and colleagues.
In May, D'Souza pleaded guilty to orchestrating $20,000 in illegal campaign contributions for U.S. Senate candidate Wendy Long. D'Souza faces 10 to 16 months in prison under the plea deal, but his defense has argued that his integrity and lack of criminal record should allow a 'nonguideline' sentence. His lawyer, Benjamin Brafman, argued that similar cases had resulted in probation, not prison time. Brafman suggested a probation sentence under which D'Souza could do community service at the Boys and Girls Club of Greater San Diego or teach English to new immigrants. D'Souza also argued that he had "paid a price" for his crimes because of the public humiliation around the case and his conviction.
"When I think about what I did, I am filled with a sense of sheer frustration, exasperation, and regret," D'Souza wrote in a statement to District Judge Richard Berman. "I cannot believe how stupid I was, how careless, and how irresponsible. I keep going back and trying to envision how I ended up here, asking myself, 'What were you thinking?' … I should have figured out a legal way to help her. Instead I took a short-cut, knowing that there was a campaign limit and trying to get around the limit."
Long, in a letter on D'Souza's behalf, emphasized that D'Souza gave the straw donations without any expectation of quid pro quo. But his sentencing memo revealed a motive: Before the straw donations, Long introduced D'Souza to "an individual who would later become the principal financial underwriter of his film."
"Dinesh's desire to repay that kindness severely clouded his judgment and left him desperately seeking a way to repay her, an objective that eventually culminated in this criminal prosecution," his defense wrote.
Danielle D'Souza, his daughter, described Long as one of D'Souza's first friends when he immigrated to America. "When she asked him for help while running for the Senate in 2012, he could not refuse," she wrote.
Other writers in support of D'Souza included Eric Bennett, the vice president for student development at The King's College, where D'Souza was the president until revelations about a relationship he had with a woman who was not his wife spurred him to resign. Tyler Vawser, D'Souza's assistant at King's and now the college's director of marketing and communications, also wrote a letter in support. Vawser was one of the straw donors and was scheduled to testify against D'Souza if the trial had gone through.
"During his tenure at The King's College, admissions grew, fundraising increased, and the college's reputation improved," said Vawser. "While the circumstances around his departure were not ideal, the staff that worked closest with Dinesh still respect him greatly to this day. … I know firsthand that Dinesh had no intent to corrupt the political system when he engaged in the conduct that led to his guilty plea."
Stanley Fish, a law professor at Cardozo Law School in New York who has publicly debated D'Souza, wrote in support of his friend. So did Fish's wife, Jane Tompkins, a retired English professor at Duke University. Other letters of support came from producers of D'Souza's films, professors from D'Souza's alma mater, Dartmouth College, friends, his mom in India—even his daughter's best friend.
Danielle D'Souza described how her parents' failed marriage played into the case.
"A few weeks after making the mistake of violating New York's campaign finance laws, my parents filed for divorce," Danielle continued. "He was very stressed during this time as my parents had been married for 20 years. … This all weighed on him greatly, and I can confidently say that this would impair anyone's judgment. My father has had to endure a lot of suffering in the last few years and I humbly ask that you give him a lenient sentence."
The prosecution will weigh in with its recommendation by Sept. 8.
Courtesy: WORLD News Service
Photo: Dinesh D'Souza
Photo courtesy: Wikimedia
Publication date: September 8, 2014