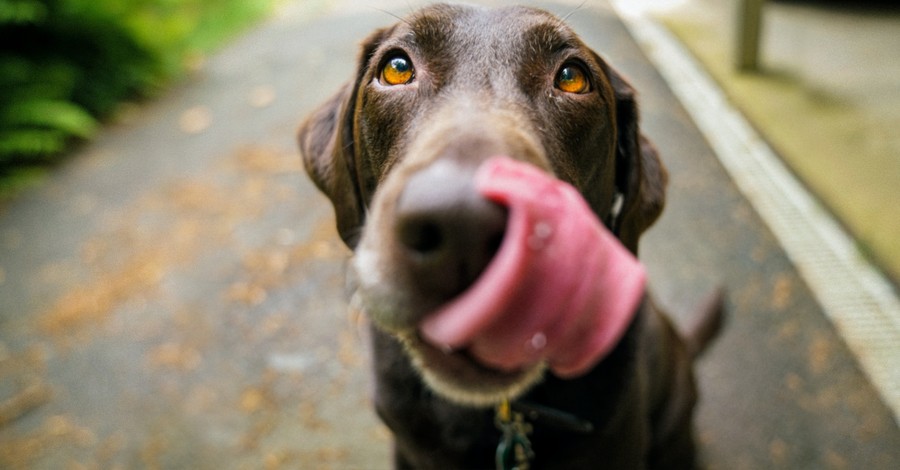 A Metro Detroit man recently shared how the death of his Chocolate Labrador Retriever helped bring people to church.
According to CBN News, Buddy the dog was known for his favorite yellow raincoat as he walked with owner John Karakian throughout the communities of Novi, Walled Lake, and Wixom over the past 12 years.
Regardless of weather conditions, walking outdoors was Buddy's favorite activity.
After his dog's death last March, Karakian continued their walking routes while handing out photos of the two of them along with tickets to an Easter production at Brightmoor Christian Church, where Karakian attends.
To Karakian's surprise, there was a positive reception as he received phone calls, messages, and over 60 sympathy cards. Moreover, memorials for Buddy were set up in front of Karakian's house.
One day, a police officer – having not seen Karakian around for some time – paid the former dog owner a visit. As Karakian shared that Buddy had passed away, the conversation became spiritual when he asked the officer, "do you think he's in heaven?"
"Next thing you know, we're talking about Jesus," Karakian told CBN in an interview.
At the Easter production, Karakian didn't think anyone would show up, but many did in a show of solidarity for Karakian and Buddy.
Karakian recognized people "from more than a decade of walks with his chocolate lab". Moreover, he knew their faiths from previous spiritual conversations, ranging from Hindus, Muslims, Buddhists, Jews, and even Atheists. Additionally, Christian women with non-Christian husbands attended.
Despite the great turnout at the Easter production, Karakian heard the Lord say, "You're not done yet, keep sending those letters out."
Karakian was initially reluctant as he told God, "I can't be walking around telling everybody my dog died." He feared that people were "going to think I need a psychiatrist."
But as he shared with CBN, "God had a plan."
"You do the walking, and I'll do the talking", God told Karakian.
Karakian spent the 7 months walking on the usual routes hand-delivering more custom-made cards of Buddy. Included would be 400 "Buddy tickets" to his church's Christmas program last winter.
In a megachurch seating more than 2,100, Karakian lost count as somewhere over 200 from the "Buddy Brigade" showed up. Some attendees were given tickets by others who were unable to go.
In January, Karakian was given a cake and a thank you card from a woman who visited his house. Although he didn't know the woman, she shared how her husband and son went to church because of Buddy.
According to Assemblies of God News, Karakian visited, "2,200 homes, his credit union, the UPS store that printed the cards, his doctors and their nurses". As he went along, he prayed and shared the need of Jesus as Savior, in which none turned away.
Karakian and Buddy were so beloved in the community that a picture of Buddy was framed on Maria's Deli, as Buddy loved eating lasagna there.
"If Buddy didn't pass away, none of this would have happened," Karakian said. He noted that all it took was a dog, a leash and "my two feet" to spread the Gospel.
Buddy became known as "the evangelistic dog" who spread his "chocolate evangelism" by Karakian's friends.
"The Holy Spirit used a chocolate lab, and the devil never knew what hit him," as Karakian cited Isaiah 11:6.
"As soon as I said, 'My dog died,' everybody dropped their guard, were all ears and wanted to hear more," he continued. "It's the wonders of the Lord."
Brightmoor's Creative Pastor, Robb Stancer described Buddy as a "four-legged friend that could melt your heart with compassion and help open your eyes to something greater."'
He believed that the huge turnout of Karakian's invitations was out of the strong bond that was shared with Buddy.
"They say they came because of the dog, but I think it's John's genuine love, and they care," Stancer noted. "This little dog bridged a gap between race, religion, culture, and person because they loved Buddy. In many ways, John was just being Christ's hands extended."
Karakian counts it an honor to have been "Buddy's butler" and prays for "the biggest revival in the history of the world, that God uses the Buddy Brigade to get the whole world saved."
Photo courtesy: James Barker/Unsplash
---
Milton Quintanilla is a freelance writer and content creator. He is a contributing writer for Christian Headlines and the host of the For Your Soul Podcast, a podcast devoted to sound doctrine and biblical truth. He holds a Masters of Divinity from Alliance Theological Seminary.
---
---