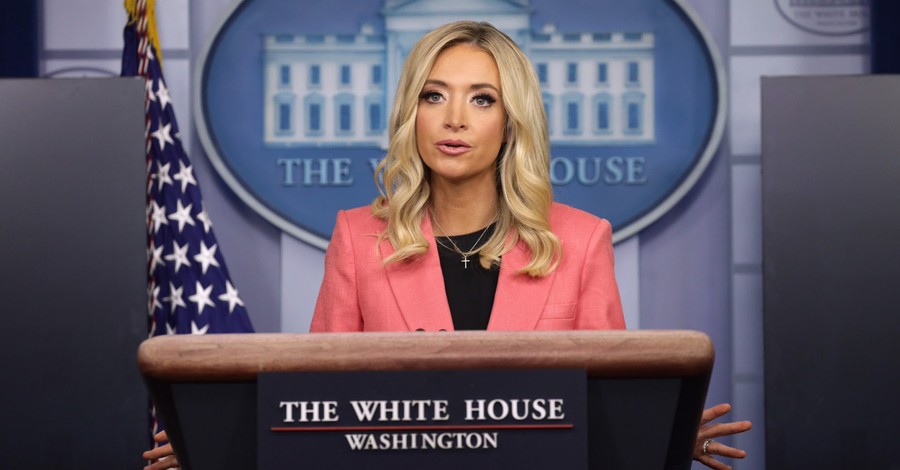 ---
Former White House press secretary Kayleigh McEnany is set to release a new book, in which she recalls God's faithfulness during her time in the Trump Administration.
The book, For Such a Time as This: My Faith Journey through the White House and Beyond, details how God guided her in the prominent position.
"I was one piece in God's much bigger puzzle, and that's God's plan for all of us," McEnany told CBN News in a recent interview.
McEnany recalled how prayer helped her before delivering her first briefing on May 1, 2020.
"I was supposed to take to the podium at 2 pm, but rather than walking to the podium, I'm in my office crying out of such nerves," she explained.
McEnany then received counsel from her predecessor, Sarah Sanders, who encouraged her not to worry but to pray instead.
"I went to the West Wing bathroom and got on my knees and prayed – then Vice President Mike Pence went like this to me and said I've been praying for you, which meant a whole lot," the former press secretary noted. "I can tell you it was Christians like Sarah and the Vice President and Christians across the country that prayed for the administration that I know it helped the Trump administration along the way, and it certainly helped me ... millions of Christians praying," she added.
Since her first briefing, McEnany would regularly hold prayer meetings with her team before stepping out onto the podium.
"It was the last thing I did before I walked to the podium," she told CBN News. "My team would stand around the press secretary's office, sometimes we'd have the fireplace burning in the background, and we would say a prayer, and then I would walk off to the podium, and I can tell you that was indispensable."
In her new book, McEnany details some of the most challenging moments from her time working for the Trump administration, like when Trump tested positive for COVID-19 last year and when The Atlantic accused the former President of calling fallen military troops losers and suckers.
"It was just categorically false," she asserts.
She also addressed books written by former administration employees that negatively depicted Trump. McEnany contended that such portrayals were inconsistent with "the person that I knew."
"Was he a tough boss? Certainly, he's the President of the United States. We know who President Trump is – he demands the highest level of work from those around him, but he also is a father, a great family man, and someone I grew to know and love," she said.
McEnany, who currently serves as co-host of the Fox News show, Outnumbered, shared whether she will be part of Trump's team again if he chooses to run for office again in 2024.
"I never say never to anything, but I will say it would be hard to go back on the campaign trail. I hope to have more children by then. We'll see, but it would be hard to be a mom of many to be on the campaign trail," she said. "But I say the greatest honor, professionally speaking of my life, was getting the call to be press secretary and getting asked to serve in public service at a high level of government is an honor, so who knows.
"If I was ever asked to do that again, it certainly was the high honor of a lifetime for sure," she said.
Overall, McEnany credits the Lord for allowing her to serve as the White House press secretary. She also encouraged others, asserting that Christ can use anyone.
"I was brought to this position by Christ for such a time as this. I didn't make it there on my own," she explained.
"I want anyone reading this to know you are where you are in a place, in a time, in a circumstance, in your body, for such a time as this for a reason and a purpose – and if you ask Christ to guide you, He will take you to show you that plan He has for your life just like He did for me," she concluded.
McEnany's book is set to release on December 7.
Photo courtesy: ©Getty Images/Alex Wong/Staff
---
Milton Quintanilla is a freelance writer. He is also the co-hosts of the For Your Soul podcast, which seeks to equip the church with biblical truth and sound doctrine. Visit his blog Blessed Are The Forgiven.