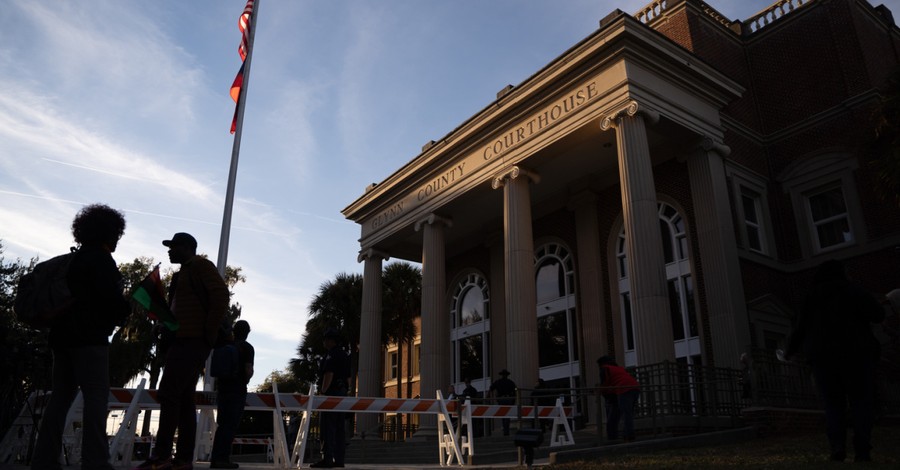 On Monday, a federal judge in Georgia sentenced a father and son to life in prison and their neighbor to 35 years in prison for federal hate crimes in the 2020 murder of 25-year-old Ahmaud Arbery.
According to the Justice Department, U.S. District Court Judge Lisa Godbey Wood sentenced Travis McMichael, 36, to life in prison plus 10 years, Travis's father Gregory McMichael, 66, to life in prison plus seven years and neighbor William "Roddie" Bryan, 52, to 35 years in prison for the murder of Arbery on February 25, 2020.
As reported by The Christian Post, Travis McMichael was found guilty of using, carrying, brandishing, and discharging a shotgun, which added 10 years to his life sentence. Gregory McMichael was found guilty of using, carrying and brandishing a .357 Magnum revolver, offenses that added seven years to his life sentence.
"The Justice Department's prosecution of this case and the court's sentences today make clear that hate crimes have no place in our country, and that the Department will be unrelenting in our efforts to hold accountable those who perpetrate them," Attorney General Merrick B. Garland said in a statement. "Protecting civil rights and combatting white supremacist violence was a founding purpose of the Justice Department, and one that we will continue to pursue with the urgency it demands."
Assistant Attorney General Kristen Clarke of the Justice Department's Civil Rights Division condemned the incident as a "brutal and abhorrent racially-motivated hate crime."
"The tragic murder of Mr. Arbery reminds us that hate-fueled violence targeting Black people remains a modern-day threat in our country, and we must use every tool available to hold perpetrators accountable," Clarke said.
"We hope that this sentencing ends one painful chapter for the family of Ahmaud Arbery, the Brunswick community and the nation as a whole."
At the time of the incident, the three men pursued Arbery, who had been jogging, in their vehicles through a neighborhood in Satilla Shores. The men then cornered Arbery, and as he tried to defend himself, Travis McMichael came at him with a shotgun as Gregory McMichael stood nearby with his firearm.
In video footage captured by Bryan, a gunshot can be heard in the background just as Arbery moves out of view of the camera. Arbery then reappears in the video, and two more shots are heard. The young man is then seen falling to the ground, dead. Arbery was unarmed at the time of the incident.
According to the defense, Travis McMichael suspected Arbery of burglary and attempted to make a citizen's arrest on him. The defense also tried to make a case for self-defense, arguing that Arbery was resisting the citizen's arrest.
On Monday, Arbery's mother, Wanda Cooper-Jones, spoke to the press outside the courthouse following the judge's ruling.
"We finally have gotten justice for Ahmaud again. I know that Ahmaud is pleased with the
work that we've done as a community, as we help together as a family," she said, according to 11 Alive.
"I know he's in heaven, he's pleased, and with that being said, I'm pleased as well," she added.
Related:
Jury in Ahmaud Arbery Death Trial Begins Deliberations
Photo courtesy: ©Getty Images/Sean Rayford/Stringer
---
Milton Quintanilla is a freelance writer and content creator. He is a contributing writer for Christian Headlines and the host of the For Your Soul Podcast, a podcast devoted to sound doctrine and biblical truth. He holds a Masters of Divinity from Alliance Theological Seminary.
---
---