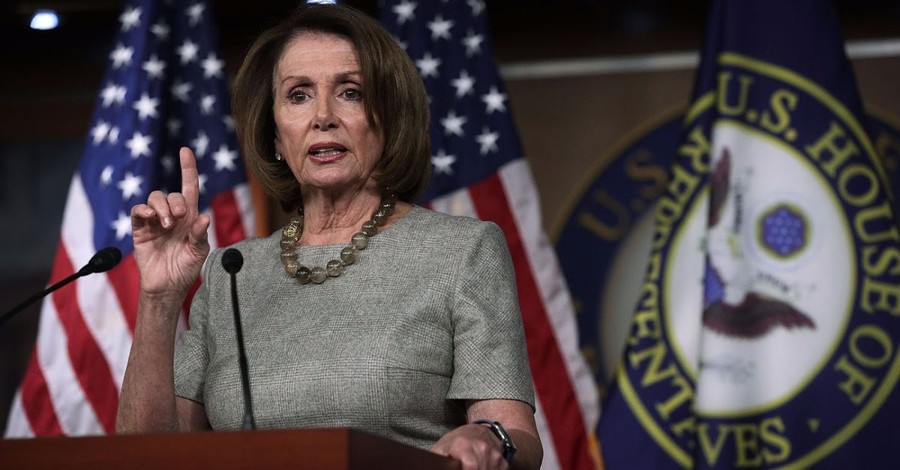 The California archbishop who oversees an area including the districts represented by House Speaker Nancy Pelosi criticized Pelosi's stance on the Hyde Amendment after she cited her Catholic faith as a defense for taxpayer-funded abortion.
During a press conference last week in the U.S. Capitol building, Pelosi, a Democrat, brought up her religious beliefs in response to a question about why House Democrats blocked a vote to ban federal funding of elective abortions in Medicaid.
"As a devout Catholic and mother of five in six years, I feel that God blessed my husband and me with our beautiful family," she said. "But it's not up to me to dictate that that's what other people should do."
In response to Pelosi's remarks, San Francisco Archbishop Salvatore Cordileone denounced Pelosi for supporting abortion despite being Catholic.
"Let me repeat: no one can claim to be a devout Catholic and condone the killing of innocent human life, let alone have the government pay for it," he told Catholic News Agency in a statement.
The archbishop asserted that the right to life is "the most fundamental" human right and "Catholics do not oppose fundamental human rights."
Cordileone added that it is the "epitome of hypocrisy" to "use the smokescreen of abortion as an issue of health and fairness to poor women."
"What about the health of the baby being killed?" he asked. "What about giving poor women real choice, so they are supported in choosing life?"
"This would give them fairness and equality to women of means, who can afford to bring a child into the world," the archbishop explained. "It is people of faith who run pro-life crisis pregnancy clinics; they are the only ones who provide poor women life-giving alternatives to having their babies killed in their wombs."
"I cannot be prouder of my fellow Catholics who are so prominent in providing this vital service. To them, I say: you are the ones worthy to call yourselves' devout Catholics'!" he concluded.
This isn't the first time Cordileone has rebuked pro-choice Catholic politicians. In May, as Christian Headlines previously reported, he issued a pastoral letter titled, "Before I Formed You in the Womb I Knew You," where he called on the Catholic Church to deny Holy Communion to Catholics, including public figures, who endorse abortion.
Earlier this month, pro-choice Senator Joe Cervantes (D-NM) claimed that his archbishop denied him communion because of his political office. In response, the Diocese of Las Cruces explained that Cervantes was prohibited from taking communion because of his support for a pro-abortion bill, not because of his political office.
Related:
Archbishop of San Francisco Issues Scathing Rebuke of Pro-Choice Catholic Politicians
Pro-Choice New Mexico Senator Says He Was Denied Communion Because of His 'Political Office'
Photo courtesy: ©Getty Images/Alex Wong/Staff
---
Milton Quintanilla is a freelance writer and content creator. He is a contributing writer for Christian Headlines and the host of the For Your Soul Podcast, a podcast devoted to sound doctrine and biblical truth. He holds a Masters of Divinity from Alliance Theological Seminary.
---
---