Michael Foust
| ChristianHeadlines.com Contributor
| Thursday, May 23, 2019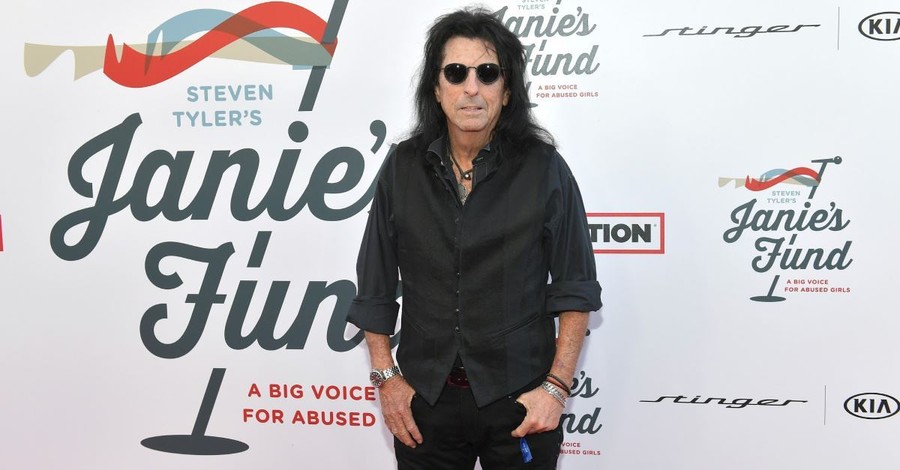 Singer Alice Cooper made a career out of "shock rock," but he tells pastor Greg Laurie in a new interview that he's also a Christian who wants to help teens in the name of Jesus.
Laurie interviewed the Rock and Roll Hall of Fame member at Cooper's Solid Rock teen center, which was founded in 1995 to help troubled teens. It is a non-profit, faith-based organization based in Phoenix. 
"We're all Christian guys," Cooper said of the men and women who founded and run Solid Rock. "And Lord told us to do it. So we just obeyed. That's all."
Cooper got the idea for Solid Rock after watching two teens exchange drugs.
"I watched a couple of 16-year-old kids do a drug deal on the corner and I went, 'How does that kid not know he might be a great guitar player? Or that other kid might be a drummer?' And it just struck me right then: Why don't we open that, give them that alternative to go there?"
Laurie posted several clips from the interview on his social media accounts. A more full-length interview will be released in the future, a Laurie spokesperson told Christian Headlines. 
I recently conducted a fairly lengthy interview with Rock Icon, Alice Cooper. In this short clip, Alice talks about how his faith in Jesus motivates him to help younger people. pic.twitter.com/b5Z3oQARgV

— Greg Laurie (@greglaurie) May 16, 2019
"You're not ashamed to say that you believe in Jesus Christ," Laurie said.
Cooper said he was not. 
"People talk about Alice being a rebel," Cooper said. "There was never a rebel, more of a rebel than Jesus Christ. You want to talk about a rebel. He was the ultimate."
Christ, Cooper said, rescued him from an addiction to cocaine. He knew he was destined for Hell in his old life, he said.
"I knew that there … had to come a point where either I accepted Christ and started living that life, or if I died in this [sin], I was in a lot of trouble," he said. "And that's what really motivated me."
Here's another clip from my interview with Rock legend, Alice Cooper. Alice hit rock bottom and was wasting away from drugs. His wife Sheryl had left him and Alice realized it was time to turn back to Christ. Little known fact about him, his father is a preacher! pic.twitter.com/ZcolPQDOct

— Greg Laurie (@greglaurie) May 20, 2019
Cooper said he gave a Bible to Marilyn Manson.
If Alice Cooper is really a Christian, why does he still perform as "Alice Cooper?" In this video, he gives the answer. pic.twitter.com/nuHeZX3ms5

— Greg Laurie (@greglaurie) May 22, 2019
In an earlier Tweet, Laurie said he arranged the interview after Cooper came to his church. Laurie serves as pastor of Harvest Christian Fellowship in California. 
"It's a little intimidating to preach in front of Alice Cooper," Laurie said in a video, prior to his interview. "But here's the thing a lot of people don't know about him. He is a full follower of Jesus Christ and has been for many years. Alice was raised in a Christian home. In fact, his dad is a pastor. We all know that he went off track and got himself into a lot of trouble, in fact, almost destroyed his life through alcohol and drugs. But he made a recommitment to Christ. And he's been walking with the Lord for many years now."
I recently had the opportunity to meet the legendary Alice Cooper. What a nice guy!

He is a strong believer as well. I hope to interview him soon. Check out this video. pic.twitter.com/DL0cIRF24C

— Greg Laurie (@greglaurie) March 5, 2019
Michael Foust is a freelance writer. Visit his blog, MichaelFoust.com.
Photo courtesy: Getty Images/Neilson Barnard/Staff
---
---