Michael Foust
| ChristianHeadlines.com Contributor
| Updated: Aug 30, 2023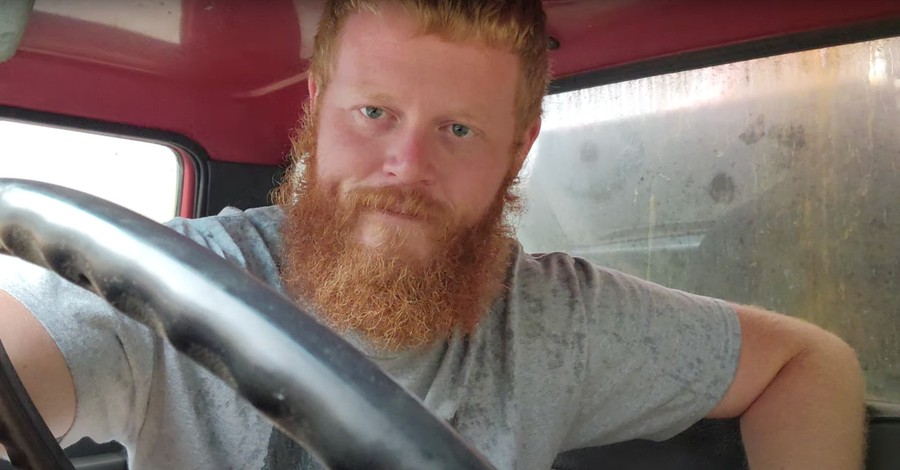 Breakout country star Oliver Anthony says in a new video that his music does not fit neatly within political boundaries and that he is concerned about the future of the United States if citizens on the Left and the Right do not come together.
"This isn't a Republican and Democrat thing. This isn't even a United States thing," Anthony said in a new 12-minute video posted on YouTube.
Anthony rose to fame with the Billboard No. 1 hit Rich Men North of Richmond and last week released another song, I Want to Go Home. "... It's my belief that divine intervention has put me in this position in this point in time to get a message across."
He said he is "thankful" for his success. He also pledged to "write, produce and distribute authentic music that represents people and not politics."
Fighting back tears, he expressed concern for the future of America and said he wants to help bring people together.
"I don't know what this country is going to look like in 10 or 20 years if things don't change," he said. "I don't know what this world is going to look like. Something has to be done about it. There's been too many people die. There's been too many people sacrifice everything they've had. People die before they're even 18 just for us to all sit here and just do the stupid s--t it is that we do every day that keeps us all all beat down and divided. That's what I want to see stop. And I'm going to do everything I can to influence that at all costs, even if it ... does throw my world upside down. It's well worth it."
The first Republican presidential debate began with Fox News playing a clip from Anthony's song Rich Men North of Richmond and then asking the candidates to address the tune's popularity.
"It was funny seeing it at the presidential debate. Because it's like, I wrote that song about those people. So for them to have to sit there and listen to that, that cracks me up," he said. "But it was funny kind of seeing the response to it. Like, that song has nothing to do with Joe Biden. It's a lot bigger than Joe Biden. That song has written about the people on that stage -- and a lot more to not just them, but but definitely them."
His music, he said, is not political. He addressed individuals on both the Left and Right.
"The one thing that has bothered me is seeing people wrap politics up in this," he said. "... It's aggravating seeing people on conservative news try to identify with me, like I'm one of them. It's aggravating seeing certain musicians and politicians act like we're buddies and act like we're fighting the same struggle here. … I see the Right trying to characterize me as one of their own. And I see the Left trying to discredit me."
A "diverse group of people," he said, have supported the song.
Addressing individuals on the Left, Anthony said, "They're sending a message out that that that initial song that sort of shot me up the radar, Rich Men North of Richmond, is an attack against the poor. If you listen to my other music, it's obvious that all of my songs that reference class defend the poor. Doggonit is a good example of that."
Rich Men North of Richmond, he said, is about the "inefficiencies of the government." The song's reference to individuals on welfare, he said, has one message: "It's just saying that the government takes people who are needy, dependent, and makes them needy and dependent."
"That's not the fault of those people," he said.
Anthony said he wants to stay genuine in his music.
"I don't want to go on some roller coaster ride and come off a different person."
Anthony's comments were similar to those he said in a Fox News interview.
"I want people to appreciate each other and appreciate the struggles and hopefully find the energy that was in the song and manifest it in their own personal lives," he told Fox News. "Just trying to find similarities with each other instead of division. That's really all I want. I don't see our country lasting more than another generation the way we are headed. We have to go back to the roots of what made this country great in the first place, which was our sense of community. We are the melting pot of the world, and that's what makes us strong is our diversity. We need to learn to harness that and appreciate it and not use it as a political tool to keep everyone separate from each other.
Warning: This video contains mild language.
Related:
Oliver Anthony Releases New Song amid Viral Success
Country Musician Goes Viral with Ballad about American Working Class
Photo courtesy: ©Oliver Anthony Screenshot
Video courtesy: ©Oliver Anthony Music
---
Michael Foust has covered the intersection of faith and news for 20 years. His stories have appeared in Baptist Press, Christianity Today, The Christian Post, the Leaf-Chronicle, the Toronto Star and the Knoxville News-Sentinel.
---
---