Michael Foust
| ChristianHeadlines.com Contributor
| Wednesday, June 5, 2019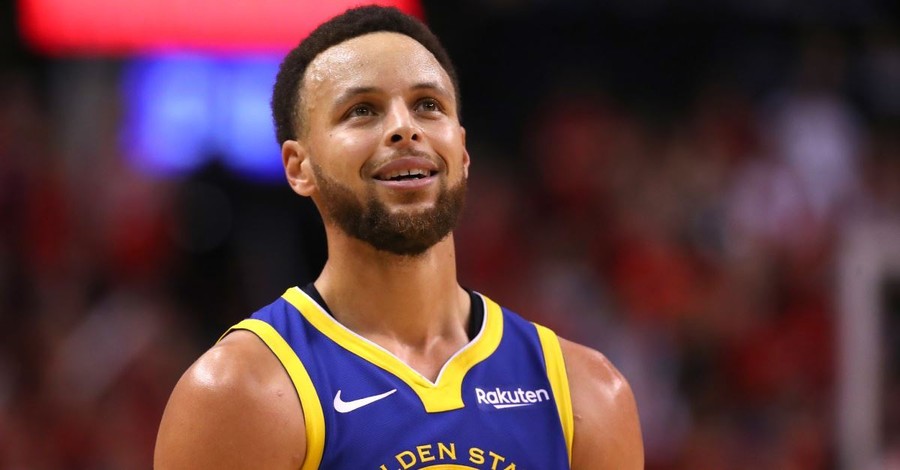 NBA star Stephen Curry says in the latest episode of Facebook's Stephen vs The Game that he became a Christian at a young age and that he writes a Bible verse on his sneakers to remind him of "who I'm playing for."
It's part of the fifth episode in the series and titled simply, "Faith." 
The Golden State Warriors guard says he learned early in life he couldn't live off his parents' faith. He was saved in the eighth grade while listening to a youth pastor named Jason, he said. 
"I felt the calling, went down to the altar [and] gave my life to Christ. That became the beginning of my own personal journey," he said. "I think my faith is about the personal relationship more so than the following a certain religious tradition, a religious practice."
It's important, he said, to "make sure you're feeding your spirit with the right things versus what this world is throwing at us." He called it a "constant, constant battle." 
"It's only that much more serious because I have three kids that are going to be watching every move that we make," he said.
The episode includes interviews with his father, Dell, and his mother, Sonya.
"I would have them get up at six o'clock in the morning to do devotion before school, to emphasize putting God first – to also train them, 'You're gonna have a job, get up at six o'clock in the morning and get stuff done,'" Sonya said.
The Currys went to church on Wednesdays and Sundays, which meant he couldn't do things his friends were doing during those times.
"When all your other friends are doing these things and you're having to say no, you get used to saying no," she said of their church schedule. 
But it trained Steph Curry, she said, to learn to be different. 
"Mom challenged me," he said, "to find a [Bible] verse that I could rely on to give me strength, give me a sense of purpose, and to remember who I'm playing for every time I lace up my sneakers."
He chose Philippians 4:13. His sneakers include a handwritten message: "I can do all things…"
"I've been doing it ever since," he said. "So I don't know how many sneakers I ... wrote it on. But it always reminds me of, you know, why I've been blessed with these talents and where I get my strength from and who I'm playing for."
Michael Foust is a freelance writer. Visit his blog, MichaelFoust.com.
Photo courtesy: Getty Images/Gregory Shamus/Staff
Video courtesy: Versus On Watch
---
---