Maina Mwaura
| ChristianHeadlines.com Contributor
| Published: Apr 29, 2020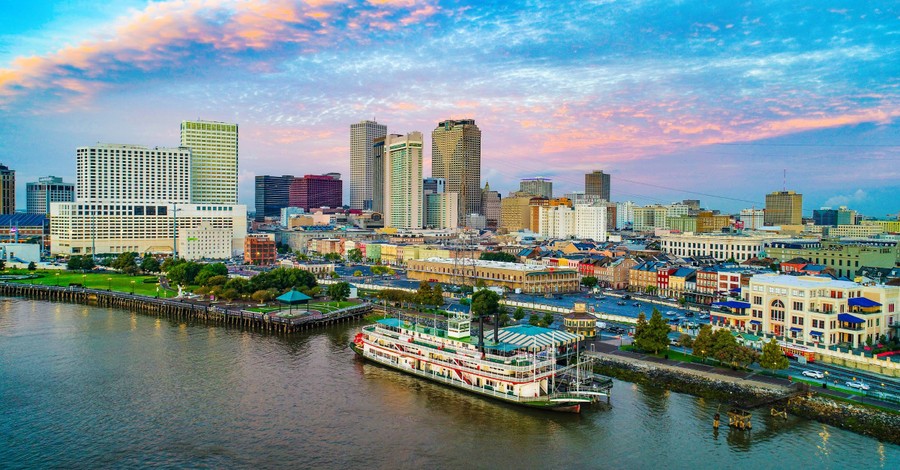 Known as the Big Easy, many ministers would argue New Orleans is anything but easy when it comes to ministry. Known more for its partying scene than its church life, sharing the Gospel in an effective way can be tricky.
But now, as New Orleans has been one of the hardest-hit American cities by COVID-19, ministry has become particularly important. Bishop Onassis Jones, pastor of Christ Temple Church of New Orleans, believes that God has called him and given him the mandate to minister in New Orleans. Jones believes that he, along with other pastors in the city, is on the frontline of the pandemic and standing on the promises that all things work together for good.
The following interview has been edited for length and clarity.
How has your life changed as a pastor in the city of New Orleans?
As a pastor in the City of New Orleans, my life has changed in so many facets throughout my nineteen years of pastoring. As a native of New Orleans, raised and reared in the church, it has always been my desire to witness the manifestation of salvation and wholeness throughout Metropolitan New Orleans and surrounding communities. Therefore, my ministry approach derives from a holistic perspective – spirit, soul, and body. My mission is to teach and train disciples so that they can apply and execute biblical principles in all areas of their lives. My life as a pastor has drastically changed because I have completely embraced my calling as a pastor in the city of New Orleans. Addressing the concerns and needs of the people impacts my ability to change and grow as a servant leader in the Kingdom of God.
You've been through Hurricane Katrina and COVID-19 in the city, how are the two different and the same?
The similarities and differences between Hurricane Katrina and COVID-19 experiences are:
(1) Instead of New Orleanians evacuating and/or being displaced for months/years due to the aftermath of Hurricane Katrina, we are actually in our own homes quarantined due to COVID-19, which provides an unusual discomfort and a heightened sense of anxiety.
(2) Hurricane Katrina contributed to the death of thousands of people directly and indirectly, although, COVID-19 is providing similar results across America. However, during Hurricane Katrina family members and friends were able to attend funerals or memorials and to provide physical comfort to each other; whereas, COVID-19 regulations (no more than ten people/social distancing) have restricted family members and friends in providing the traditional New Orleans funeral rites to their loved ones in the form of candlelight vigils, celebratory funeral masses and services, jazz and second line processionals, family receptions and gatherings alike. The inability to grieve and experience closure as a community will continue to have a lasting impact on the city of New Orleans.
(3) Lastly, although COVID-19 has drastically changed the way we live in New Orleans, this virus has not destroyed the spirit and resiliency of this community. Hurricane Katrina did not impede New Orleans' efforts in rebuilding stronger and better communities. Likewise, COVID-19 has invigorated and inspired New Orleanians to become creative in providing services to their respective communities, especially to the children and elderly.
What has it been like doing ministry in New Orleans through this season?
Providing ministry in New Orleans through this season has been a major adjustment. Due to COVID-19, all worship services and gatherings have been discontinued in the sanctuary. Presently, I am providing five weekly virtual worship and ministry encounters to the parishioners of Christ Temple of New Orleans and different social media audiences to include Sunday Worship Experiences, Sunday School, Bible Study, Family and Community Prayer, and Mental Wellness Care Sessions. Various social media platforms have expanded the outreach and mission of the church to present the Gospel of The Lord Jesus Christ into the marketplace.
What would people be surprised about life in New Orleans during this season?
The element that would surprise people about life in New Orleans during this season is New Orleanians intentionality to experience some levels of its culture throughout the COVID-19 pandemic crisis. For example, instead of having a traditional jazz funeral or second-line procession (walking in the streets) for the passing of a love one, a few family members/organizations have held motorcade processionals, by honking their horns in salute of their deceased loved one (respecting social distancing regulations) in either their neighborhoods, schools, organizations, etc. Also, the New Orleans food culture remains vibrant and relevant in the city. Due to many restaurant closures, many New Orleanians are cooking at home. The New Orleans food, music, and spirit has continued to thrive and flourished in the midst of this adversity.
When did you know that things had changed when it comes to COVID-19 and your ministry?
I recognized that ministry had changed due to COVID-19, as it relates to my need to provide grief and bereavement support and sick and shut-in care and visits to my parishioners/members. During the first week of quarantine in New Orleans, my 97-year-old deacon (the oldest member in the congregation) passed away of natural causes. I had to visit the family standing outside of their home due to social distancing guidelines. Also, we were not able to provide a traditional funeral service for our beloved deacon, of which hundreds of people would have been honored to attend his funeral and support the family. As a result, the family and the church are still processing this grief. Also, I have had five members that tested positive for COVID-19. Fortunately, through faith and much prayer, all five have recovered. Unfortunately, I was not able to visit them during their hour of suffering. When a pastor is unable to visit members in their hour of need, then you know that times have drastically changed.
What type of trauma are you seeing in the people of New Orleans through all of this?
As an active Senior Pastor and Licensed Professional Counselor in this community, I have first-hand witnessed the traumatic effect and impact these challenging times are having on individuals and families of my much-loved community. Unfortunately, due to the COVID-19 pandemic, New Orleans has seen an increase in depression, post-traumatic stress disorder (PTSD), substance abuse, a broad range of other mental and behavioral disorders, domestic violence and child abuse due to school closures. In response, our church has launched a mental health initiative to address the mental wellness of individuals, families, young people, our senior citizens, as well as the homeless population. We believe we can make a difference in providing necessary services such as trauma-informed care, grief counseling, care teams and support groups and resiliency training sessions and workshops.
What has been your prayer for the city, during this season?
My prayer during this season is for the hearts of the people to return to God. It is amazing how life and death can impact the hearts of people. My prayer is for God to heal the hearts of people, and as their hearts are healed, the land can be healed as well. "If my people, which are called by my name, shall humble themselves, and pray, and seek my face, and turn from their wicked ways; then will I hear from heaven, and will forgive their sin, and will heal their land (2 Chronicles 7:14).
Photo courtesy: ©Getty Images/Kruck20
---
---