Scott Slayton
| ChristianHeadlines.com Contributor
| Wednesday, June 5, 2019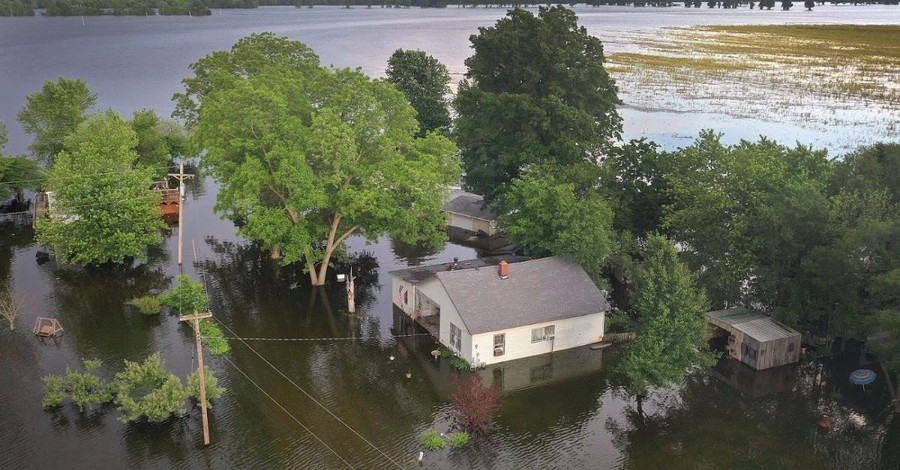 The Midwest faces another week of rain and thunderstorms this week, prompting many in the region to recall the horrific floods of 1993. Many locations in the Plain states, as well as the Mississippi and Ohio River valleys, will see 1 to 3 inches of rain, with some localities facing as many as 5 inches.
According to the Weather Channel, 10 locations have already set new record river levels as many areas saw record-breaking rainfall in May. Areas along the Arkansas River have seen the highest levels so far, with one location in Oklahoma and 5 in Arkansas setting river level records.
Tulsa, Oklahoma has also faced rising water levels. The river reached its highest level in Tulsa since 1986, placing stress on the levee system as more water poured in from Keystone Dam. In late May, the Army Corps of Engineers increased the release rate at the dam to 275,000 cubic feet per second, bringing back memories of the city's historic flood of 1986.
The city of Davenport, Iowa is also seeing echoes of the flood of 1993. The city's temporary barrier failed in April and the river crested last week at 21 feet, which is the second highest crest since 1993. One restaurant owner in the city told theNew York Times that the city had gotten "a little too complacent," adding, "The city had a good flood plan. It's been successful since 1993 – until this year."
Rising waters made their way down to Louisiana as well. The Army Corps of Engineers will likely open the Morganza Spillway, which is located north of Baton Rouge, for the third time since it was constructed in 1954. Opening the Spillway would relieve some of the pressure on the Mississippi. 
The Bonnet Carre Spillway in St. Charles Parish opened twice this year for the first time ever. It continues to divert some of the Mississippi River into Lake Pontchartrain, as half of the Spillway's gates remain open.
The greatest threat of flash flooding over the next few days are in parts of southwestern Texas, southeastern New Mexico, central and northern Missouri, central Illinois, western Iowa, and eastern and central Texas.
Scott Slayton writes at "One Degree to Another."
Photo courtesy: Getty Images/Scott Olson
---
---