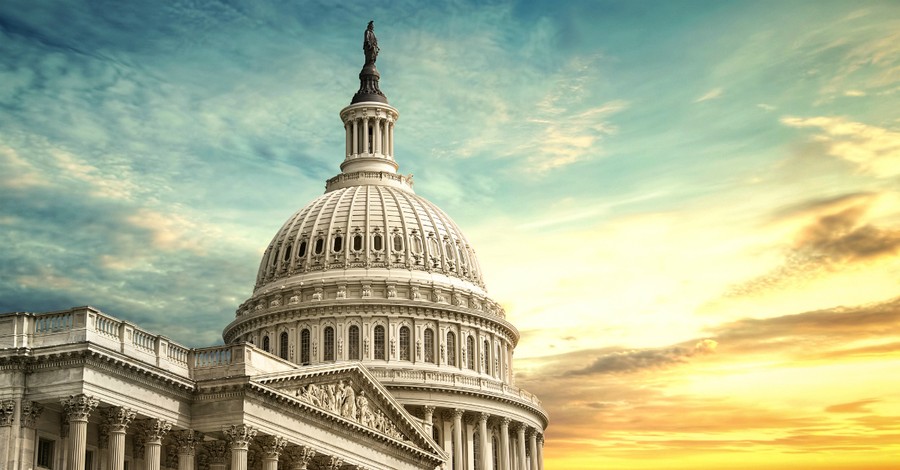 NOTE: I want to thank Dr. Ryan Denison for writing The Daily Article for the last several days as my wife and I took some vacation time. Ryan did his usual outstanding work in relating biblical truth to cultural issues. I am deeply honored to share this ministry with him and the rest of our Denison Ministries team.
Identical twin sisters each gave birth to their firstborn sons on May 5. Not only were the babies born on the same day, but they were also born in the same hospital and their measurements matched: each weighed seven pounds, three ounces, and each was twenty inches in length. Now we have to hope they don't need baby formula.
The national infant formula shortage has become a true crisis for many families. One official noted, "Across the board, searching for formula at this point has become a full-time job. Families are feeling that stress—both financially and in a time cost sense." As a father and grandfather, I cannot imagine what it is like not to be able to find a way to feed one's children.
Families in the WIC program (Special Supplemental Nutrition Program for Women, Infants, and Children) are especially in jeopardy. Many depend on the program to offset the costs of baby formula, particularly specialty formulas for children with allergies. Some are being victimized by third-party price-gouging sellers and scammers.
The House passed a $28 million emergency spending bill yesterday to address the crisis, and President Biden invoked the Defense Production Act to help manufacturers obtain the ingredients needed to ramp up supply. He also directed the Pentagon to use military contracts to ship infant formula more quickly into the US.
However, a restaurant owner in Texas isn't waiting. Using his contacts with food distributors, he has been buying cans of formula and giving them away. He explains that during the pandemic, "the community has been great to me," so "this is my way of returning the favor of how they took care of me."
What caused this crisis?
The Wall Street Journal explains that Abbott Laboratories in February "recalled several brands and shut down a plant in Michigan after complaints that four infants fell severely ill with a dangerous bacteria after ingesting its powdered formula." Since Abbott accounted for 42 percent of the US formula market last year, this was a major issue. The company agreed to FDA terms this week to resume operations at its Michigan plant, but it will take another six to eight weeks for product to reach shelves.
Other issues are governmental in nature. The Food and Drug Administration launched an investigation into the Abbott plant. However, according to the Journal, "It's not clear when the FDA was made aware of the problems at the plant and why it didn't take action sooner."
Other factors: Baby formula imports are limited by tariffs up to 17.5 percent and non-trade barriers such as FDA labeling and ingredient requirements. Government contracts as part of the WIC program severely restrict competition. Trucking regulations slow down the supply chain once baby formula is ready to leave a plant. Labeling regulations also delay the manufacture and sale of formula.
At a time when 75 percent of Americans say the country is "off on the wrong track" (up almost 20 percentage points in the last year), the baby formula crisis points to a larger crisis of trust in our government.
What "corrodes people's faith" in their leaders?
The University of Michigan's Ford School tracks public trust in government. From a high near 80 percent in the 1960s, such trust is currently below 30 percent. One expert explained, "When institutions perform well, people choose to engage and it sustains democratic processes. The government gains legitimacy." By contrast, "When performance lags—in education, health care, or the economy—it corrodes people's faith."
In other words, we trust our leaders to the degree that they deliver the services we need and resolve the issues we face.
In his excellent new book, Trust & Inspire: How Truly Great Leaders Unleash Greatness in Others, Stephen M. R. Covey describes the "command and control" model by which leaders "leverage the resources and people at their disposal to accomplish the task at hand." According to Covey, this model "is about getting things done, but it misses the potential power of the people who get those things done."
By contrast, he recommends what he calls the "Trust & Inspire" model, which is about "connecting with people, through caring and belonging, so that we—and they—can successfully respond to our disruptive world. It's about then connecting people to purpose so they feel inspired not only by an organization's leaders, but also by a sense of purpose, meaning, and contribution in their work."
What is our opportunity in this crisis?
In a postmodern, "post-truth" culture, we earn the trust of others not by wielding positional power or imposing our beliefs on them but by meeting their needs. We can then inspire them to serve others as they pay forward what they have received, perpetuating a cycle of transformative service.
Humans were created to need our Creator and each other. As a result, we each feel an innate need to be loved and to love, to be served and to serve, to be trusted and to trust. In a day when such trust is in short supply, Christians have a providential opportunity to demonstrate the relevance of our faith in action. When we follow Jesus' example by washing the feet of those we lead (John 13:1-13), we can then inspire them to "wash one another's feet" (v. 14).
Early Christians took our Lord's example to heart and changed their world as a result.
A letter to Diognetus, likely the tutor of the Roman Emperor Marcus Aurelius (AD 121–180), states: "What the soul is in the body, Christians are in the world." The writer elaborates: "Christians ... love those that hate them. The soul is imprisoned in the body, yet keeps together that very body; and Christians are confined in the world as in a prison, and yet they keep together the world."
Whose "world" will you "keep together" today?
NOTE: Many years ago I released a book called 7 Crucial Questions about the Bible. Today, we're re-releasing an updated edition of that book, retitled as A Light Unto My Path: A Practical Guide to Studying the Bible. Click here to see those seven questions and to request your copy of our latest book today.
Publication date: May 19, 2022
Photo courtesy: ©GettyImages/Muni Yogeshwaran
The views expressed in this commentary do not necessarily reflect those of Christian Headlines.
For more from the Denison Forum, please visit www.denisonforum.org.
The Daily Article Podcast is Here!
---
---